I've been to a few tailgates in my day and know a  good tailgate from a GREAT tailgate. I had the chance to attend the LSU vs Ole Miss game on 10/22/16. I've heard that LSU fans tailgate better than any other school, so I had to verify the same.
We arrived to the lots about 6 hours before a night kickoff and there were already THOUSANDS of tailgaters set up and having a great time. I first walked through what I'll call the RV village as there was row after row after row of high dollar RV's with tv's set up, grills a blazing and music pumping.
We walked closer to the stadium to try to get our hands on some tickets and saw lot after lot of full parking with fans dressed in yellow and purple having a blast. We were able to get our hands on some lower deck tickets at face value and then could really begin to get into tailgating mode.
I saw a couple walking their dogs and both dogs has 'LSU' shaved on both sides!
Even Donald Trump made an appearence;)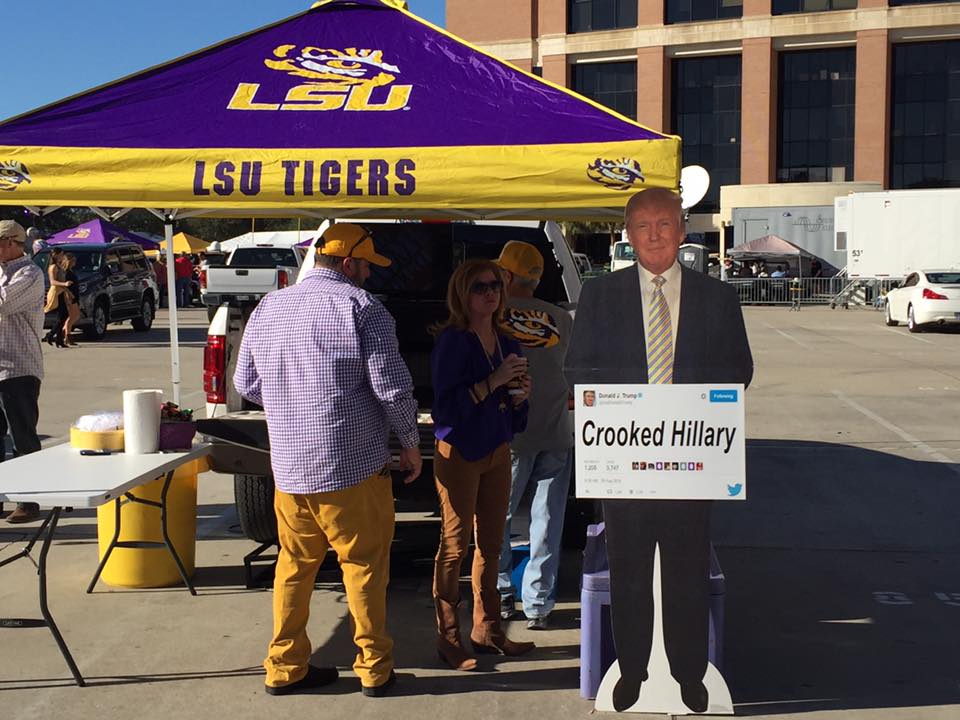 There were so many tailgating groups that were doing things that would make all of us proud I couldn't name them all, but this one picture sums up how they do their tailgating: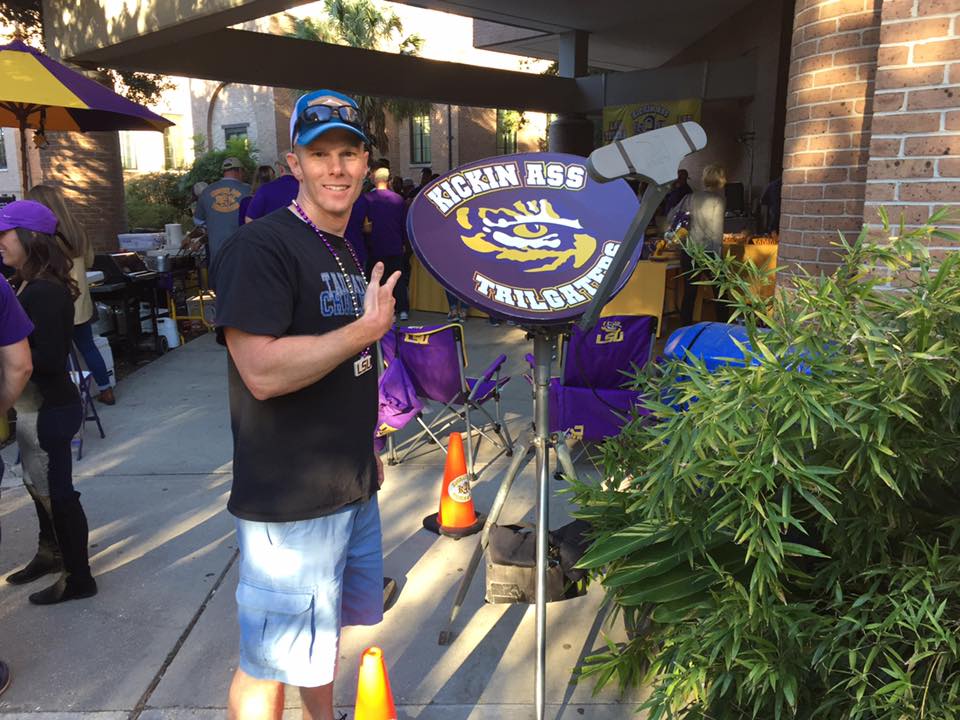 Did I mention how beautiful the LSU campus was? There were massive oak trees throughout campus that gave it an awesome feel: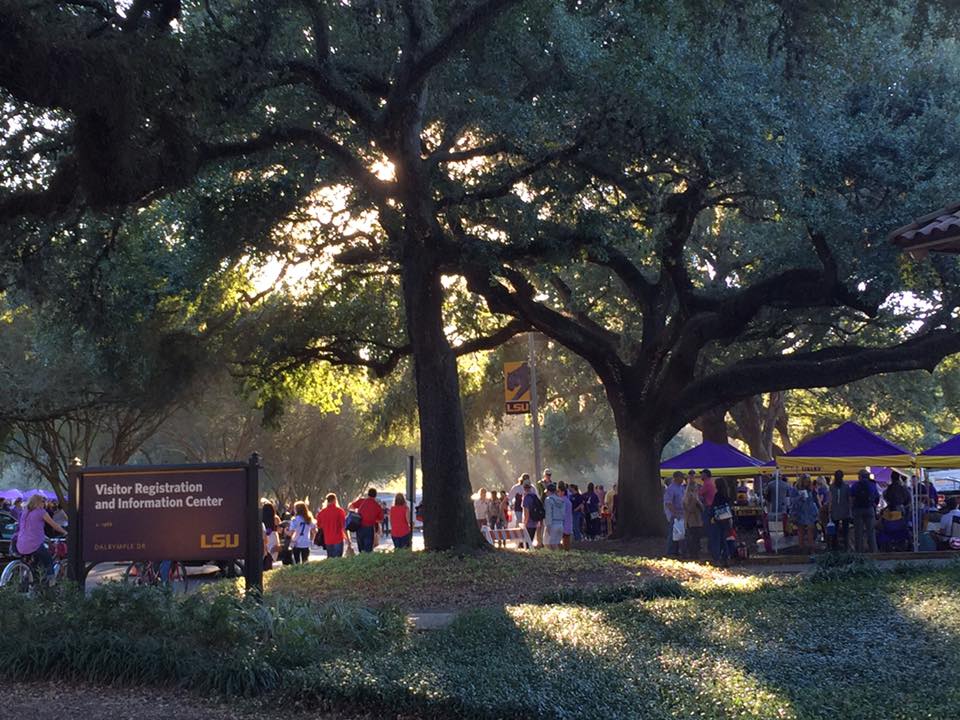 We then entered a fun local bar "Barcadia" that had great prices on delicious drinks and plenty of TV's and music to keep us entertained.
From there it was on to get a local bite to eat before kickoff. We found a great place called Roul's deli. I had the obligatory Tiger Burger that was a large hamburger loaded with cheese, beef, bacon and SHRIMP!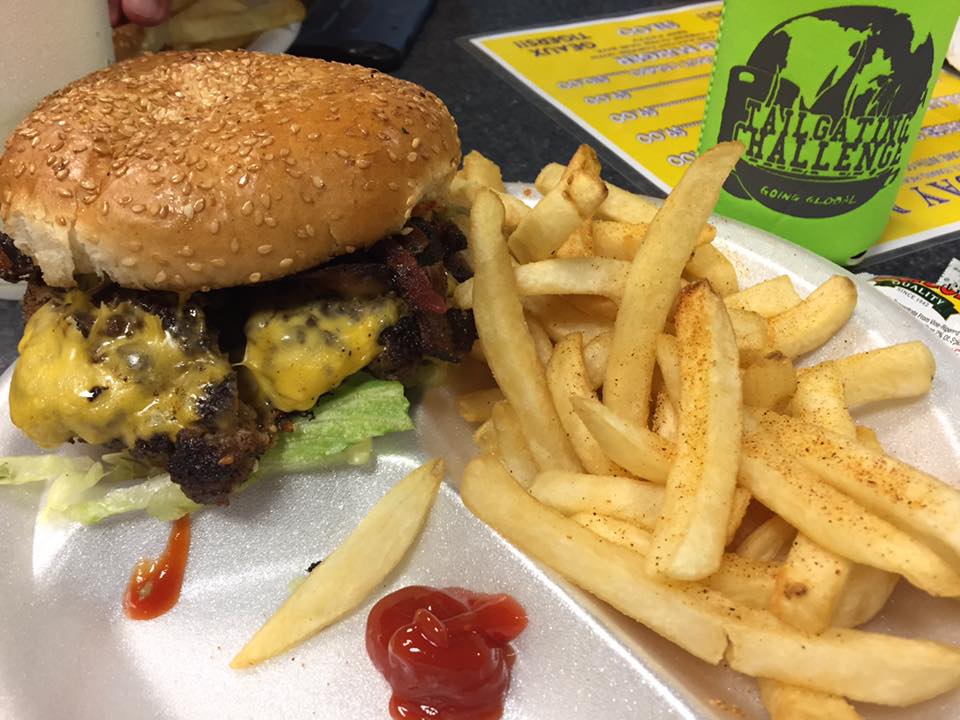 Afterwards it was off to the game. We started walking towards the game a little over an hour before kickoff and appears that everyone had the same idea. It was Insane. Think 100,000 people all converging to the stadium, frat guys holding bottles of vodka over their heads and giving anyone that came up and did the tiger chant a BIG shot of liquid fandom. It was great but likely intimidating for the few Ole Miss fans that attended the game (they didn't travel well)
We find our seats and get ready for action. There are fans filling up the stadiums and people pulling out flasks and filling their gameday drink up with a nice shot of Whiskey before the game starts.
The LSU entrance to the game is pretty special. You can see for yourself with our video:
Overall, it was an awesome day and thoroughly enjoyed by all. I haven't been to all the college tailgate towns, but LSU will be hard to beat. 
Think your school can beat the LSU tailgating atmosphere? Let us know your school and why its the best….