We've all had that moment where we look down and our smart phone is about to die. If you're at the bar you have to give your phone to the bar tender to charge it. In today's society we have a difficult time having a phone with low battery and giving our phone to a stranger! It's time to solve this problem and we know just the napkin dispenser to do it. That's right, maybe the best napkin dispenser ever to the rescue. Check out our PowerNap Napkin Dispenser Review.
One day I was sifting through my new emails and noticed an intriguing message about a napkin dispenser that could charge your phone. I love products that combine products we use regularly, napkins and portable power stations, to help solve a problem. They thought this would be a great item to share with tailgaters and we agreed. We got our PowerNap in and it was time to put it to our Tailgating Challenge.
Features
POWERFUL
10,000mAh battery charges multiple devices before needing to be recharged
Easily rechargeable (12V power supply included with purchase, UL-approved)
Built-in safety features prevent overcharging
CONVENIENT
Charge phone or device without power outlet
Phone stays within your possession while charging
Two USB ports for simultaneous charging (4 full smartphone charges in between PowerNap charges)
ADVANCED
Multi-purpose design acts as a charging station, and napkin dispenser
Front panel provides opportunity for custom messaging design and pictures
6.5" x 8.4" size creates small footprint
Lights elevate look and indicate battery life
PowerNap Testing
During our initial call with the PowerNap team they shared that they can customize the outer panels. We had the idea of using our logo along with the phrase "Don't Nap On The Tailgate". This message is on both sides of the PowerNap Napkin Dispenser and looks great. This is a great feature for businesses to brand, or advertise on the napkin dispenser.
The napkins, which they also sell, easily slide into the PowerNap unit. The PowerNap can hold 250 napkins. The napkins are high quality and handled wiping various tailgating condiments up with ease.
The main thing that makes this one of the best napkin dispensers I've ever seen is the portable power station built into the bottom of the unit. There are two USB charging ports, that are beside the power button. If you push the power button with nothing plugged in it will light up Red, Yellow or Green. This is the indicator of how much power is left in the PowerNap. The PowerNap will get approximately 4 charges for a smart phone before the PowerNap needs to be charged again. When the phone is charging the light will blaze blue to show the PowerNap is in the process of charging a device.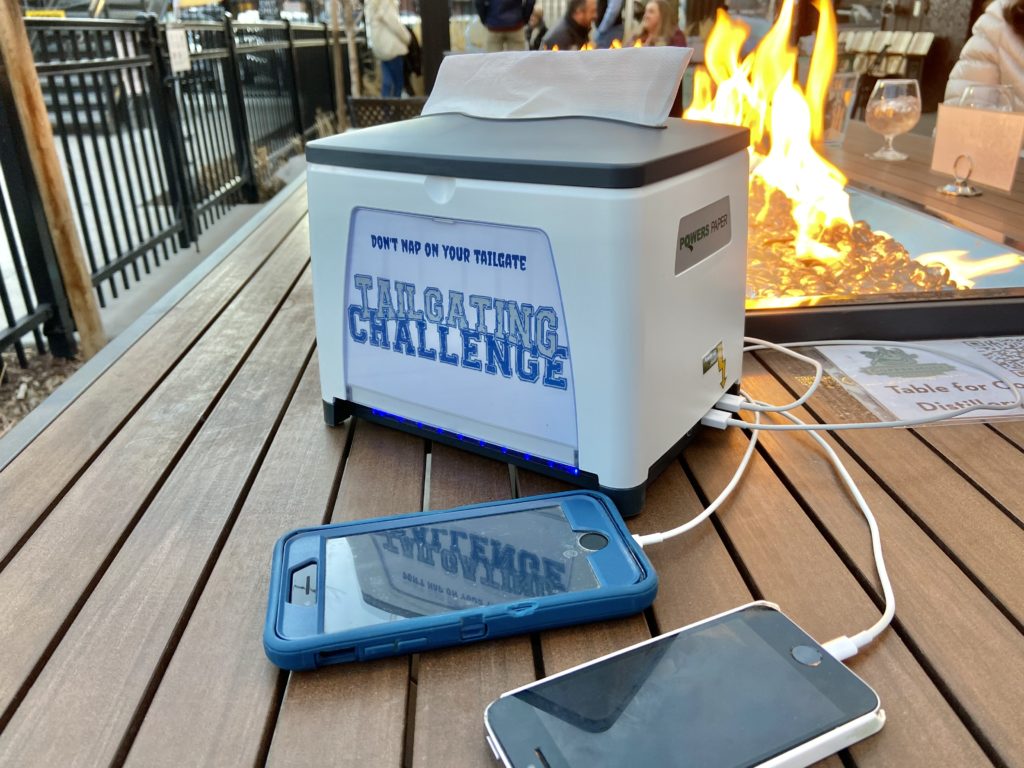 Conclusion
PROS: ability to customize the outside panels, power light indicator, 2 USB plugs, 4 full charges of a smartphone
CONS: Would like even more than 4 smartphone charges, and also a way to secure it on tables (someone could walk off with these as they are pretty cool)
*Edit there is now a security attachment that can be purchased so no one walks off with your PowerNap.
Overall, this powernap napkin dispenser is the best napkin dispenser we have ever seen. This has a place at your next tailgating event, or if you own a bar/restaurant this could fill a need your customers have with being able to charge their phones at the table.
If you want to power up your napkin dispenser then visit POWERNAP.
Thanks for reading this far and please let us know what questions you have on the PowerNap Napkin Dispenser Review, in the comment section below.
Love learning about all the cool, new products that we get to test out? Take a minute and check out our latest PRODUCT REVIEWS.
We never get paid for our reviews, this way we can keep it real with you. We were sent one sample to test out and give our honest thoughts on .
Written By: Luke Lorick 1/25/21