Let's face it we have all made the mistake of overcooking or undercooking some food on the grill. I too have fallen victim to this. First you undercook something and then in an effort to ensure you don't undercook something again, you overcook it. We all know that undercooked meat could cause health concerns and that overcooked meat loses a lot of flavor. It's time to ensure you grill like a PRO everytime you fire up the grill with the line of ThermoPro digital meat thermometers.
The team at iTronics sent me a line up of ThermoPro thermometers to test out and they range from beginner to pro level.
First up is the entry level: Digital Insta-Read Thermometer. This is a fit in your pocket switch blade thermometer. This is the beginners version in our meat thermometer line up. It can easily fit in your pocket and is simple to use. Flip the thermometer out, lock it into place, and insert into the meat. This thermometer will give you a quick and easy read of the internal temperature of the meat. This will let you know in a matter of seconds if you need to pull your meat off, or give it some additional time.
Let me be honest for a moment, I had never used a meat thermometer before, as I always went off time and looks. This ThermoPro is my favorite in the trio I was sent, as it's so easy to use. For beginners and those grilling steaks, pork chops and other smaller meats, this one is for you.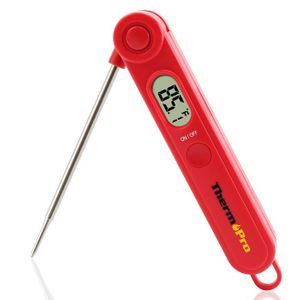 Next up, I introduce you to the intermediate version in this line up of ThermoPro meat thermometers:
ThermoPro TP-16 Digital Meat Thermometer.
This thermometer takes things a step up and has a larger digital display that gives you both the temperature and a timer. It has a magnetic back that will easily stick to your grill and one internal temperature probe. It comes with preset temperatures for your favorite meats: poultry, pork, ham, fish, and beef. You can also plug your own temperature in that you want the meat to cook to. Once it reaches the temperature the alarm goes off, so you know to pull the meat off the grill.
If you're like me then sometimes you get carried away having fun, or doing other things while your meat is on the grill. Having this bad boy stuck on the side of your grill to help you remember to take the meat off could save the day.
Once I got this ThermoPro thermometer in I played with it for a few minutes and it was pretty self explanatory. I hooked it up to a pork chop to test and it worked like a charm. I would likely use this more with a thicker or larger cut of meat to make sure it was cooked all the way through, before cutting into it and losing those precious juices.

Last, but certaintly not least is the BOSS of this line up the:
ThermoPro TP-20 Digital Wireless Meat Thermometer.
This is when you're really ready to step your grilling game up. This is the wireless edition as in you keep the reciever on you and you can view real time stats of how your meat is doing on the grill. This version comes with TWO internal temperature probes, so you can monitor two different cuts of meat at the same time.
This also has the preset temperatures for different cuts of meat built in and you can adjust manually as well. It has a backlit display so you can see what's going on even when you're grilling at night. This version also has a timer on it and an alarm when your meat is done.
I tested this out on some T-bones and it alarmed me when the meat hit the perfect temperature.
This version is great if you're doing things around the house as you essentially have a meat pager on you, as you can be alarmed when the food is done. I moved all around the house and it worked with no issue. This is rated to work up to 300 feet away from your grill. You individual distance may vary depending on interference and battery power. (this uses 4 AAA batteries)
Check out the video below of all of these in action.
One tip for using all of these is to make sure you don't push the internal temperature probe too far through the meat or it won't record the correct temperature. The goal is to get the tip as close to the middle as you can.
These ThermoPro Thermometers opened my eyes up to the next level of grilling and if you're like me and haven't used meat thermometers in the past it may be time to step your grilling game up.
Visit them today CLICK HERE