As an 80's baby I have nostalgic feelings about Chuck E. Cheese. The arcade machines, music, mascots and overall FUN. When I was cruising through the grocery store frozen food section I had to do a double take. There is a Chuck E. Cheese frozen pizza that you can now bring into your home. Is this too good to be true? Will it be as good as I remember? There is only one way to find out. Let's get into the Chuck E. Cheese frozen pizza review.
Chuck E. Cheese Pizza Looks
The packaging is great, as it draws your eye to the classic mascot and then a great looking pizza. There are even 250 E tickets that are on the back to help you get that prize you have your eyes on.
Sliding the pizza out of the box, it looks like a regular frozen pizza. I would say it looks like they could have put a little more cheese on the pizza, as there were some spots on the middle that were sparse.
There was a generous amount of pepperoni that was able to be spread out over the course of the entire pizza.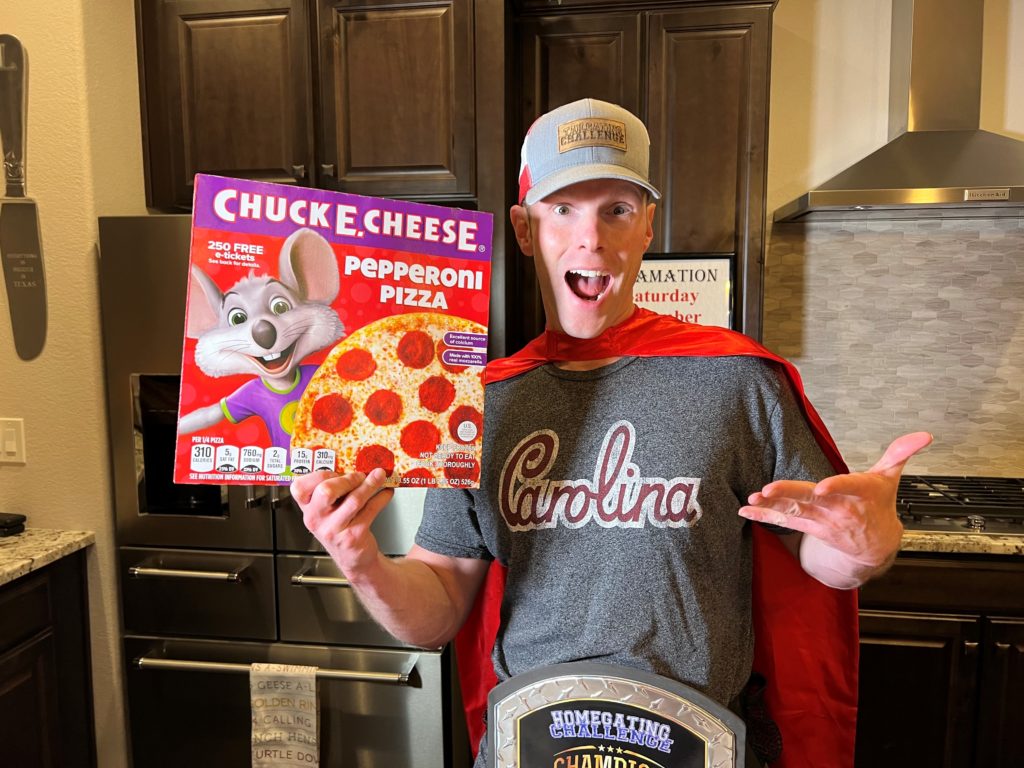 Chuck E. Cheese Pizza Taste
After sliding the pizza out of the oven it looked pretty good and golden brown cheese all around the edges made my mouth water.
Now the moment of truth, how does this pizza taste? Will it bring back the fond memories I'm hoping for? Only one way to find out, take a big bite and start chewing.
After eating the first slice I can say the sauce, cheese and pepperoni were all good and are comparable to similar priced pizzas. The negative is the crust. I did not care for the crust. The flavor was not great and in my initial reaction video I even mentioned the term cardboard.
To be fair my wife said the crust wasn't that bad and she ate half the pizza. As with all taste tests, your individual results may vary.
Conclusion
PROS: nostalgic, fun packaging, toppings taste good
CONS: could use a little more cheese, crust is nothing to write home about
Overall, this Chuck E. Cheese frozen pizza was a fun pizza to try, but will not be one that we stock our freezers up for our homegating parties.
Help support our fun/honest reviews of products by checking out our AMAZON STORE.
Thanks for reading our blog on the Chuck E. Cheese Frozen Pizza Review. Let us know what you think and any questions. Check out our short video below and while you're on YouTube make sure you hit that SUBSCRIBE button!
Love learning about all the new products that we get to test? Take a minute and check out our latest PRODUCT REVIEWS.
We never get paid for our reviews, this way we can always keep it real with our fans. We were sent a sample to check out with the understanding that we'd give our honest opinions.
Written By: Luke Lorick 1/9/22