Every tailgating and homegating party needs a table and we just found a unique one that could be just what you need. The Fivo Mod 5 table is a modular style table that can be set up in different ways to to adapt to you tailgate, homegate or even work from home desk. Now let's get into the Fivo Design Table Review.
Fivo Table Features
-Multiple finishes
-Option to add colors to table tops
-Strong (can hold 500 pounds)
-Ability to add side shelves
-Dimensions: Depth 21.75″, Overall Width 36″, Height Adjustable 25″, 30″, 35″
-Weight 27 pounds (side extensions add extra weight)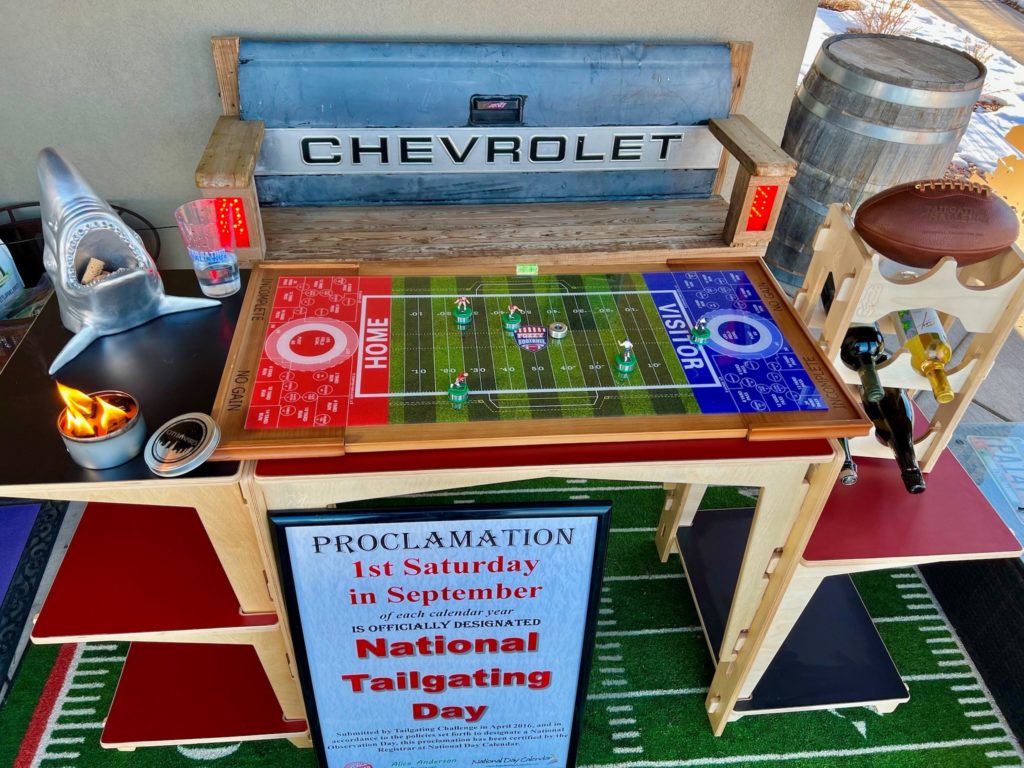 What Did We Think?
When I saw the Fivo Mod 5 table online it looked pretty awesome and the side extensions gave it levels to stash all of our gameday goodies on. When I was told they were able to customize table top colors, black and garnet for my University of South Carolina, I was all in.
I got the package in and started unpacking and my initial thoughts were, dang there are a lot of parts to this table. We got the Mod 5 table with the side extensions and it was quite a bit of table to put together.
Here's the good part, putting this together is a breeze. You can do it by yourself and in under 2 minutes. I've gotten so good now I can get it done in under a minute. The pieces securely lock into each other and the table looks good when you finish the install.
We have tested a few tailgating tables over the years and one thing where this table stands out is it's strength! I could get on top of the table and spin around and it felt secure! This has been tested to 500 pounds of pressure on the top. Bills Mafia I would not suggest jumping on this table!
Once we had set up, the table, we were able to put a TON of awesome tailgating and homegating goodies on the different levels. The table passes the test of having enough space for your gear.
This table also has the ability to be a sit stand desk for all those work from home fans out there. You can slide the panels out and move them up to get to a better height, when you are working.
The table top has a laminated layer, so using things like the City Bonfires or spilling a drink were no issue for the black and garnet table tops.
The big area of feedback is that this table is not extremely portable. There are many pieces and they have some weight to them. They will need a carrying system to make this more of a tailgating/portable table.
Conclusion
PROS: spills aren't a problem, easy to put together, modular to convert the height, custom colored table tops, tons of space
CONS: not very portable
Overall, this table gets high marks for a work from home desk, or homegating table to set up your gameday bar. This works well for the tailgate, but as noted the portability will hinder many people from taking it out to the parking lot party.
Learn more and get your own by visiting FIVO DESIGN.
Find many amazing products that we've tested in our AMAZON STORE.
Thanks for reading our blog on the Fivo Design Table Review. Let us know what you think and any questions. Check out our short video below and while you're on YouTube make sure you hit that SUBSCRIBE button!
Love learning about all the new products that we get to test? Take a minute and check out our latest PRODUCT REVIEWS.
We never get paid for our reviews, this way we can always keep it real with our fans. We were sent a sample to check out with the understanding that we'd give our honest opinions.
Written By: Luke Lorick 1/24/22