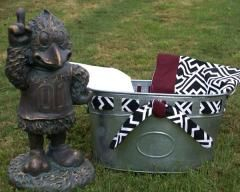 We are midway through the 2013 football season and I know you have likely seen some awesome tailgates and now are motivated to take your tailgate to the next level. If you are serious about that, then you need to visit the fine folks at GO CHIC. They carry everything from beverage tubs, to grilling accessories, to team mascot statues. One stop to their website will spark your creative juices to plan out the perfect tailgate!
We were lucky enough to sample the GO CHIC "Trendy Tailgating Touchdown Package" that consists of a beverage tub, white tablecloth, custom colored tablecloth, and a team mascot statue. Let me say, this is an amazing package and will single handily change your entire tailgating ambience.
The beverage tub is made from a galvanized steel that is wrapped with a custom 2 tone fabric band of your team colors. Just add ice and drinks and it is ready for action.
The tablecloths when paired together look very elegant. The colored print tablecloth on top of the solid white tablecloth gives it a pop that is easy on the eyes.
Finally, the team mascot statute is made from an antique bronze and is solid. This is not a cheap lightweight statue that will fall over with a gust of wind. The statue has the feel and the look of quality. You can place this statute in the yard, or position it at your tailgate to represent your team on a whole new level.
PROS: classy, unique, have a feel and look of quality
CONS: do not have all of the NCAA teams and no NFL teams currently
I would recommend checking out the "Trendy Tailgating Kickoff" or "Trendy Tailgating Touchdown package" to make it a one stop shop and get everything you need to be the envy of your next tailgate.
Check them out today!