We love playing new games! We've tested numerous yard games and are always on the look out for new yard games that will bring you fun all year long. In our hunt for the best yard games we came across Money Hole. Money Hole gives you many holes to score in and a special MONEY HOLE to win the entire game with one shot. Now lets dive deeper into the Money Hole game review.
How to Play Money Hole
-Set up the board. There is one board that folds out and you'll extend all the legs. Finally, attach the money hole on the back.
-Use the included string to measure out the distance for beginner, intermediate and expert.
-Scoring. There are green and white bags. You have to keep your bags on your side of the board or you get -1 point. The holes are numbered with 1, 2, 3 points and you get a point if your bag is on your side of the board. A bag on the money hole arm is worth 4 points. If you get a bag around the square of the money hole that is 5 points. If you call money hole and then sink the money hole shot its lights out, game over, you win.
-Game play to 21. You can play straight up or cancelling points. Given the amount of scoring I'd recommend cancelling points.
-Now grab a partner and play Money Hole.
Testing Money Hole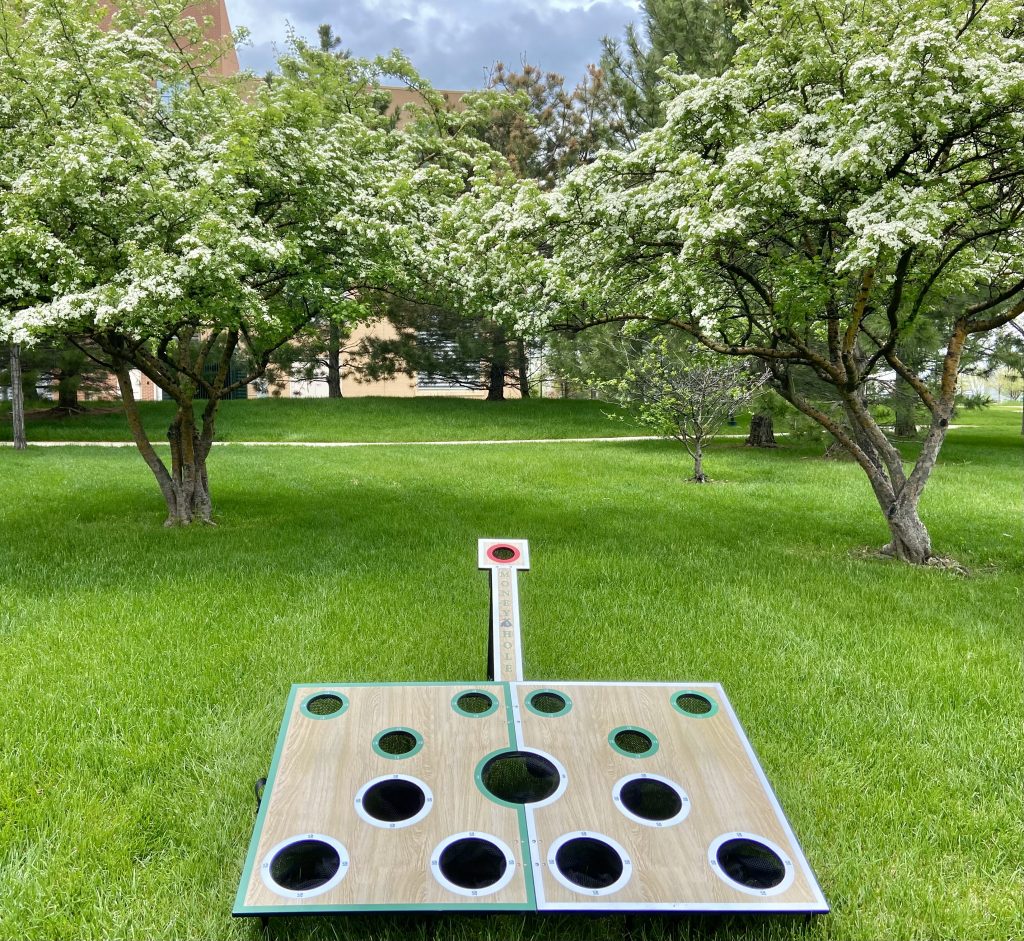 The Money Hole game comes in a carry case that is slightly cumbersome to carry. When my arm is at its side the bag almost drags on the ground.
After arriving at the game location we unpacked the Money Hole game and set up the board. There are flip out legs on the front and back that you have to extend prior to game play.
The game comes with 6 green bags and 6 white bags. These bags can be placed in the included Money Hole fanny packs, so you can have them ready to toss. These money sacks are different than your normal cornhole sacks. They are much smaller and have a different filler that makes them lighter and throw a little different.
Once we were set up we started tossing at the 14 holes that are on the board and the points started to count up fast. We stepped back to intermediate and then expert levels, as we continued to put Money Hole through the Tailgating Challenge.
We even did a few trick shots and long range shots. This is the beauty of this game as you can continue to step up the level of play with your own creativity.
As one of our friends said "this game has great replay ability" as its something we brought out multiple days in a row to play based on requests from those that have played it and wanted to play it more.
The Money Hole shot can only be called out once per round and if you call it you have to make it. If you make and did not call Money Hole, prior to your shot, then it does not count. Hitting the Money Hole is one of the most satisfying shots you'll ever make.
Conclusion
PROS: many ways to score, money hole for the ultimate comeback shot, not a game you quickly get bored with
CONS: could improve portability, the carry case tore the first time we attempted to slide the game back in, the white sacks will get a little dirty
Overall, this game impressed everyone that played it and there was a sense of satisfaction when you hit the Money Hole shot. If you're looking for a game with great replay ability and big time scoring its time to show me the Money Hole!
Learn more and get your own by visiting MONEY HOLE.
Find hundreds of fun products in our AMAZON STORE.
Thanks for reading our blog on the Money Hole Game Review. Let us know what questions you have and then enjoy the short video showcasing Money Hole game below. While you're on YouTube make sure you SUBSCRIBE to our channel.
**Note this game does not come with money real or play. Prop money was used for illustrative purposes only.**
Love learning about all the cool, new products that we get to test out? Take a minute and check out our recent PRODUCT REVIEWS.
We NEVER get paid for our reviews. This way we can always keep it real with you. We were sent one game to test out with the understanding that we'd give our honest thoughts.
Written By: Luke Lorick 5/27/21