From the tailgate to the campsite one thing remains the same, the need for a quality cooler. There are plenty of brands floating around on the market, but today we check out one that makes you feel like an American: the Patriot Cooler!
The Patriot Cooler comes in 20 and 45 quart offerings. We tested out the portable 20qt version. This cooler comes packed with the following features:
-Bear proof latches
-Molded side handles
-Easy flow drain spout
-Rotomolded construction
-Steel handle with cushioned pad
-Embossed 17 inch ruler on the lid
-Claims to keep ice 5 days
-Holds up to 24 cans (which is a case of beer)
-Holds up to 20 pounds of ice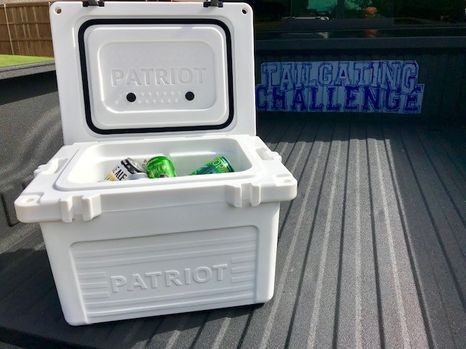 When I got the cooler in I pulled it out and could appreciate the bold PATRIOT logo that hits you on the front of the cooler and when you open the lid up, there it is again! I have a ton of coolers and many of them aren't easily portable, but this one is. I love the handle that locks into place on the Patriot Cooler. The steel handle is sturdy and had a foam grip on it for comfort. I was able to easily pick up a loaded cooler and move it around with one hand. This is great as I don't always need a giant cooler to haul a few drinks around.
I loaded the Patriot Cooler up with ice and beer and the test was underway. They claim that it can retain ice for 5 days. I tested this cooler by filling it with two small ice packs and then regular ice on the top. I checked in on the contents daily to see how the ice held up. The ice stayed for 7 days! Granted this is in cooler weather and I wasn't opening it all throughout the day, but this is impressive! The cooler has thick walls so the actual interior of the cooler is slightly smaller than it looks from the outside. These insulated walls help give it extra cooling power for the interior contents.
The Patriot Cooler embodies American pride. The styling is great. They could step it up by making this in red/white/blue editions that would really scream patriotic. This is a solid cooler, made in America, that performs just like a hard working patriot should.
Check out the different sizes, colors and soft coolers that they offer by clicking the button below.