We love pizza, but there always seems to be leftover pizza, no matter how good the pizza was. In the past we simply found a way to shove and fold the pizza slices into our standard Tupperware, but it's 2023 there has to be a better way. Luckily there is! As we were watching Shark Tank we saw Pizza Pack. This could be the best way to store your pizza leftovers. Let's get into the Pizza Pack Review.
Pizza Pack Features
-Dishwasher Safe
-Variety of Colors
-5 microwave safe trays
-Expandable and Collapsible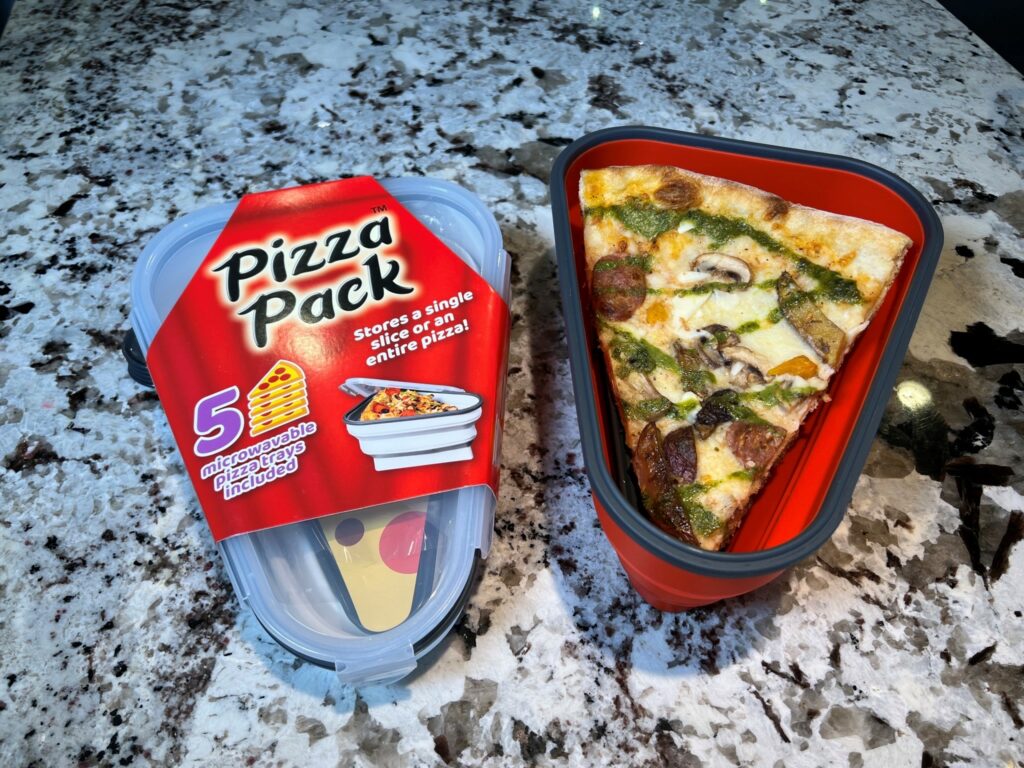 What Did We Think?
I had been using normal Tupperware to store my pizza for my entire life and thought that was the only way to do it. When I saw the Pizza Pack on Shark Tank I knew I needed one of these kitchen gadgets to handle leftover pizza in my house.
Pizza Pack comes in a variety of colors and I picked out Red, White and Blue colors to put to our Tailgating Challenge. The Pizza Pack is expandable and collapsible, so you can find the perfect size for however many pieces of leftover pizza you have.
The Pizza Pack is simple to expand and collapse and is even dishwasher safe. It comes with 5 microwave safe dividers that can also be used as plates. These are great if you don't want to dirty up a large plate and can heat up single pieces of pizza with ease.
The Pizza Pack can hold a variety of sizes of pizza, but some of the extra large slices may not fit. One tip for handling larger slices is to expand the Pizza Pack and larger slices will fit better near the top vs. the bottom of a fully expanded Pizza Pack.
The Pizza Pack is also a space saver for your fridge. It takes up far less space than normal Tupperware would, storing the same amount of leftovers. My wife was stoked by the space saving this brought to our fridge and happy wife = happy life.
Conclusion
PROS: easy to use, dishwasher save, space saving, better way to store pizza
CONS: can't handle every size of pizza (but fits most)
Overall, if you have leftover pizza then the Pizza Pack will be an upgrade for your kitchen.
Learn more and get your own by visiting PIZZA PACK.
Find this an many amazing products that we've tested in our AMAZON STORE. A little bit of every purchase goes back to help support our honest reviews of the products you love.
Thanks for reading our blog on the Pizza Pack Review. Let us know what you think and any questions. Check out our short video below and while you're on YouTube make sure you hit that SUBSCRIBE button!
Love learning about all the new products that we get to test? Take a minute and check out our latest PRODUCT REVIEWS.
We never get paid for our reviews, this way we can always keep it real with our fans. We were sent a sample to check out with the understanding that we'd give our honest opinions.
Written By: Luke Lorick 3/6/23