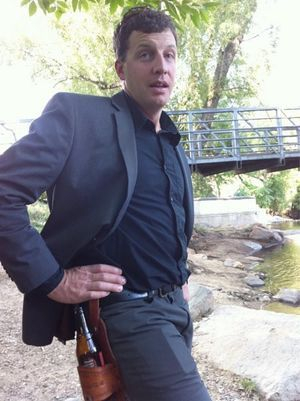 Ever needed a free hand while tailgating? Of course, we all have been there before trying to make a plate of food, or playing a game and just needed somewhere to secure our beverage.  Rocky Mountain Holsters has helped solved this dilemma, wild west style, with their Beer Holster.
The Beer Holster is hand crafted from leather and has a loop (or clip) that attaches to your belt. The holster also has a leg strap to keep the drink extra secure should you be involved in a tailgating shoot out.
The Beer Holster can be customized and branded with your name or your favorite team.
We took the Beer Holster to a college football tailgate and many people wanted to try it out and were shocked at how affordable the holster was.  It was hard for some to take it off to give it back as they wanted to use it the rest of the day!
PROS: affordable (under $30), unique style, ability to free up your hands, doesn't feel as bulky as we initially thought when on, conversation starter, ability to customize
CONS: we weren't fans of the leg strap as it was too constricting (simple fix we didn't tie it to our leg)
If you want to make a statement at your next tailgate and not break the bank doing so then check out the Beer Holster from Rocky Mountain Holsters.
Rocky Mountain Holsters also offers a similar product to hold your drink while biking!
Check them out at:
Visit them on facebook: https://www.facebook.com/TheBeerHolster?ref=hl