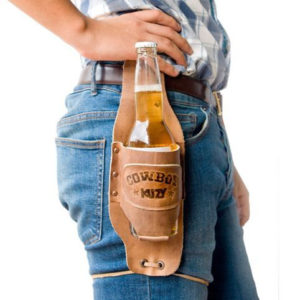 Ready to channel your inner cowboy? Then check out the Suzy Koozie Cowboy Kuzy. This is a genuine leather beverage holster to free up your hands for something awesome.
Take 10 paces then draw…your BEER:)
PROS: genuine leather, branded
CONS: can't customize, must have belt on to use.
Overall: this is a good product, but having seen the competitors, there may be better options if you want something custom, or to use without a belt.
Want to get your own?