Tailgating season is right around the corner and you're going to need the insider information on some of the best products to help take your tailgating to the next level. Good thing for you I've tested over 500 products to help come up with my first ever 2019 Best in Class Tailgating Challenge Awards.
I dug deep to get some of the coolest products and categories that others may miss out on. Best chair, best cooler, sure we've got that covered, but we also dig deeper: best way to eradicate bugs, best way to chill drinks fast and much more.
Below are this years Best in Class Tailgating Challenge Awards.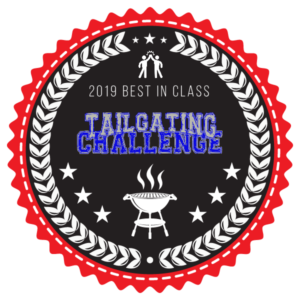 Best Way to Chill Drinks: Spin Chill
Face it, you've had to drink a lukewarm beer before because you ran out, or someone didn't plan correctly. Now you're faced with waiting, or drinking a warm beer. Both options are terrible, so the Spin Chill solves this issue. You can hook your can, or bottle to the Spin Chill and then spin it on ice to get the temperature down below 40 degrees in 90 seconds. Always keep one on hand when you're out tailgating.
No one likes uninvited guests to the party, but those pesky bugs always seem to show up when you have some tasty food outside. I get it the food we made is awesome, but I'm not sharing it with a fly. Instead of using a fly swatter, which is kind of nasty to use around food, lets SHOOT the fly with a hit of table salt! The Bug-A-Salt is the hands down most fun way to take out some uninvited guests.
Best Meat Delivery Service: Feed The Party 
If you're at the tailgate you need some top notch meat to show that YOU are the grilling master. Sometimes the best meat is not what you get at your local supermarket. We found some excellent quality meats from Feed the Party. My favorite being the Tomahawk Steak!
Best Beer Delivery Service: Tavour
I went from a regular light beer drinker to a little bit of a craft beer snob. I love to try all the different styles of beer and I know that beer is regional and you can't always get that awesome new beer, as they don't sell it in your part of the country. That is why I like Tavour as they have a wide selection of beers that come on each day and if you want it, you add it to the cart, if you don't no sweat. Many beer clubs send you specific beers, some you'll like and others will end up getting dusty in your pantry. With Tavour you only get what you want.
Best Fire Pit: Biolite
There is nothing like a fire pit on a cool evening, but I can do without the smoke. I hate smelling like smoke and so did the team at Biolite. They made a fire pit that uses technology to help add air to the fire, so it greatly reduces smoke. It also has a mesh design all the way around that makes it awesome to view the fire.
When tailgating you need a great table and the EZ Hitch Table is awesome. It goes into your receiver hitch and has a table you can use while sitting on the back of the tailgate. It even has the option to add an umbrella to keep the sun off you. Finally, there is a built in bottle opener so you never have to search one out.
Best Grill Cleaner: Great Scrape
For the longest time I thought the only way to clean your grill was with those wire brushes..WRONG! Those wire brushes can wear out and actually fall out and get in your food! Don't swallow one of those bristles, or you could end up in the hospital. The Great Scrape is made out of WOOD and actually forms to fit your grill grates.
Best Way to Relax: Kijaro Hammocks
We all need to relax more and that's why I love the selection of hammocks that Kijaro offers. My favorite are the all in one hammocks that fit into a backpack and have the stands too. This way you can easily set up to relax at the tailgate. They even have one with an adjustable canopy to keep the sun off your face.
Best Way to Stay Cool: Airwirl
Early season football tailgating can be HOT! One of the coolest ways I've found to beat the heat is the new portable AC from Airwirl. Fill the tumbler up with ice and hit the power button for AC on demand.
Best Way to Stay Warm: Chaheati Chair
The Chaheati chair heats up to keep you warm during those cooler months while you're out there tailgating. You can warm yourself up and charge your phone with this chair. You've had heated seats in your vehicle for years, now you can at the tailgate too.
Best Portable Speaker: Nuvelon
I love the Nuvelon speaker because it packs some major sound and it puts on an impressive show, light show that is! The Nuvelon speakers can be run in tandem to make for the ultimate surround sound experience and once night falls the fun lighting effects will put your guests into a trance.
Best Tailgating Tumbler: Gametime Sidekicks
Tumblers are a key piece of drinking equipment at tailgates and I love mine with a little bit of style. I like the Gametime Sidekicks tumbler, as you can get it in a chrome, or carbon fiber material. You can also add some customization with your favorite team or business logo. Plus they keep drinks ice cold all day.
Best Drinking Accessory: Flaskap
I found the best top for your tumbler: Flaskap! It holds the liquor of your choice and you just push a button to pump some liquor into your drink. This way you can drink undercover and you don't have to walk around with a liquor bottle. This is one handy invention. Also excellent when you're not to supposed to have any glass bottles at particular venues.
Best Koozie: Wicked Cold
The Wicked Cold Koozie has both a bottle opener and a magnet on the bottom so you can place your drink on any metal surface and it won't spill! Further, the style on these are amazing. They even made a special National Tailgating Day edition that is the best looking koozie we have ever seen.
Best Hangover Remedy: Blowfish for Hangovers
I hate hangovers, but many of the products I've used to help with them have given very 'blah' results. Blowfish for hangovers is my favorite and you use it the day AFTER you have a little too much fun. It has a very mild taste and is actually recognized as effective by the FDA. Heck they even guarantee your money back…I didn't ask for anything back:)
Best Table Top Game: Dual Ring Daddy
We love a good CHALLENGE and when we got our hands on the Dual Ring Daddy we found an awesome challenge waiting to happen. This takes the common hook and ring game and lets you have a head to head matchup. Challenge your friends, or take it a step further and challenge a team for a relay race. Either way get ready to have some fun.
Best Tailgating Beer: Natural Light Naturdays
You need an easy drinking and refreshing beer when you set up for an all day tailgate. While there are many excellent choices the award goes to Naturdays the refreshing Strawberry Lemonade beer that drinks like a shandy. You can check it out in our Top 5 summer beers video:
Best Backpack: Star Sports Backpack
The helmet designed backpacks are the coolest backpack I've ever seen. People stop and ask to take pictures, not with me, but with the backpack. If you're not one for attention then move on. If you like to support your team and make a statement then this backpack is for you.
Best Meat Seasoning: Meat Church
When you're grilling you may like to add some special seasoning to really bring out the flavor and Meat Church brings amazing flavor to your grill. They have a wide variety of spices for your grilling needs, but my favorite spice is the Honey Hog BBQ. If you love to test out new spices then you need to test these out and they may be the last ones you ever buy.
Best tailgate: GMC Sierra with Multipro Tailgate
GMC finally made a tailgate that was designed with the tailgater in mind! The Multipro tailgate transforms into the best tailgating experience you can have. Heck they even added a Kicker sound system INTO the tailgate! Check it out:
That wraps up this years Best in Class Awards! Did one of your favorite products not make this list? Let us know what we should check out next year. Was there a category that we missed? You may find it covered in our upcoming Top 10 list.
Stay tuned for our TOP 10 National Tailgating Day Awards coming soon…