Grilling and fire pits are two of our favorite things at our tailgating and homegating parties. In the past we have simply used matches, or a lighter to get these started, but in some elements these tools could fail you. We don't like to fail, so we found a better way: Mini Flamethrowers. Some call these torches, but regardless of what you call them they are amazing. We found our two favorites: SearPro and Su-VGun by GrillBlazer. Let's see if we can determine who has the best mini flamethrower in the next Tailgating Challenge.
SearPro Features
-Uses only 1 pound propane tank
-Weights 1.1 pounds
-Up to 1,800 degree flame
-Stands up on it's own
-Easy start up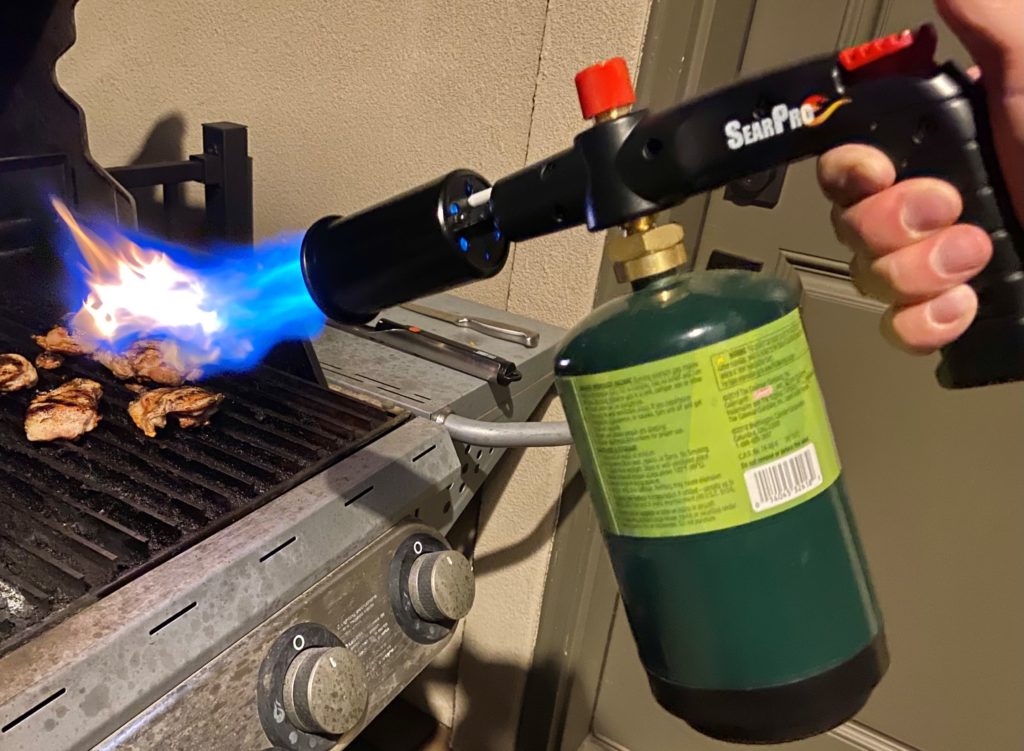 Su-VGun Features
-Comes with stand to sit upright
-400,000 BTU's
-Unique 'gun' design
-Ability to use 1 pound or 20 pound propane tanks
-Extra 'trigger' that flashes extra propane if you need a quick burst of heat/flames
-Weight 1.7 pounds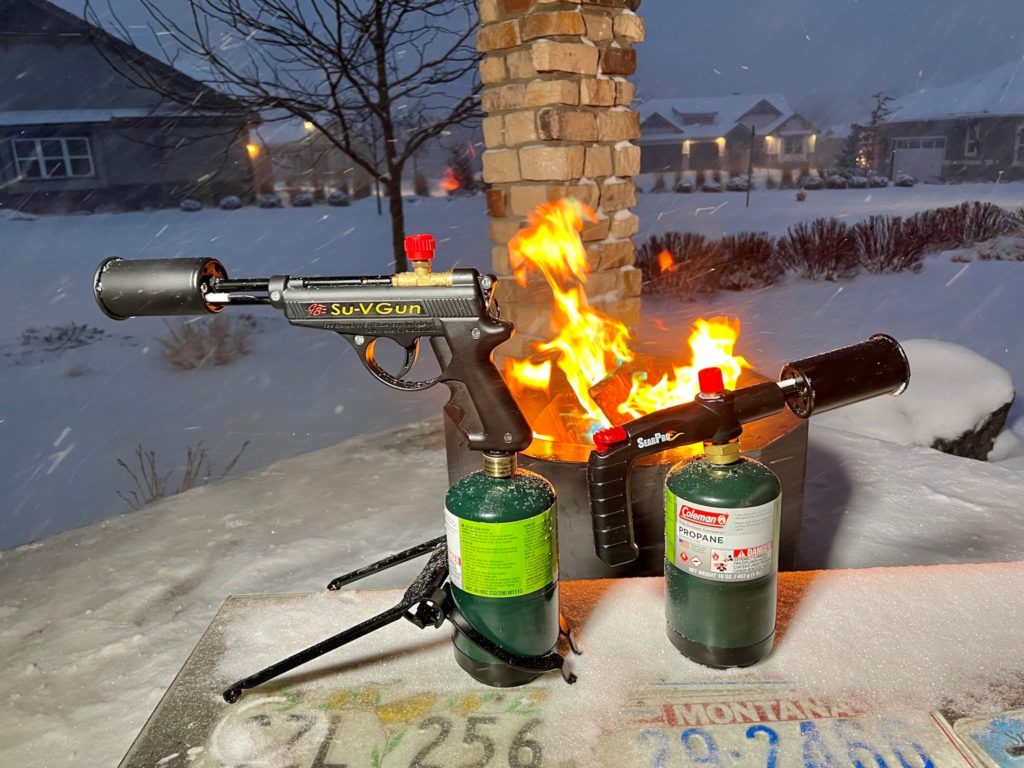 What Did We Think of These Mini Flamethrowers?
First, I'll say that you can't go wrong with either of these mini flamethrowers. They start up easily, make lighting things a breeze and bring that WOW effect. I wanted to create this video/blog to help those that are looking to buy one, with the pros and cons of each, so they could make the best decision on which torch to get. If you are reading this, YES, you want one of these!
I'll start with the SearPro. I have had this one the longest and use it for a variety of things, but mainly lighting fire pits, or in the kitchen with certain recipes. (You can see our original FULL blog HERE).
The SearPro is the lighter weight option, 1.1 pound, and one of the things I love the most is that it stands up on it's own. It has a good flame and 'sips' the propane (we can make a bottle last a long time). It can only use a 1 pound propane tank at this time.
Next up the Su-VGun from Grillblazer. This literally looks like they took a gun and made it into a torch. This one weighs more than the SearPro and can't stand up on it's own. Don't worry it comes with an easy to use stand that you slide the propane tank into.
The Su-VGun has a strong blue flame and is easy to start up. One unique feature is that on the handle there is another 'trigger' that if you squeeze it will give an extra burst of gas to give the flame a little something extra.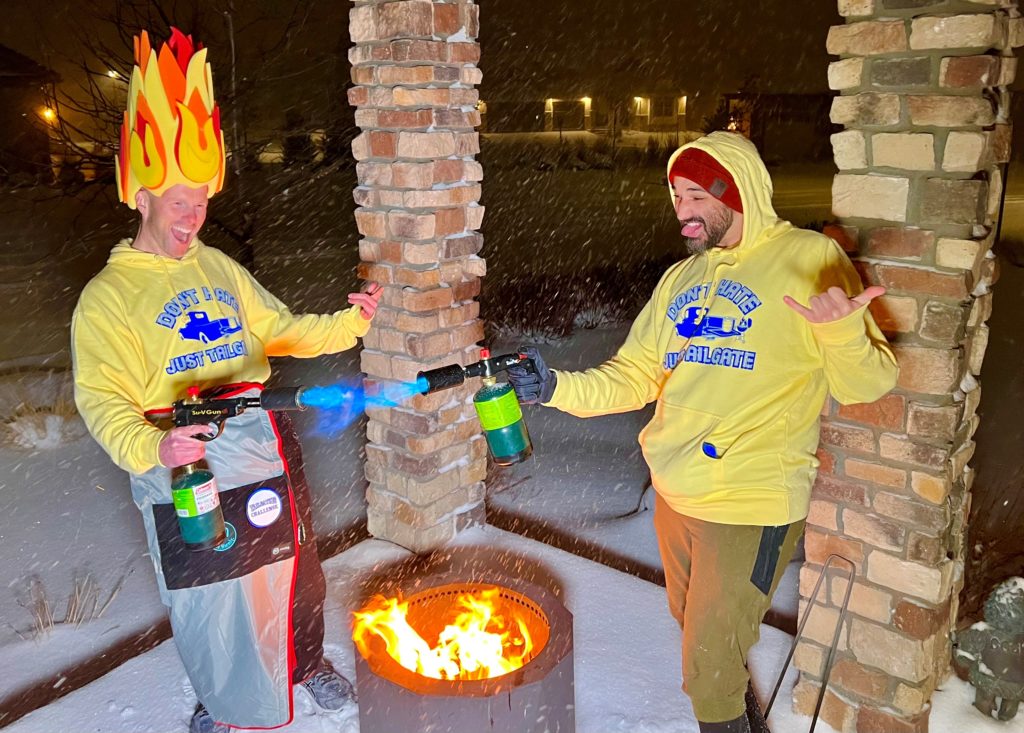 Conclusion
SearPro: light weight, easy to use, stands up on it's on, good flame, lower cost option
Su–VGun: cool design, strong flame, easy to use, extra 'trigger' for gas burst, can use adaptor for 20 pound propane tank
Overall, the only way you can wrong is if you don't get one of these. In reality, both of these are strong options that I would recommend, if you're in the market for one of the best mini flamethrowers on the market.
Find both or these and many more amazing products that we've tested in our AMAZON STORE.
Thanks for reading our blog on the Best Mini Flamethrowers. Let us know what you think and any questions. Check out our short video below and while you're on YouTube make sure you hit that SUBSCRIBE button!
Love learning about all the new products that we get to test? Take a minute and check out our latest PRODUCT REVIEWS.
We never get paid for our reviews, this way we can always keep it real with our fans. We were sent a sample to check out with the understanding that we'd give our honest opinions.
Written By: Luke Lorick 1/8/22