We love games. Playing games at the tailgate brings out a whole new level of fun and competition with your tailgating friends. When people think tailgating games they go to the classics: Cornhole and Beer Pong, but there are many new games being developed that can take your tailgate to the next level. One of our favorite table top games (it won our best table top game of 2019) is the Dual Ring Daddy game. Below we tell the story about how this game was formed and give you our Dual Ring Daddy review.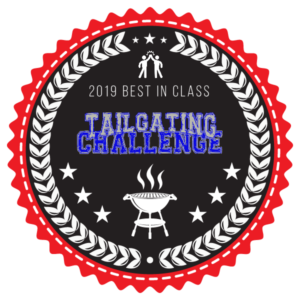 The Dual Ring Daddy game was developed in 2019 and Tailgating Challenge had a helping in hand in the idea of this game coming around. We partnered with Cardinal Toys to do a giveaway of their Ring Daddy Caddy game that you can find HERE.
After the giveaway was over the winner asked if they could make TWO hooks on the Ring Daddy Caddy. Cardinal Toys, who's always ready to do something custom, agreed and this sparked the idea of an entire new game. I got on the phone with the owner of the Cardinal Toys, Mark Howell, and shared ideas about making a smaller portable game that took the classic game of ring hook and made it into a competition style game.  Again, Cardinal Toys is open to custom projects, they agreed, and we started bouncing ideas back and forth to come up with Dual Ring Daddy. Given that we've tested more tailgating products than anyone out there, see more of our product reviews, we had a couple ideas of what tailgaters would love.
There were various versions and heck there could be more improvements over the years, but what resulted is one of the most fun table top games ever. I've always loved the classic game of ring hook and seem drawn to it when I see it at the local watering hole. When we play the classic version you always have to wait your turn, no more! The Dual Ring Daddy allows you to go head to head to play one on one, or my favorite (see video below) a team relay race.
There are many great table top games out there, but the Dual Ring Daddy is one we encourage you to try out. I'm pretty sure you will thank us later.
Remember to tag us in your pics/videos of this game so we can see your skills!
Here you can see how fun a Relay Race is with the Dual Ring Daddy:
Here is a classic one on one matchup with the Dual Ring Daddy: