Tossing a football around is a fun activity before tailgates and now there is a robotic QB that can actually throw the ball to you when others are tired of playing catch. Meet the All-Pro Passer that can launch a football up to 25 yards. Whether you're keeping the kids entertained at the tailgate, or using this to train to be the next football star, the All-Pro Passer can help keep the balls coming your way. Now onto the All-Pro Passer Robotic QB Review.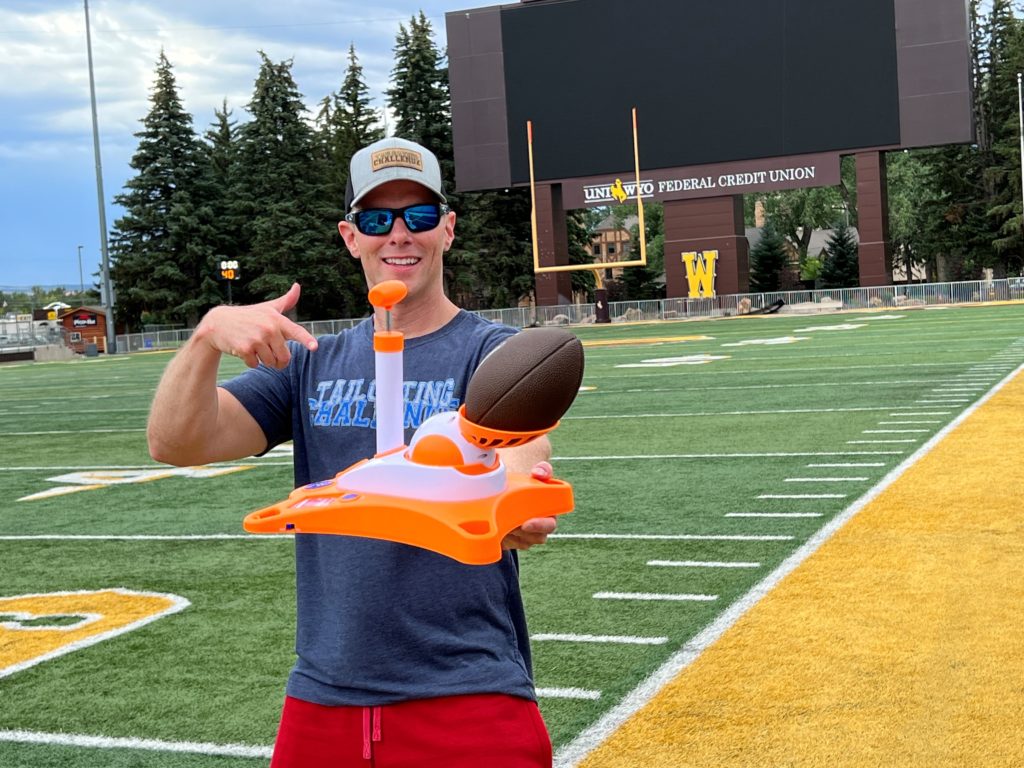 All-Pro Passer Features
-9 routes
-Launches ball up to 25 yards
-Portable
-Short, Medium, Long Routes
-Uses 4 C Batteries
What Did We Think?
My first thought was this was great for parents when they get tired of throwing the ball over and over to their kids. They can tag in the All-Pro Passer to keep the kids entertained while they rest up and grab a cold drink.
I got our All-Pro Passer and took it to the football field. I got on the field at Wyoming University to put the All-Pro Passer to our Tailgating Challenge.
The first thing that is noticed is that this robotic quarterback is highly portable and easy to take to any venue of choice. Before we got started I put in 4 C Batteries on the underside of the All-Pro Passer and then slid the switch to On.
Then it was time to select the route. This has 9 different routes that you can select with the arrows. When the red light goes to your route of choice you will then hit the Lock button. This step must be done prior to pumping, as it will lock the ball in.
From there it is time to get your pump on. This is providing the air pressure to launch the football. There is an air pressure gauge that you will pump until it matches the distance of the route you are running. Now press the hike button and get ready.
Once the hike button is pressed you will hear audibles coming from the QB and the ball will start to move around. You will then run your route and watch the ball shoot from the robotic QB to the area of the route selected.
The long routes were the most fun to train with and get the best exercise. The ball is much small than a normal sized ball and it would be awesome if they made one with a regulation size ball for those working on taking their skills to the next level.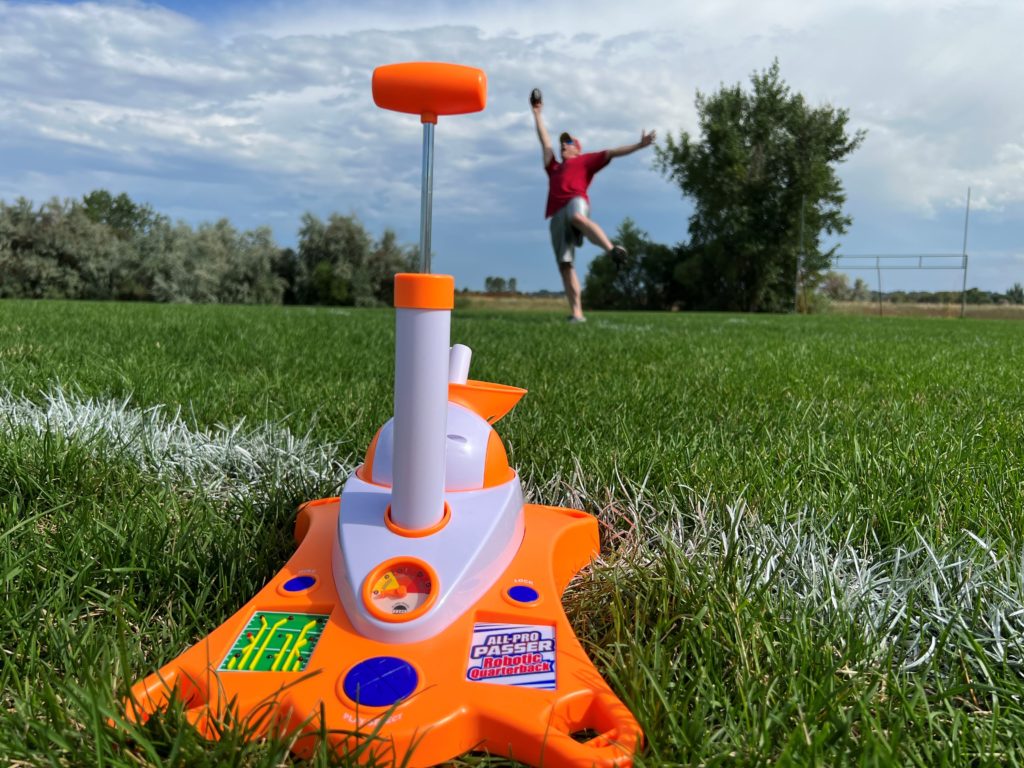 Conclusion
PROS: Easy to use, great for football practice and exercise, portable, 9 passing routes
CONS: Would like to not have to pump as much on each pass and have an option for full size ball
Overall, this is a fun new way to get exercise while doing something fun. This game was designed with kids in mind, but as a big kid myself I had fun running routes and catching passes from the robotic quarterback.
Learn more and get your own by visiting All Pro Passer.
Find many amazing products that we've tested in our AMAZON STORE. A little bit of every purchase goes back to help support our honest reviews of the products you love.
Thanks for reading our blog on the All-Pro Passer Robotic QB Review. Let us know what you think and any questions. Check out our short video below and while you're on YouTube make sure you hit that SUBSCRIBE button!
Love learning about all the new products that we get to test? Take a minute and check out our latest PRODUCT REVIEWS.
We never get paid for our reviews, this way we can always keep it real with our fans. We were sent a sample to check out with the understanding that we'd give our honest opinions.
Written By: Luke Lorick 8/11/22