When you camp you need a light to see once the sun goes down. There are plenty of lights out there, but we found a fun one that does much more than a normal light. Meet the AlpenGlow 500 from Biolite. It has multiple light modes, can handle rain and even charge your phone. Now that I have your attention, let's get into the AlpenGlow 500 Biolite Review.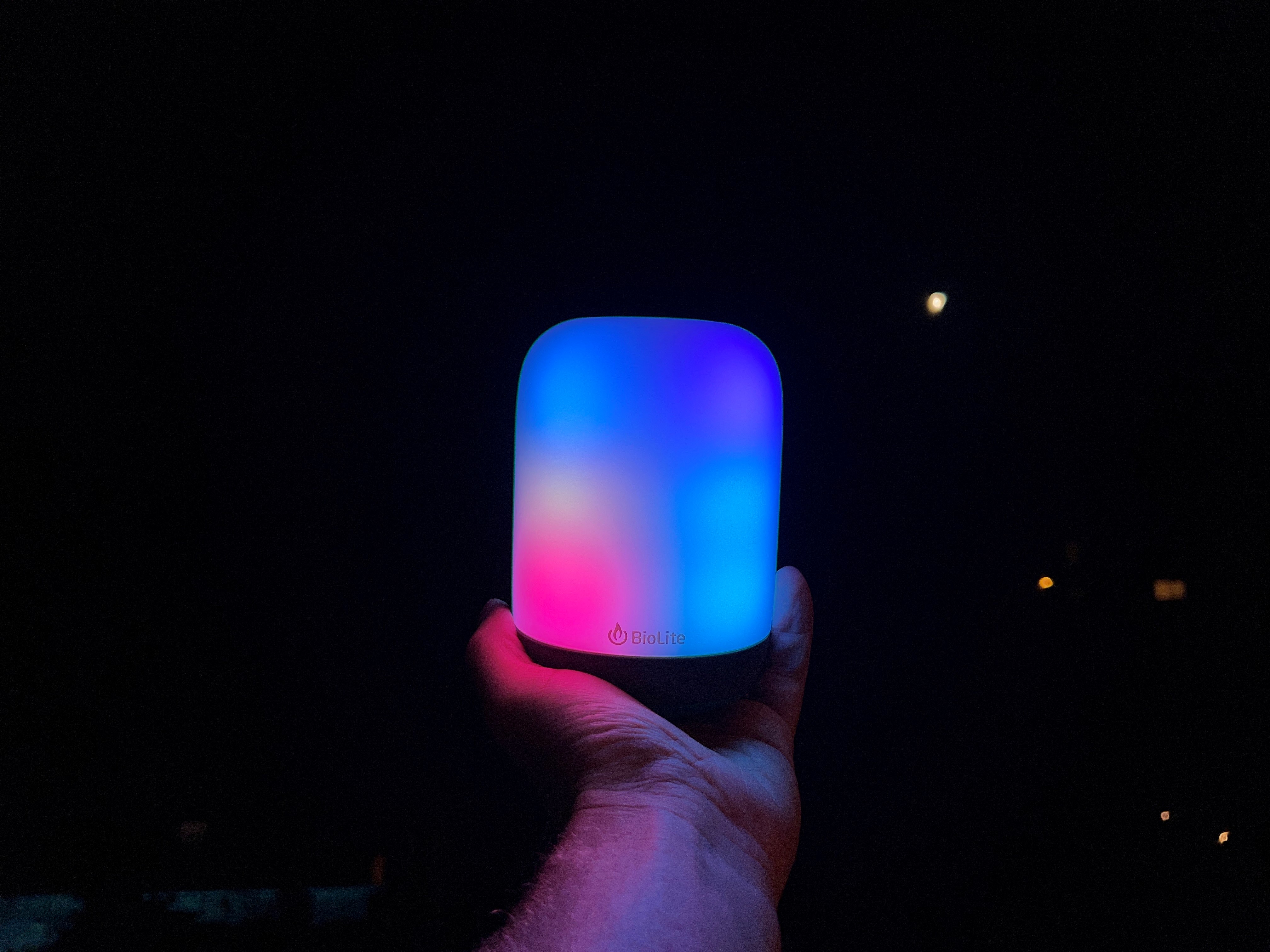 AlpenGlow 500 Features
-Multiple lighting modes
-Water resistant IPX4
-Can charge personal electronics
-Hook for hanging
-Shake to change color
What Did We Think?
When I first saw the AlpenGlow I was most intrigued by the party mode lights. This fits the evening tailgating parties to keep the party going well past sundown. Before we get ahead of ourselves let's talk about some of the other features this unique light brings to the party.
First up this light can handle the rain. It is IPX4 waterproof rated meaning it can handle some rain, but don't toss it in the lake. We cut the hose on and sprayed it down and it kept the lights going with no issues at all.
A light is great, but if it can charge a cellphone, even better. This light can do just that and keep your phone charged while the light show goes on.
There is also a hanging clip that allows you to hang this to have a lantern mode with your light.
Now onto the big part of the show the lights! Here are all of the lighting modes:
-Cool white
-Warm white
-Single color
-Multicolor
-Single Side Light
-Candle Flicker
-1-Color Cycle
-Multicolor Party
-Fireworks
This light also has shake technology so you can shake it to change the lights. My personal favorites are the multicolor party lights and the fireworks mode. The light is easy to use and lights have fun but subtle colors that just make me happy.
Conclusion
PROS: many different lighting modes, IPX4, can charge your phone, shake technology to change the lights
CONS: Not really a con but would be awesome to have a small bluetooth speaker that would pair with lights too
Overall, this is a fun portable light that does much more than a normal light. From party mode lights to charging your phone the AlpenGlow 500 is ready for your next camping adventure or tailgating party.
Learn more and get your own by visiting BIOLITE.
Find this and many amazing products that we've tested in our AMAZON STORE. A little bit of every purchase goes back to help support our honest reviews of the products you love.
Thanks for reading our blog on the AlpenGlow 500 Biolite Review. Let us know what you think and any questions. Check out our short video below and while you're on YouTube make sure you hit that SUBSCRIBE button!
Love learning about all the new products that we get to test? Take a minute and check out our latest PRODUCT REVIEWS.
We never get paid for our reviews, this way we can always keep it real with our fans. We were sent a sample to check out with the understanding that we'd give our honest opinions.
Written By: Luke Lorick 8/7/23