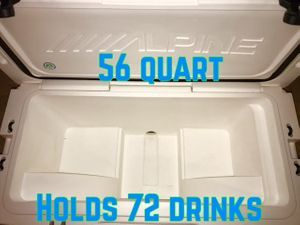 Coolers have come a long ways over the years. Cooler technology has evolved to keep ice for days and now you can even have a state of the art sound system built into a top shelf Grizzly Cooler. Enter the Alpine ICE. Alpine Electronics has long been one of the top audio companies in the world and now you can get world class sound
IN YOUR COOLER.
The Alpine ICE cooler can hold up to 72 drinks and keeps drinks cold for days. The Grizzly cooler is 56 quarts and boasts an Alpine audio system that pumps 90watts X 2 channels to 1 inch tweeters and 5.25 inch high dynamic woofers. It is all controlled via Bluetooth or from plugging in your favorite device. There is a simple control panel on the front that has the power and volume buttons only.
Once I hooked up my phone to play some music I was amazed at the crisp highs and the mellow bass that it produced. It is by far the best sounding cooler on the market.
There is one drawback to the cooler in that it does not have an internal battery, meaning that you have to have it plugged into your car or truck while tailgating or into another power source (in our case a Goal Zero battery pack) in order to use the stereo aspect of the cooler.
PROS: Clean look, great sound, quality cooler
CONS: there is no internal battery, no additional hook ups for add ons like microphone, musical instruments etc.
Overall, this cooler looks great and sounds even better. What's better than relaxing with friends, listening to good music and having a few ice cold beverages. With the Alpine Ice that day dream can become a reality.
The Alpine ICE is available at many independent retailers in the US as well as:
Mainstream consumer retailers: Amazon.com, BestBuy.com (Online only, not in Best Buy stores)
Car audio retailer: Crutchfield.com
Truck & Jeep retailers: 4 Wheel Parts (80 stores across the US, plus online), Quadratec.com, JustforJeeps.com