Do you LOVE bacon? Is it your favorite breakfast, or anytime food? I know it tastes great, but let's face it, its not exactly a health food. Bacon has a high fat content, but we found a better way to cook it, to make it as healthy as possible. Further, we found additional cooking surfaces on each side to cook yourself a breakfast that you can truly be proud of.
Let me introduce you to the Homecraft Bacon Press Griddle. We got a sample in to test out and we got right to work cooking up a hearty breakfast. The Bacon Press Griddle is a folding breakfast station that gives you two cooking surfaces and a bacon press. The drippings fall into a drip tray to get the fat off!
Check out some of the features of the Bacon Griddle Press:
CRISPY BACON: The removable central plate can accommodate up to six strips of regular-cut bacon at a time, making delicious, crispy bacon in just a few minutes. Can also cook thick-cut bacon

DUAL-SIDED COOKING: The dual-sided griddle allows you to cook a variety of foods such as eggs, bacon, sausage, pancakes and hashbrowns and the nonstick surface easily wipes clean

TIDY VERTICAL STORAGE: The black, lightweight slim folding design allows for tidy vertical storage

DRIP TRAY: The vertical cooking drains off fat for healthier cooking as the drip tray catches the unwanted grease and is removable so clean up is a breeze

COOL-TOUCH HANDLES: Keep your hands safe by using the cool-touch handles to carefully open and close doors

INDICATOR LIGHTS: Power and preheat indicator lights let you know when to start cooking!

LEG SUPPORT: Built-in leg support gives the griddle extra stability while cooking
We plugged ours into the outlet (yes you will need an electric power sources to activate) and let it heat up. This thing was ready to cook on in a little over a minute. I could feel the heat coming off the side griddles. We got out some sausage, eggs and bacon and started to set this machine up. We cracked a few eggs and watched them start to cook instantly. We learned that while the griddles are NON Stick, for some items you need to add some cooking spray on. The sausages started to sizzle as they were added to the Bacon Press Griddle. Then we pulled bacon piece by piece to lay it across the bacon hanger. We learned that the bacon will not cook with both griddles down and in use cooking other tasty breakfast items.
Once we learned that the bacon has to be cooked with the press, you take both griddles and lock them on top of the bacon that is hanging. This pressing keeps the bacon flat and quite a bit of the fat comes out of the bacon and drips into the drip tray. For crispy bacon you will need to open the griddle and then flip the bacon to the other side to get both sides crispy.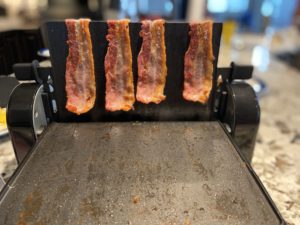 While cooking the bacon in this format we learned that both griddles get some bacon fat on the griddles that act as the perfect non-stick ingredient if you then wanted to cook eggs and other breakfast items on the grill. Nothing wrong with a little extra bacon flavor.
The overall cooking area is not large on this machine, so if you are cooking for more than 2 people,this may not be the machine for you. It folds upright when complete for easy storage. For cleaning you are able to remove the bacon hanger and drip tray and either wash them, or toss in the dishwasher. One thing we were unable to remove for easy cleaning is the griddle plates. These do not appear to come off. We played with them for quite some time and tried looking for any info in the instructions with no luck. You will need to wipe these down, as you shouldn't attempt to wash the entire machine.
Overall, if you want to cook healthier bacon whether at home, tailgating or at the campsite then the Homecraft Bacon Press Griddle could be the machine for you.
Get your own by visiting HERE.
Love our honest reviews? Check out hundreds of our reviews in our Product Review section.
There was NO money paid for this review. We were sent one unit to test out to give our honest feedback on.
Written by: Luke Lorick 5/27/20