We love music! All of our tailgating and homegating parties have to have some good tunes going. In our quest for the best bluetooth speakers we came across a briefcase boom box made from Bassmaker Stereo. They are taking the classic briefcase and turning it into one of the most unique bluetooth speakers we have come across. Now let's go further into our Bassmaker Stereo Review.
Bassmaker Features
2 x 6.5" Co-Axial Speakers
105 dB
150 Watts Max Power (40W RMS)
Impedance: 4Ω
Bluetooth Connectivity (+15 meters)
Dual-Channel Digital Stereo Amp
Convenient Handle
Rechargeable Lithium-ion Battery (16hr)
TSA Approved
1/4" Microphone/Instrument Input
Let's Test The Bassmaker Stereo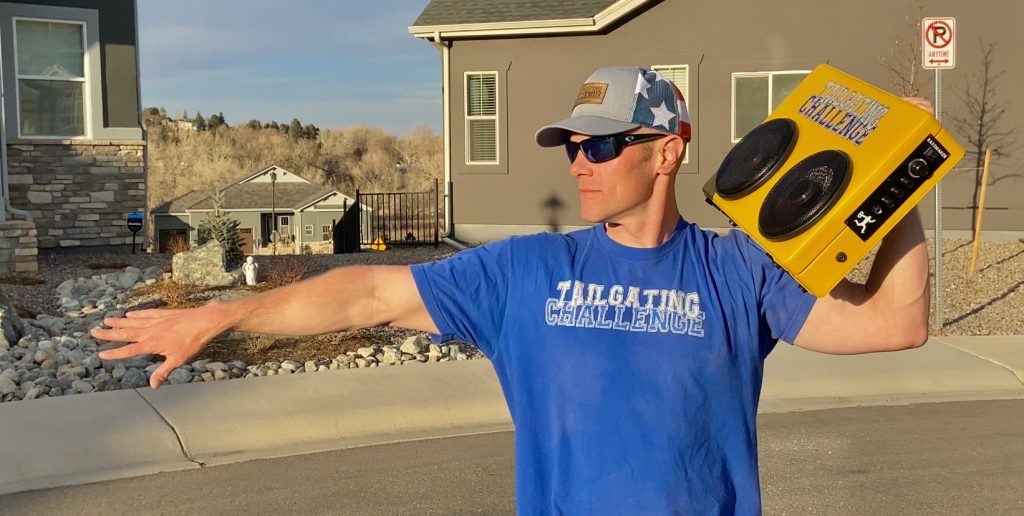 The Bassmaker Stereo currently comes in 6 different colors: black, orange, blue, green, yellow, and red. They are also able to customize the front area of the Bassmaker. We were able to add our Tailgating Challenge logo to the briefcase to make it one of a kind.
The Bassmaker briefcase holds two 6.5 inch speakers that help pump out the jams. We hooked our iPhone up to the Bassmaker and then turned up the volume. We were pretty impressed with sound that was pumping out of our bassmaker. In addition to a volume knob there is also a bass, treble and microphone sound adjustment knob.
The Bassmaker allowed us to fine tune the bass and treble we wanted and also put out crisp music that was plenty loud, especially when I had it on my shoulder with the old school boom box style.
The other unique feature is that you can plug in a microphone to really get the party going. The microphone has a separate adjustment and allows you to adjust exactly how loud your voice is projecting. The microphone also allows you to speak while the music is going. This could be the perfect karaoke machine too.
Conclusion
Pros: great styling, ability to customize, 16 hour rechargeable battery, microphone input (mic not included)
Cons: NOT waterproof
Areas of Opportunity: neon light rings inside the speakers, ability to open the briefcase, wireless mic ability
Overall, this is one of the most unique bluetooth speakers we have tested. After using the Bassmaker stereo boom box we are fans and agree that this passed our Tailgating Challenge.
You can learn more and get your own briefcase boom box by visiting: BASSMAKER STEREO
Thanks for reading our blog on the Bassmaker Stereo Review. Leave us any questions, or comments below and in the interim check out the video below.
Love learning about all the cool, new products that we get to test out? Take a minute and check out our recent PRODUCT REVIEWS.
We NEVER get paid for our reviews. This way we can always keep it real for our fans. We were supplied one sample to check out with the intentions of giving our honest feedback.
Written By: Luke Lorick 3/7/21