Tired of grilling in the dark? We were too and that is when we found the BBQ Croc 3 in 1 Grilling Tool. This can help you see at night, grip your food, clean your grill and even has a bottle opener. If you've been thinking it's time to upgrade your grilling gear keep reading.
Features of BBQ Croc
-Bottle Opener
-Removeable flashlight
-Cleaning Grill Grooves
-Textured Handle Grips
-Dual Spatula Locking System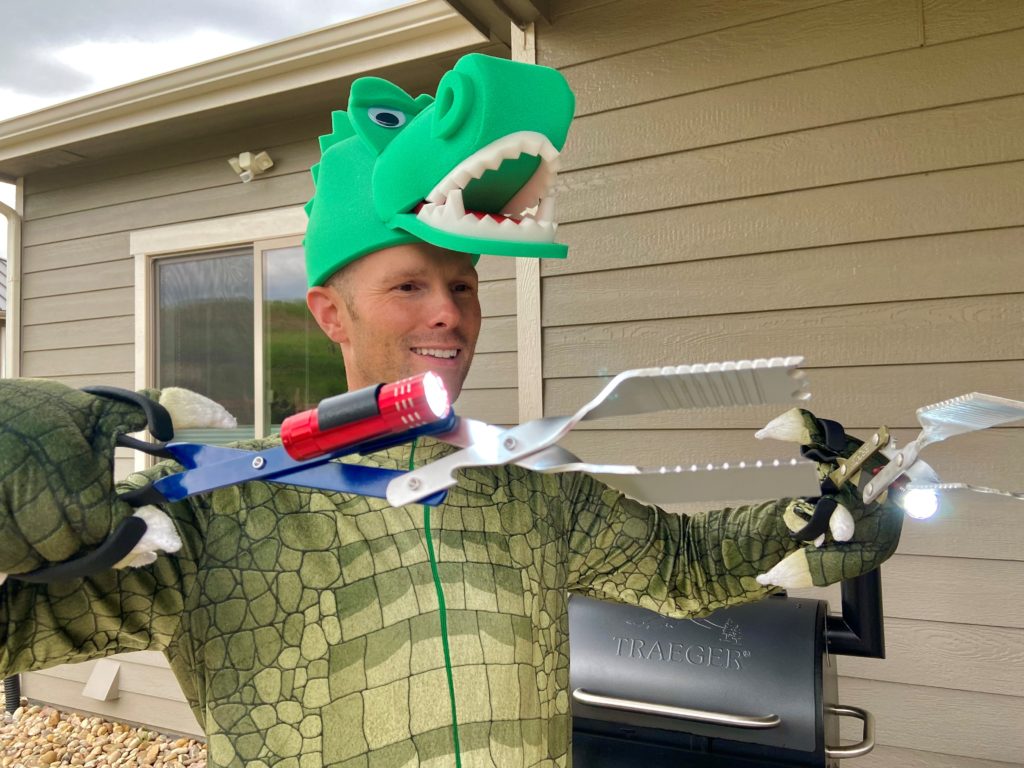 Product Testing
I work long hours and many times don't get to eat until late. I had MANY nights trying to use the light from the porch to check to see how the food on the grill was doing. This sometimes led to under, or overcooked foods. I needed something that could shine some light on this issue and that is when we got our BBQ Croc grilling utensil.
The BBQ Croc looks like a fancy contraption out of the Inspector Gadget show. The handles feel good in my hand and my first concern was if it would get enough grip on the food I was attempting to grab. I got some food on the grill and quickly found out that these provide better grip than I anticipated. I had a few other BBQ guys use these that had the same question, but ended up saying they were pretty impressed with the grip and the BBC Croc, in general.
One side of the tongs has two grooves that are cut out, so you can clean your grill grates with the BBQ Croc. I'm still going to use some of the other, specialized, grill cleaning products the majority of the time, but this can give it a quick clean before you get to cooking.
The thing about this BBQ Croc that I needed the most was the removeable flashlight. It clips on the handle and provides a good amount of light to see exactly what you are doing. Remove this prior to washing.
Speaking of washing remember to hand wash these tongs. I put one in the dishwasher and there was immediate whitening of the metal.
Finally, this has a bottle opener built in. I compare this to the grill cleaner option, it will work, but I'm using some other bottle openers that can have a cleaner open to the lid than the BBQ Croc.
Conclusion
PROS: it has a light, comfortable to use, gets good grip on the food
CONS: metal fades if washed in the dishwasher, bottle opener is only ok
Overall, I grill a ton at night and love the idea of having some tongs that can help me see what I'm doing. If you're ready to shine some light on the grill, it's time to get a BBQ Croc.
Learn more and get your own by visiting BBQ CROC.
You can find this product and hundreds of more carefully curated products in our AMAZON STORE.
Thanks for reading our blog on the BBQ Croc 3 in 1 Grilling Tool. Let us know what questions you have and then watch our video review below. While you're on YouTube hope you can hit that SUBSCRIBE button.
Love learning more about the cool, products that we get to test out? Take a look at some of our recent PRODUCT REVIEWS.
We never get paid for our reviews. This way we can always keep it real with you. We were sent a sample to test out with the understanding that we'd give our honest thoughts.
Written By: Luke Lorick 6/21/21