Want to make hauling things easier? From tailgates, to beach days, fishing, groceries and more a great wagon can help you save trips back and forth. There are many wagons out there, but today we are focusing on a wagon that can go on any terrain and is easily portable. Let's get into the Beach Hauler XXL Wagon Review and see how it does in the next Tailgating Challenge.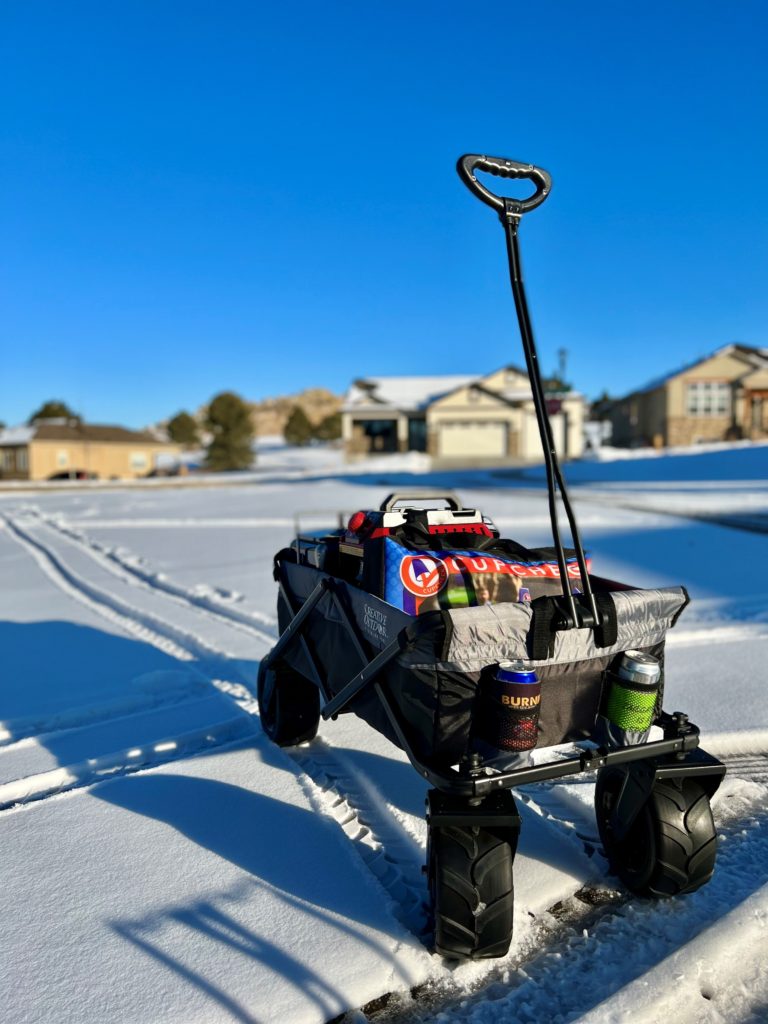 Beach Hauler XXL Features
-Holds 150 pounds
-Weighs 31 pounds
-Collapsible
-All Terrain Wheels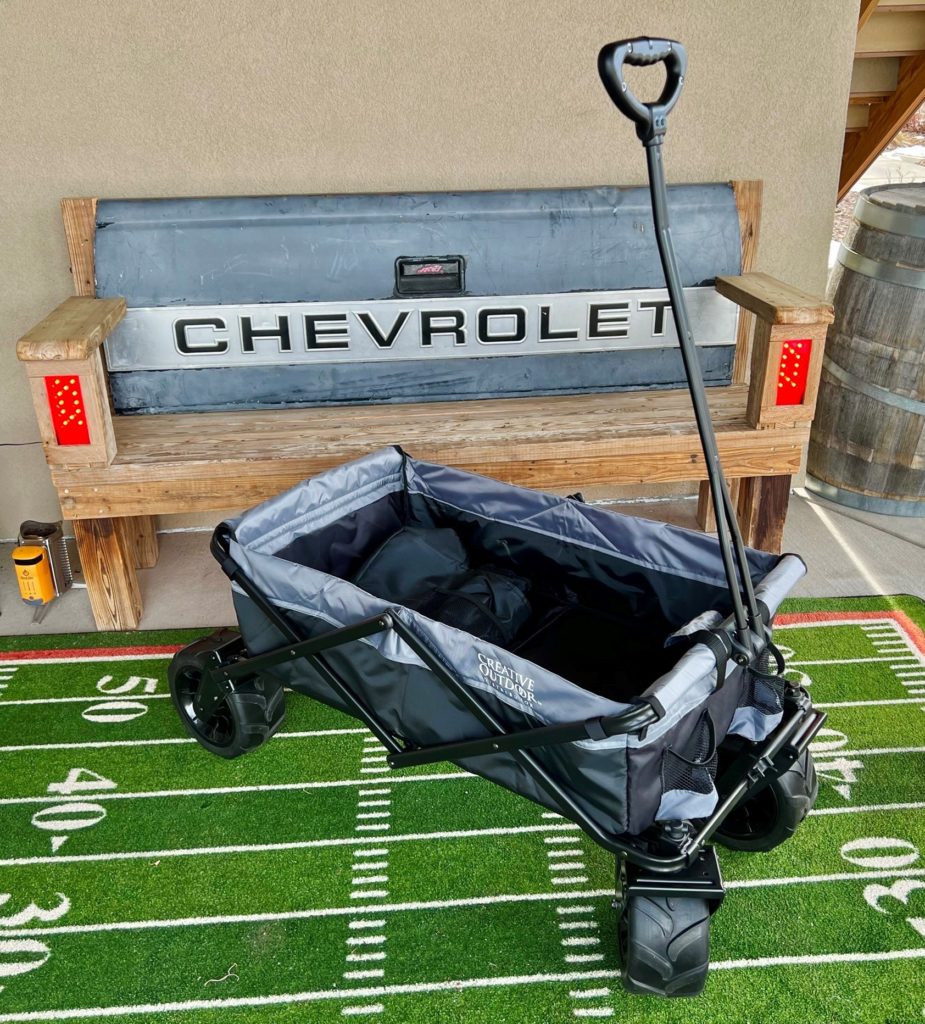 What Did We Think?
I haven't tested too many wagons, but my mind opened up to the possibilities that this Beach Hauler XXL Wagon could bring to our tailgates and everyday life.
This wagon was easy set up! The wagon comes folded up and you can grab the top handle to move it around. When you're ready to get your roll on it pushes out and locks in with no sweat. Like it was so easy to set up I wondered if I had done right! When I tried to fold it back up it wouldn't budge, so I knew it was locked in.
I loaded some tailgating gear into the Beach Hauler XXL Wagon and started rolling through the snow. We had gotten a few inches of snow earlier and I knew if it could get through snow and ice then it will get our tailgating seal of approval.
I pushed, pulled, ran and swerved the wagon around the snow (fully loaded) and it handled everything like a champ. The all terrain wheels shredded the snow and the ability for the front wheels to swivel 360 degrees made turns simple.
For my last terrain test I found a steep hill, living in CO that isn't too hard, and there was snow and ice on the hill. I still had the wagon fully loaded and I made my way up the hill. I slipped a few times, but the beach hauler didn't. We made it to the top and got some cool shots looking down at the neighborhood and surrounding mountains.
When you're done and you're ready to collapse it you simply pull up on the finger loop in the center of the wagon bottom and boom it folds in record time. Then you put the sheath back on the top and clip it on and you can pick it up, see below, and load it to it's final destination.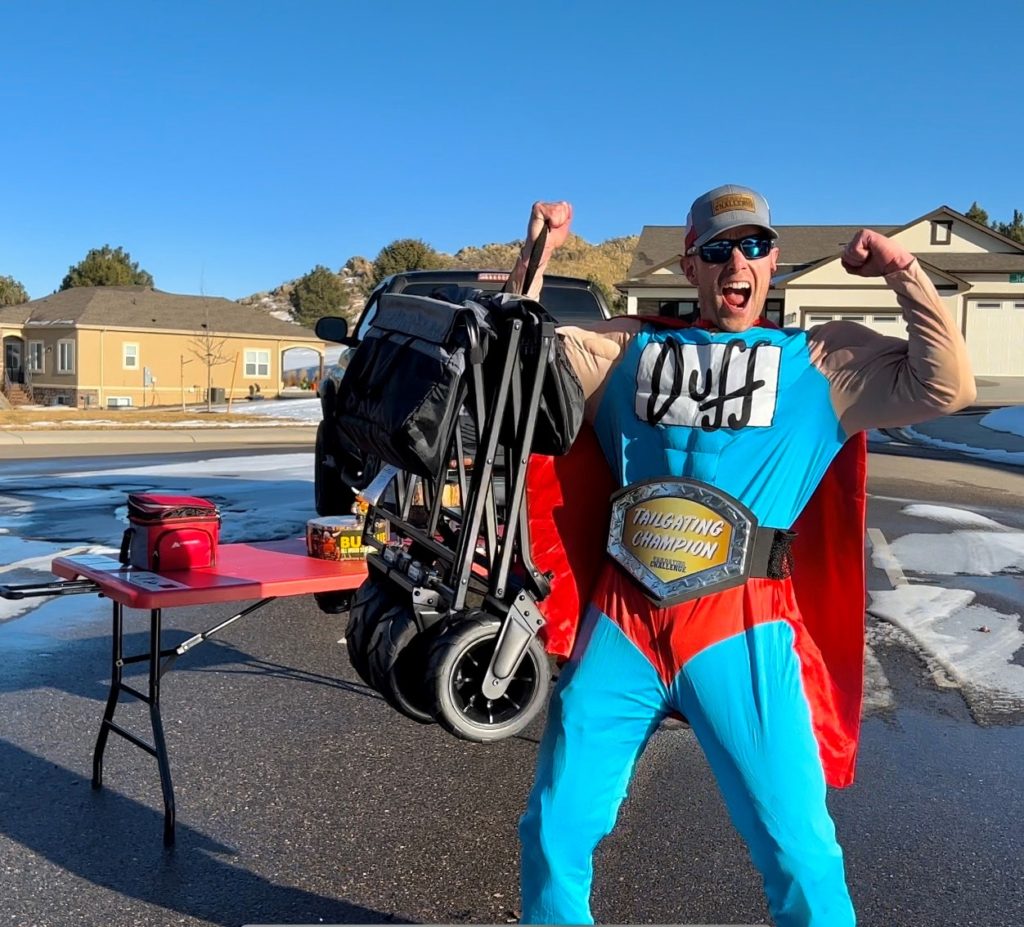 Conclusion
PROS: easily collapsible, all terrain wheels handle all types of terrain
CONS: can't hold my weight when I need a break:)
Overall, this wagon impressed how easy it was to use as it shredded the snow and easily got loads of fun stuff to wherever we wanted to go. This will make so many things easier from tailgating parties to all the gear we need for video shoots.
Learn more and get your own by visiting Custom Folding Wagons.
Save with promo code: tailgating
Find many amazing products that we've tested in our AMAZON STORE.
Thanks for reading our blog on the Beach Hauler XXL Wagon Review. Let us know what you think and any questions. Check out our short video below and while you're on YouTube make sure you hit that SUBSCRIBE button!
Love learning about all the new products that we get to test? Take a minute and check out our latest PRODUCT REVIEWS.
We never get paid for our reviews, this way we can always keep it real with our fans. We were sent a sample to check out with the understanding that we'd give our honest opinions.
Written By: Luke Lorick 3/122