It's time for something better to give your loved one that flowers that will wither and die. May we suggest Beef Jerky Flower Bouquet for Valentines day gift ideas this year?
We have been giving our loved ones flowers since the beginning of time. Flower are beautiful, but there are two issues with the standard gift of flowers: they Die and you can't EAT them! The Manly Man Company decided to take the flower idea and make it edible! The created a bouquet of flowers made from beef jerky. You know there is a large portion of people that would prefer the beef jerky over standard flowers and we got our hands on a bouquet of these unique flowers to put them to our Tailgating Challenge! Now lets take a look at this valentines day gift idea.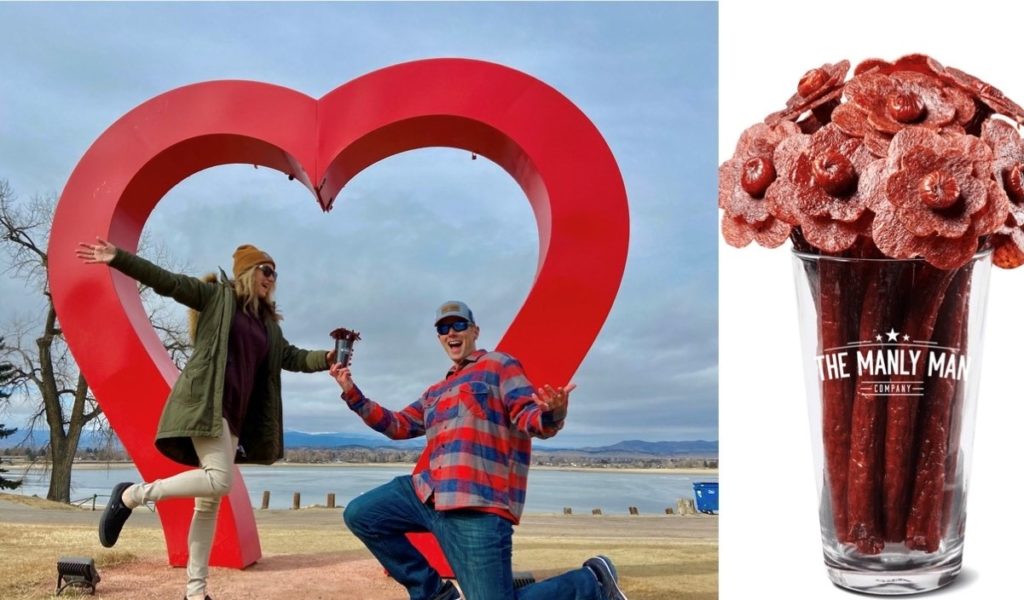 Features
Full Dozen
Pint Glass "Vase"
4 Flavors: Original, Teriyaki, Hot, Mixed
Arrives Assembled
Slides Out of Custom Box
How's It Taste?
The meat flowers consists of two different types of beef jerky. The petals are made from 100% beef, while the stems are made from pork, beef and spices.
We took a few bites of the petals, as well as the stems and they had a touch of spice on them. The taste was good, but it was not the best beef jerky I've ever had. I'd love them to step that up to make this not only the coolest display of beef jerky, but also the tastiest beef jerky ever.
Conclusion
PROS: great presentation, something different, if you love beef jerky this is awesome
CONS: while the presentation is great the taste needs to step up to make this the complete package
Overall, this is an awesome new way of giving a bouquet of flowers to your loved ones. No more withered flowers only yummy memories of beef jerky. If you're ready to do something different for valentines day, it's time for beef jerky rose bouquet.
If you want to learn more about this awesome valentines day gift visit MANLY MAN COMPANY
Love learning about all the cool, new products we get to test? Take a minute and check out our latest PRODUCT REVIEWS.
We NEVER get paid for our reviews, this way we can keep it real with you. Not all reviews you read are this way so be careful. We were sent one bouquet to test out to see what we thought and give our honest opinion.
Written By: Luke Lorick 2/6/21