Training and Tailgating never went together until NOW!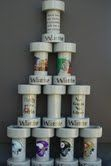 Have you ever joked around and told someone you were working out by doing numerous 12 ounce curls?  We all have joked about that at some point in our tailgating career, but what if it didn't have to be a joke anymore?  Introducing BeerBell the koozie that is also a dumbbell.
The BeerBell weights 3 pounds and you are able to securely place your 12 or 16 ounce can/bottle into the koozie to keep your beverage cold while you simultaneously drink and train!
If I told you that a weight would float you would think I am crazy, right? Well this weight does!  So even if you are having fun in the pool or lake your drink will float beside you until you are ready for it.
PROS:
 it floats, ability to customize with your favorite team or saying, very unique item that will garner attention and laughs from your friends. Reasonably priced with a current BOGO special. The ability to get ripped while you tailgate 🙂
CONS: 
Will not fit in a cup holder or your pocket when you finish your drink
This is a witty product that serves it function. People will come up to you and ask what exactly you are doing, especially when you have one in each hand doing alternating 12 ounce curls!  If you are looking to be the talk of the next tailgate you need to pick up a BeerBell today.
Get one now!