We all have been there. You're out enjoying a fun adventure when it gets cold or wet, fast! If you're not prepared its going to make for a less than fun experience. In this edition of our Tailgating Challenge blog we take a look at the Bouffi Blanket Review from Get Out Gear. It's light, its waterproof, and comes in fun colors. Let's see how this puffy down blanket does in our next Tailgating Challenge.
Bouffi Blanket Features
Weight: Down Puffy 1.1 lbs Double Puffy: 1.5 lbs
Dimensions: 80″x54″. 77″x50″ fully puffed. Stuff sack 5″x12″
Materials:
Down Puffy: 20D ripstop nylon shell. 650 Fill Power down insulation. DWR (durable water repellent) coating with nylon shell
Double Puffy: 20D ripstop nylon shell. Double-stuffed (14 oz./400g) synthetic insulation. DWR (durable water repellent) coating with nylon shell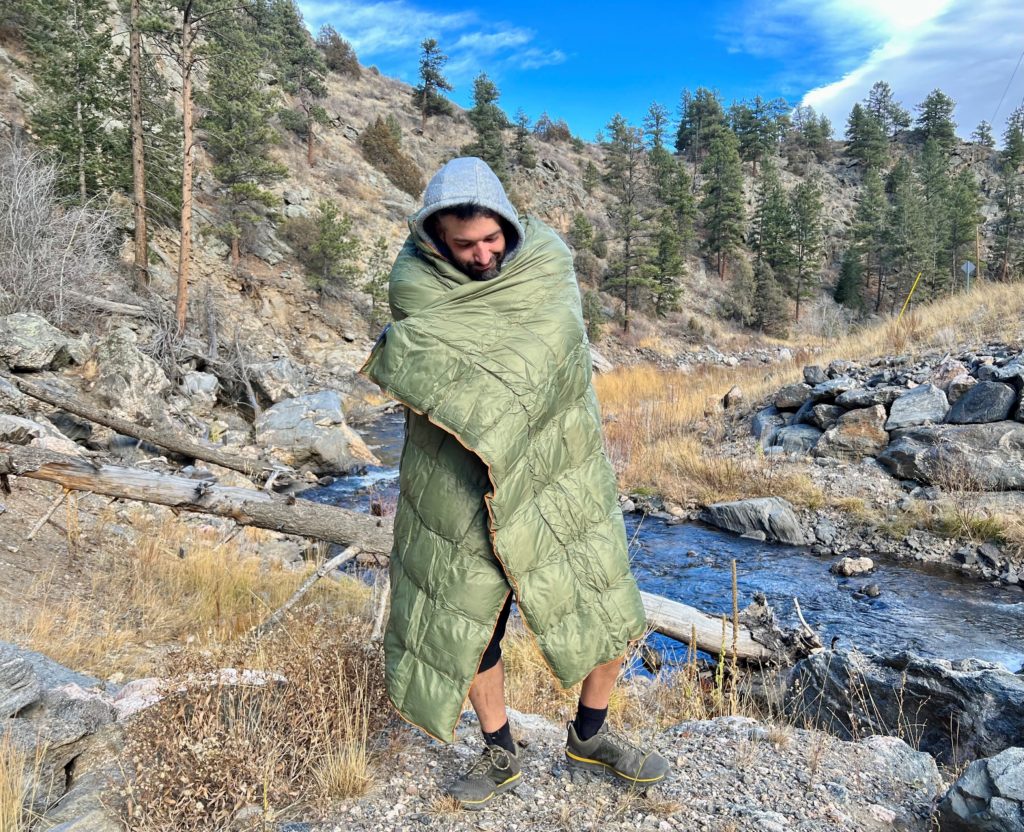 What Did We Think?
These blankets come in both a normal down version and a double puffy down version. We packed them in our hiking bags and hit the trails. These both weigh a little over a pound and were able to clip to the side of the pack, or be tucked away inside our main backpack compartment.
When we were hiking up it was clear and actually warm, but that changed extremely quickly. We noticed that at very high elevations there was wind doing some unique things with the clouds and we soon found out that COLD WIND was awaiting us. We got to the top of the mountain and it was freezing! The wind was blowing so hard that we couldn't even film our video for this Bouffi Down Blanket.
Luckily we had these down blankets as they helped keep us warm and cut the harsh winds that we later learned were 50mph!
When you pull the blanket out of the bag you immediately feel how smooth and soft the material is. As you wrap the blanket around you can feel the warmth start to build within seconds!
This blanket has snaps, so you can also wear it like a poncho to go hands free. This was a win as we were hiking down the mountain to stay warm and keep our hands free.
Did we mention that water slides off this blanket just like a freshly waxed car? See this demo in the video below.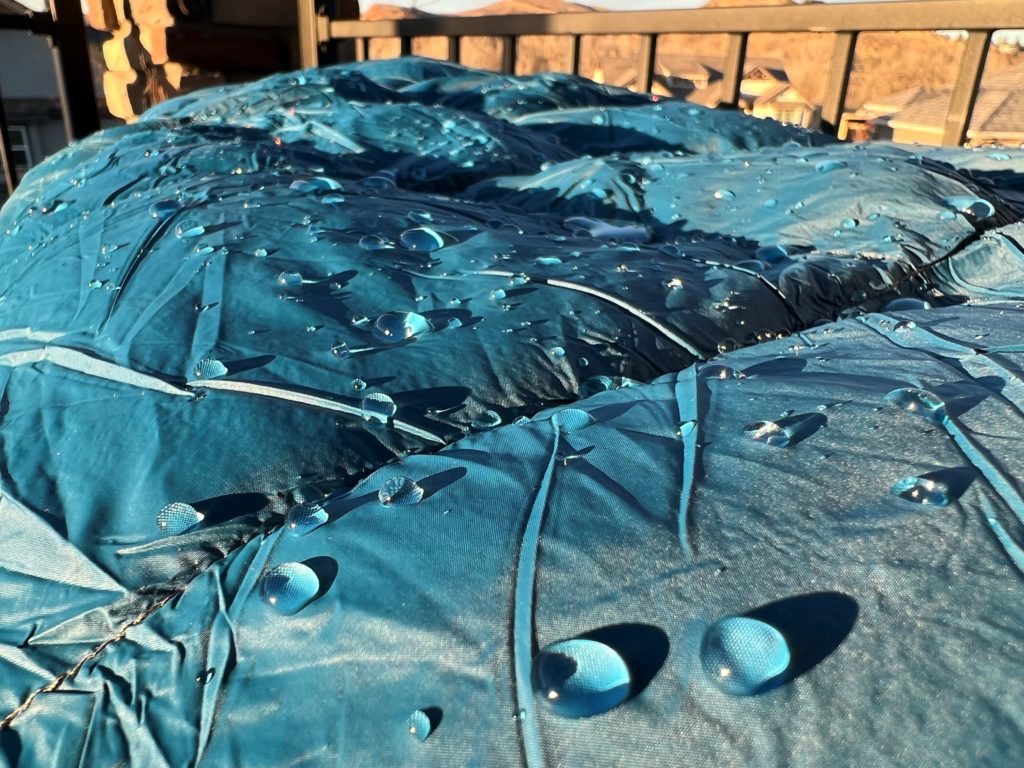 When we were done it was easy to get the blanket back into the carrying case. This isn't always the case with some things that you have to literally fight with to get it back into the case that it came out of.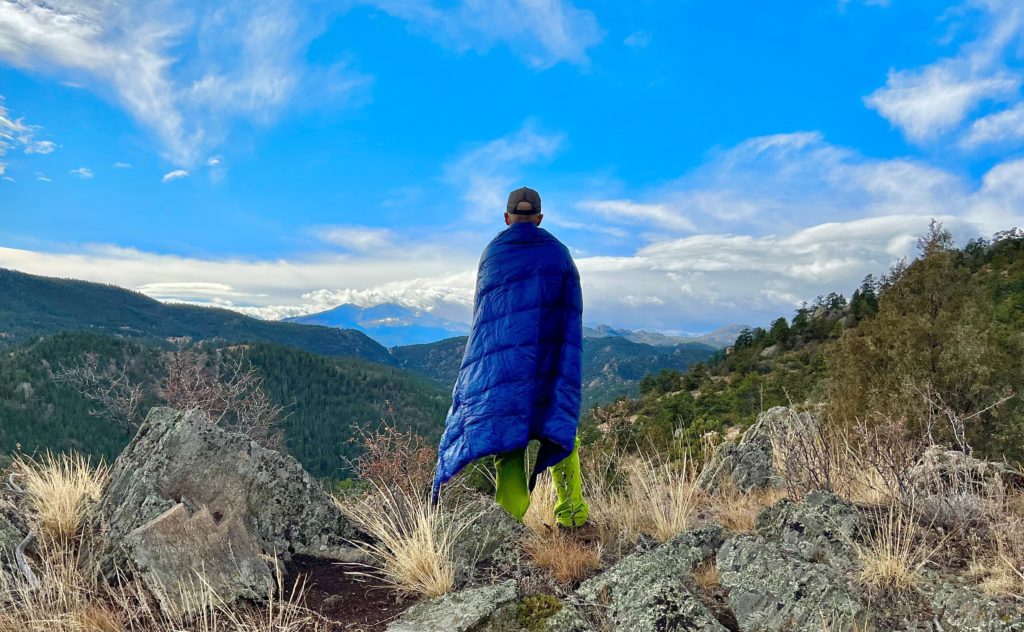 Conclusion
PROS: fun colors, good feel/touch, great protection from water, adds immediate warmth, easy to pack back into case
CONS: having a small pockets built in would be a win
Overall, for the price and function of this gets a thumbs up from us. We liked both the normal down blanket and the double puffy, but I'd tip my cap to the Double Puffy as it feels better and costs less. Win Win.
Learn more and get your own by visiting GET OUT GEAR.
Help support us and all the Giveaways we do by checking out our AMAZON STORE. Your 1 stop tailgating shop.
Thanks for reading our blog on the Bouffi Blanket Review. Let us know what questions you have and then check out our video review below. While you're on YouTube make sure you hit that SUBSCRIBE button!
Love learning about all the cool products that we get to test out? Take a look at our latest PRODUCT REVIEWS.
We NEVER get paid for our opinion. That way we can always keep it real with our fans! We were sent a sample to test out with the understanding that we'd give our honest opinion.
Written By: Luke Lorick