When the temperatures start to drop it doesn't mean that you need to stay inside! Fire pits are a great way to stay warm, but they may not always be the best fit, as they may not be allowed, not safe, or not portable enough for your needs. We found a heater that is safe, portable and there is no open flame, so let's get into the Buddy Flex Heater Review.
We moved from Texas to Colorado in 2020 and quickly learned that the winter months can actually be COLD! In scrolling through Instagram one day I came across the Mr. Heater brand and they had a great following with interesting heating products. Their Buddy Flex Heaters are one of their coolest products because of what the heater can do in addition to providing warmth.
Features
Indoor Safe Radiant Heater
11,000 BTU Max Output Omni-directional Mesh Burner
Updated design featuring optimized wind barrier and pilot shield for maximum protection when using outdoors
Integrated Heater and Accessory Controls *patent pending
Quick Connect Accessory Rail system *patent pending
Patented Thermal Shut-down System
Integrated storage compartments
11 pounds
Up to 3 hours run time (with 1 pound propane tank)
1 pound or 20 pound propane tank compatible
275 square feet of heating
Buddy Flex Heater Testing
Once the snow started to fall it was time to fire up the Buddy Flex Heater and see how this performed. First, attach a 1 pound propane cylinder to the back of the Buddy Flex Heater. Next up this is where I fumbled around a few minutes trying to get the system started. You are going to turn the knob counter clockwise (and press down) to the Ignition Pilot setting and hold the ignition button down. You should then hear the pilot light ignite. If it doesn't start over and try again. Once the pilot light is lit you can twist the knob further to set from Lo to Hi heat setting.
As the Buddy Flex Heater ignites you can visually see the heating element start to glow orange. This becomes even more pronounced in lower light situations.
Wind could be a concern for some heaters, but the new updates they made to this heater help protect the flame from being blown out and we had no issues with wind during testing. We tested in winds up to 15mph. Stronger winds may yield different results.
Let's talk about the heat. That's why you're in the market for this heater, right? The heat is nice and toasty up to about a foot away and then 2-3 feet away you can feel the heat. As you get further away you won't feel the heat as much, unless you are in an enclosed tent or structure. (We should note here that this unit is NOT recommended for use INSIDE of your home).
A few other features we liked were the portability and the tip over kill switch. The unit only weighs 11 pounds and you can move it while the unit is lit to position it in the best place possible. The tip over switch is a great safety feature that we tested in the below video. It worked flawlessly.
Bonus Feature: Buddy Flex COOKER?!
Have you ever heard of a portable outdoor heater that can power a grill? Well you have now! One of the FLEX features of the Buddy Flex Heater is the ability to hook up the Buddy Flex Cooker. This is powered by the same propane tank that is hooked up to the Buddy Flex Heater. Think of this as a hot plate that you'll put a cooking pan on top of to cook your favorite outdoor dish.
Note that the Buddy Flex Cooker is sold separately.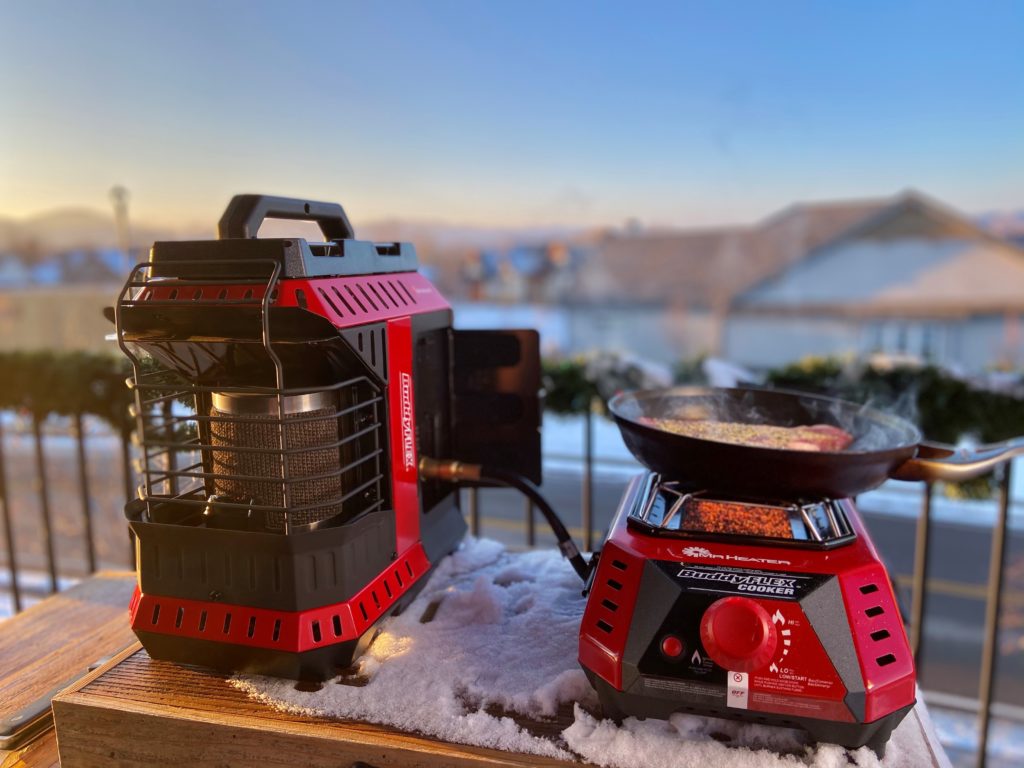 Conclusion
PROS: portable, tip over kill switch, good heat 1-3 feet away from heater, stylish
CONS: can't run heater and cooker at the same time
Overall, if you enjoy cold weather activities like tailgating, camping, and ice fishing having the Mr. Heater Buddy Flex Heater could help add some additional enjoyment to your favorite activities. While we will still use a fire pit when we can, we know there are occasions when you need heat and a fire pit won't do. That's when we will bring out our Mr. Heater Buddy Flex Heater.
Learn more and get your own by visiting Mr. Heater
Thanks for reading our Buddy Flex Heater Review. If you have questions or comments please leave them below and we will get back to you.
Love learning about all the cool, new products that we get to test out? Take a minute and check out some of our recent PRODUCT REVIEWS.
We NEVER get paid for our reviews, so you can trust what we are sharing is our honest opinion. We were sent one sample to test out with the understanding that we'd give an honest review.
Written By: Luke Lorick 1/12/21