We have been fans of the Bug A Salt Air asSALT rifle for years (see our video on original HERE). We love the concept, as do millions of others, the one thing that was missing was more power to knock out some of those bigger bugs. Well, Bug A Salt heard this cry and created a more powerful salt gun. This is a pistol power by CO2. Now let's get into the Bug A Salt Shred-Er Review. Before we get into our blog a message from our HR department…..
Remember REAL guns are not toys. Please don't point a weapon at anyone. Keep guns away from kids. Bug A Salt guns are only deadly to bugs and we attempt to show some ways to have FUN with this product. We are not endorsing gun violence, except on those pesky flies.
Ok we don't really have an HR department, but we approve this message. Now on to the fun.
Shred-Er Features
Power Source: CO2
Trigger Action: single
Caliber/Ammunition: salt
Capacity: 10 shots
Weight: 1.6 lbs
Length: 15 inches
Scopable: yes
Rear sight: adjustable
Front sight: fixed blade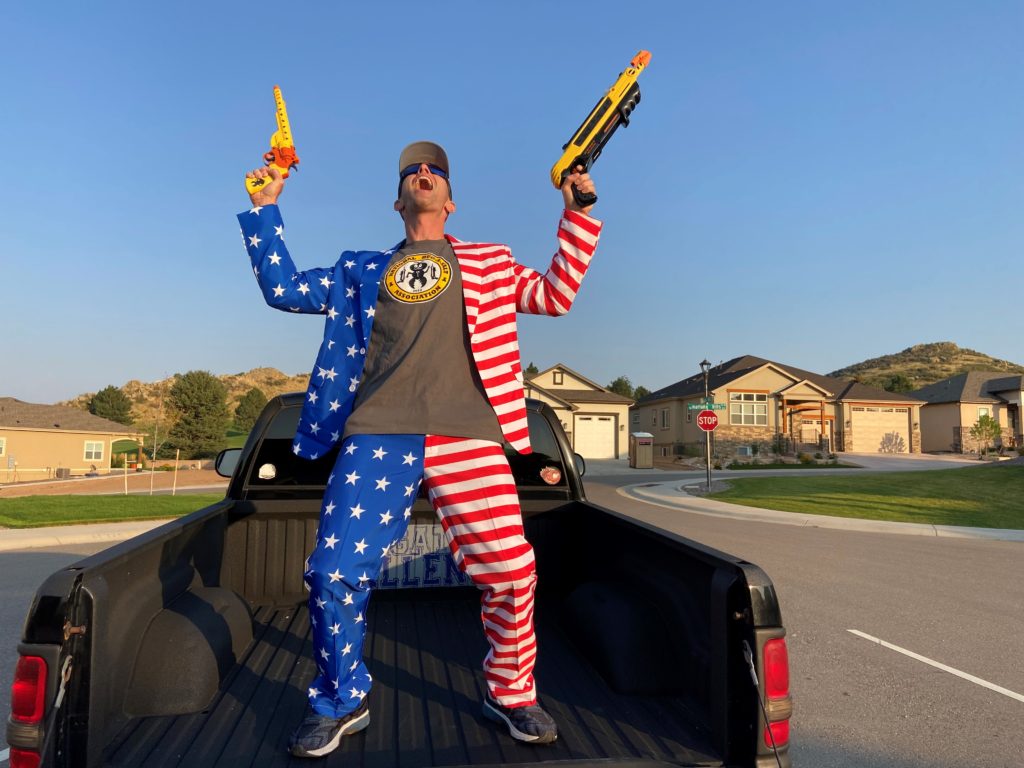 What Did We Think?
We opened the box with the new Shred-Er and felt this salt pistol in our hands and instantly knew this thing was going to blow our minds and blow some bugs away too. The pistol had good weight and I popped the handle off to install the CO2 cartridge and then installed the salt round. Safety off and bang. WOW the sound let me know this was not the normal air salt rifle that we had a few of.
I started to blast flies, spiders and even yellow jackets. Yellow jackets were the one bug that we couldn't kill with the original Bug A Salt air rifle.
I found the yellow jacket, cocked the hammer and pulled the trigger…BOOM! The explosion blew the yellow jacket to an undetermined location. Based on the slow motion video it looks like the yellow jacket may have seen better days.
This pistol packs a big punch and sprays the salt out for additional coverage when you're blasting bugs. The power is so much greater than the original, we almost feel sorry for the bugs…ALMOST.
We even had a GIANT fly try to take over our sign off video that we were filming on the Shred-Er and I couldn't stand for that. The Giant fly had to be dealt with and you'll want to see the end of the video below to see how this ended.
Conclusion
PROS: good weight and quality, big time power, extremely fun
CONS: you can no longer use table salt and have to buy the Bug A Salt Rounds and CO2 cartridges
Overall, we are huge fans of the original Bug A Salt and we fell even more in love with their latest offering in the Shred-Er salt pistols. If you're looking for the most fun way to eradicate pesky bugs then its time to shred those pesky guests.
Learn more by visiting Bug A Salt.
Find tons of fun products in our AMAZON STORE. We try to add some of the coolest products that we test to this store so you can have a one stop tailgating shop.
Thanks for checking out our blog on the Bug A Salt Shred-Er review. Let us know what you think and any questions you have. Now check out our informative and fun video on this salt pistol below. While you're on YouTube make sure you hit that SUBSCRIBE button!
Love learning about all the cool products that we get to test? Check out some of our recent PRODUCT REVIEWS.
We NEVER get paid for our reviews. This was we can always keep it REAL with our fans, trust that. We were sent one sample with the understanding that we'd give our honest thoughts.
Written By: Luke Lorick 9/21/21