We love having a drink at the tailgate, no shocker there, but setting up a bar on the tailgate of our truck leads to problems. The uneven ridges in the tailgate can lead to drink spills and party fouls. The BumperBar team had enough and came up with a solution for tailgates across the country. Let's learn more in the BumperBar Review.
BumperBar Features
Handmade of natural wood, each exhibiting its own character
Compact design and portable
Accessorized with stainless steel handles and latches
Nickel chrome plated double pin hinges
BumperBar product dimensions (closed): W 25″ x D 12″ x H 5.25″
BumperBar product dimensions (open): W 25″ x D 24″ x H 4.25″ in the back, tapering to 1″ in the front
Product Testing
The presentation of the BumperBar is top shelf with the high quality wood visual in a briefcase style design. There are clasps and a handle on the side to ensure easy transportation to the party.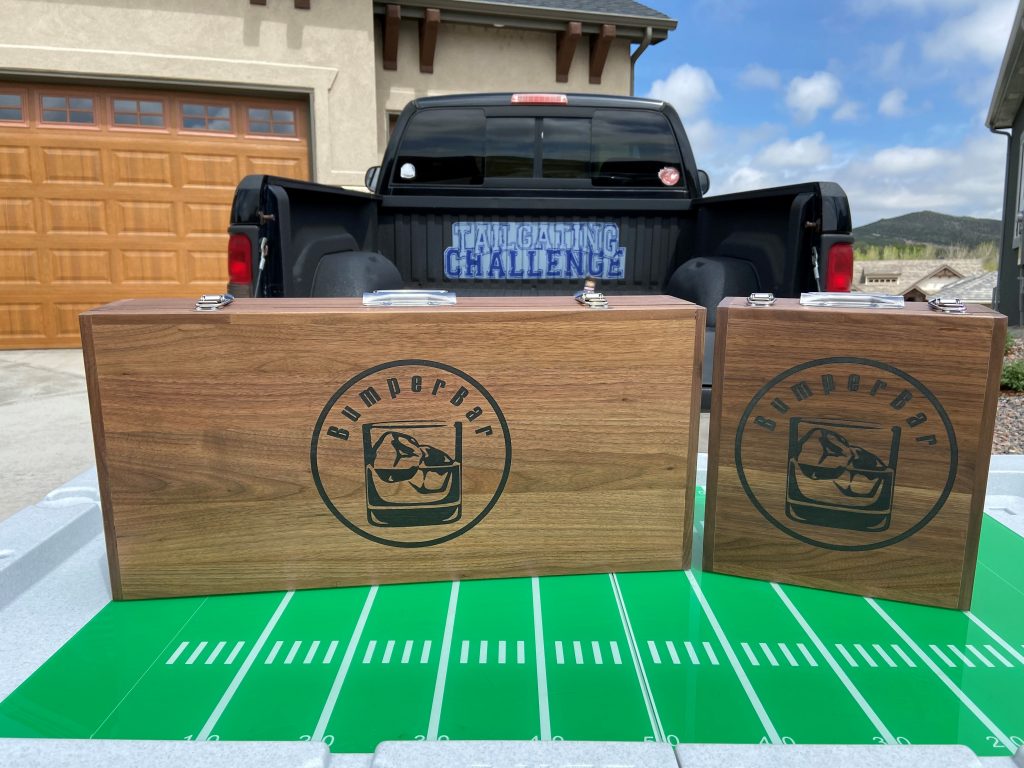 When you unhook the clasps the BumperBar gets into action and inside you'll find:
Removable custom bar mat
4 compartment stainless cocktail garnish tray
Bar caddy organizer
100 cocktail napkins
50 cocktail umbrellas
50 cocktail picks
Wine/bottle opener
Challenger coin (great as a napkin weight)
Stainless cocktail stirrer
We grabbed some of our favorite drinks that can line the back of the BumperBar. It will house 5 bottles of your favorite spirits along the backside. The four trays can hold things to spice your drink up like lemon, limes, oranges and more.
The set up was simple and presentation looked great. It was simple to serve quality cocktails, with no spills with the BumperBar. One thing that would pair great with the BumperBar would be a cocktail shaker.
While the BumperBar can stand alone it can also use a Wingman. The Wingman has an ice holder, ice scoop and cutting board to take your tailgating bar to the next level.
Combined together the BumperBar and the Wingman are the ultimate combo that can help make cocktails easier to make with amazing presentation.
Conclusion
PROS: portable, great presentation, reduces spills, places everything in one area to make cocktails, when closed the stirrers, napkins etc all stay in place
CONS: the wood can get dings in it (a brown touch up marker is included to help with this)
Overall, the BumperBar can take your tailgating bar to the next level. It doesn't take up a ton space and has a top shelf feel and presentation. If you love having a cocktail at the tailgate you need to check out the BumperBar.
Learn more and get your own by visiting BUMPERBAR .
Find hundreds of fun products in our AMAZON STORE. Thanks for your support.
Thanks for reading our blog on the BumperBar Review. Let us know what questions you have and then watch our short video below showcasing the BumperBar.
Love learning about all the cool, new products that we get to test out? Take a look at our recent PRODUCT REVIEWS.
We never get paid for our reviews. This means we can always keep it real for you. We were sent a sample to test out with the understanding that we'd give our honest thoughts.
Written By: Luke Lorick 5/22/21