On those HOT tailgates we need a great fan to help keep us cool. Most of the time this means a large box style fan, but of course we found something unique that will work perfectly if you tailgate with a pop up tent. The Canopy Fan is a portable fan that hangs from the top of your tailgating tent, just like fans in your home! We love to show different and now it's time to show you the Canopy Fan Review.
Canopy Fan Features
-Remote controlled (High/Low button)
-Cordless. Battery lasts up to 6 hours.
-Durable carrying case
-Compatible with most 10′ and 12′ tailgating tents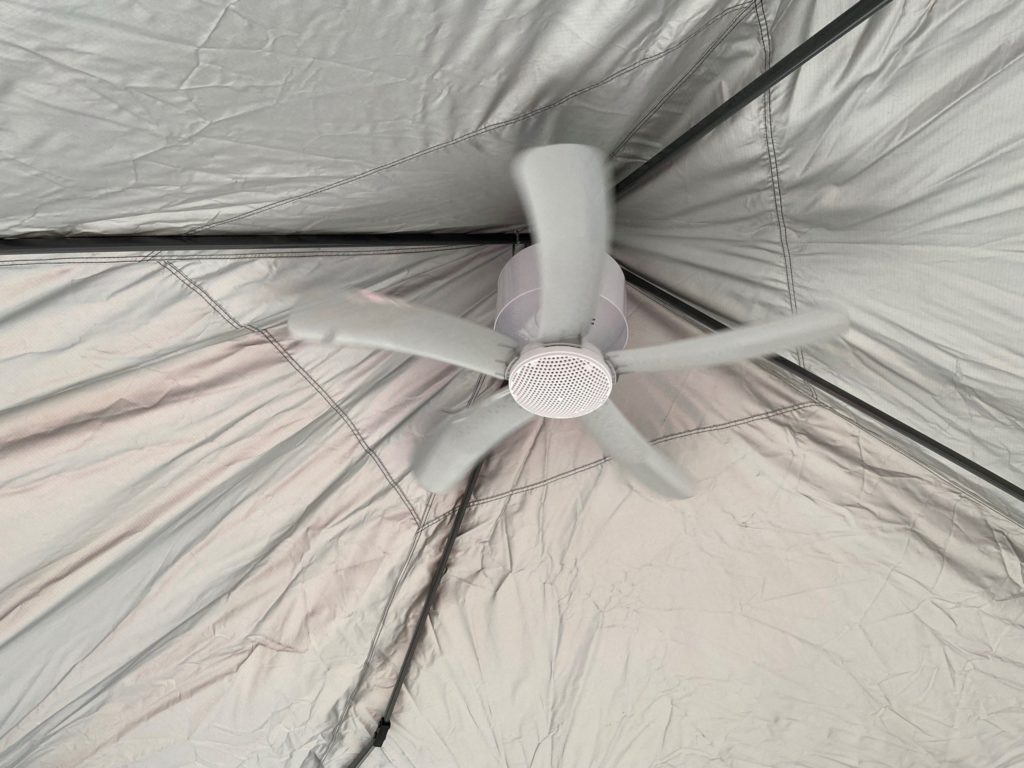 What Did We Think?
I met the Canopy Fan team at a local trade show in Denver CO. I'm always drawn to those tailgating related booths and they got my attention with a type of fan that I had never seen! We have tested numerous fans over the years and this Canopy Fan was unlike anything in our current line up.
The Canopy Fan comes in a durable carrying case that easily allows all of the included equipment to be transported, safely from tailgate to tailgate. Inside the carrying case you'll find the power cord, remote control, 5 fan blades, and fan motor.
Putting the fan together is pretty simple, just push each fan blade into place until you hear a click. Make sure you install the fan blades with the smooth side down. This will ensure proper air circulation. On top of the fan you'll find the hooks that will allow you to hook it to the top bars of your tailgating tent.
We also found that this would hook to our GIANT Humbra USA Umbrella for another way to use this fan. Keep an open mind for different ways to hook up and use the Canopy Fan.
The remote controller was convenient and worked easily to cut the fan on and off. There is a high and low speed that can move some nice air around your tailgating set up. Also great to help keep some bugs off food. If you have two of these Canopy Fans you can use one remote to control both of them.
When it's time to put the fan away you'll want to wiggle each of the fan blades as you pull them out. This will allow the blades to come out more easily than pulling them straight out. Note these blades are in very securely, which should give you piece of mind that the blades will not shoot out when in operation.
Conclusion
PROS: great carrying case, easy set up, brings a touch of class to your tailgate, wireless, remote controlled (1 remote can control multiple units)
CONS: a few applications it can't be used in
Overall, this is a perfect fan if you use a tailgating tent or giant umbrella. The Canopy Fan can bring a cool breeze, keep the bugs off your food, and is out of the way for you to enjoy the day.
Learn more by visiting CANOPY FAN.
Find this and hundreds of amazing tailgating products in our AMAZON STORE.
Thanks for reading this blog on the Canopy Fan Review. Let us know what questions you have and then watch our video review below. While you're on YouTube make sure you hit that SUBSCRIBE button!
Love learning about all the fun products that we get to test? Take a look at some of our recent PRODUCT REVIEWS.
We NEVER get paid for our reviews. This way we can keep it real with our fans. We were given one sample unit to test out with the understanding that we'd give our honest opinions.
Written By: Luke Lorick 9/28/21