Here at Tailgating Challenge we love playing games! From Cornhole to quarters if there is a way to play a game we are up for the CHALLENGE! Speaking of cornhole and quarters we have a new game that brings these two classic games together in Coinhole. Bounce the coins onto the board for points. Let's get into this next Tailgating Challenge and check out the Coinhole Game Review.
Features of Coinhole
-Extremely portable
-Ability to customize
-Comes with its own coins
-Challenging
-Different game variations to keep you engaged.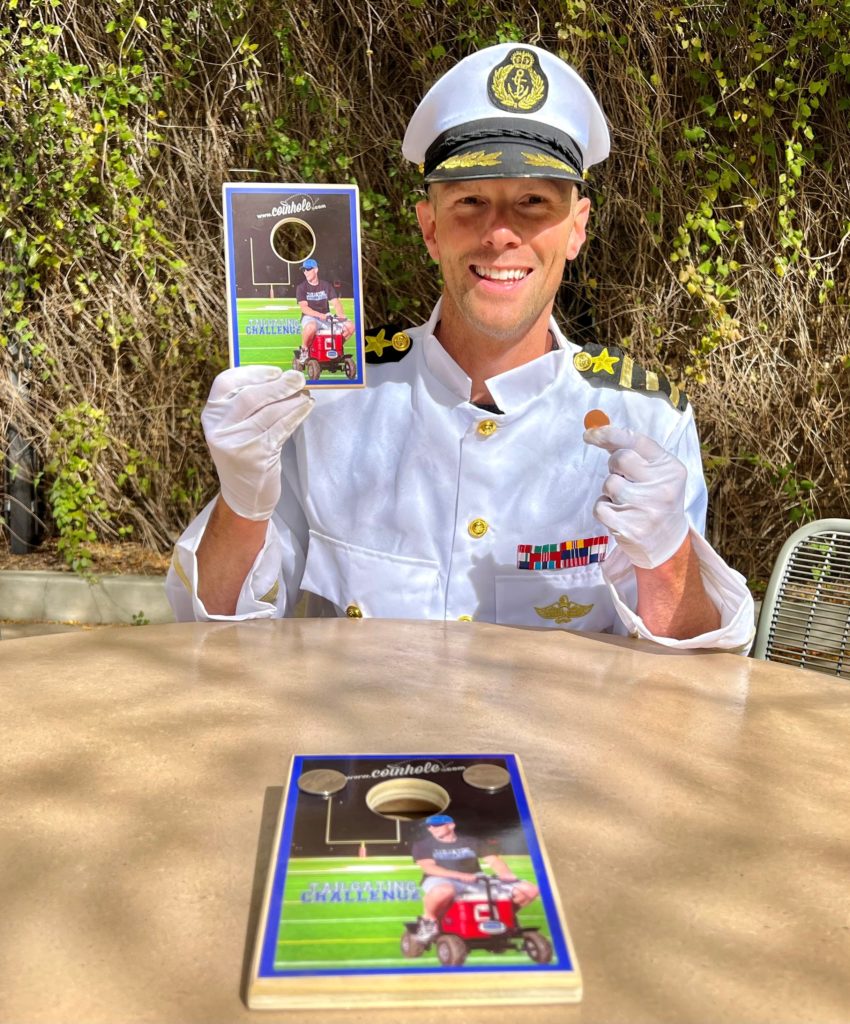 Coinhole Testing
When I pulled the Coinhole games out of the box I was stoked as the graphics were awesome! The ability to customize this game makes it look awesome and can make it a great gift to give fellow tailgaters.
Now on to the game play. At first we played on a single board (boards sold individually) and then played back and forth. If you get your coin on the board it's worth 1 point. If you get the coin into the hole then its worth 3 points and you play to 21. We quickly learned that, just like quarters, the coins can be unpredictable and it took some time to get into a flow with this game.
You can play team relay races and head to head with two boards that can really get your tailgating crew into this Coinhole game.
I love trick shots and went long to try to hit what I believe to be one of the longest shots in Coinhole history (Watch the Video below to see this show). This was so satisfying when the coin went in it's hole. Pro Tip if you're shooting long distance get low with your stance and reduce the arch on the coin. This will stop bigger, crazier bounces of the coin so you can try to really impress your friends and yourself with a long range shot.
Conclusion
PROS: portable, ability to customize, comes with its own coins, multiple variations of game play
CONS: would love to take portability to the next level with the boards connecting and having pouch underneath to secure the coins.
Overall, this is a pretty fun game that many of our friends had fun playing. The ability to customize really takes this to the next level with aesthetics.
Learn more by visiting COINHOLE.
Support us by visiting our one stop tailgating gear shop: AMAZON STORE.
Thanks for reading our blog on the Coinhole Game Review. Let us know any thoughts and questions. Now go watch our short video having some fun playing Coinhole. While you're on YouTube make sure you SUBSCRIBE.
Love learning about the cool products that we get to test? Take a minute and check out some of our latest PRODUCT REVIEWS.
We NEVER get paid to give our thoughts on products. This way we can keep it real! We were sent one game to test out with the understanding that we'd give our honest thoughts.
Written By: Luke Lorick 10/30/21