We love portable coolers and backpack coolers can fit this need, but all aren't created equal. We have tested backpack coolers that are only for drinks and have no storage for anything else. A blend of both is important and in this new review we feature the 2 in 1 backpack cooler from Dam Coolers. It has a ton of storage and a built in cooler to keep drinks cold. Thanks for checking out the Dam Coolers Backpack Cooler Review.
Backpack Cooler Features
Durable rPET upper material
2 x zippered phone pouches
2 x cup holders
3 conventional storage compartments
10" Padded tablet pouch
17" Padded laptop pouch
Sunglasses hard case
Chest Strap2 x zippered side pockets
Padded Hip/Waist Strap
Anti-fatigue back padding with air channels to prevent sweating
Travel luggage strap for convenience
10.5 liter Cooler – Holds 10 x 12 Oz or 330ml Cans
What Did We Think?
The first thing that came to mind when we put this on was wow its BIG! It has so many pockets for storage that can hold everything from a laptop to cold beers. This is the largest backpack that I own and I took in on a commercial flight. The backpack did fit under the seat but sticks out a bit.
There is no doubt this backpack has storage for a wide spectrum of gear and aces that test. Now lets shift over to what makes this a 2 in 1 backpack: The Cooler! With other backpack coolers I've tested the main compartment was the cooler. This is totally different, as there is a secret pocket at the bottom of the backpack that unzips and provides a leakproof cavity to load your drinks.
This backpack cooler can hold 6 beers along with a few ice packs. If you're looking for a backpack cooler that holds more than 6 beers this won't be for you. We loaded ours up and then headed out to the desert to properly put this to the Tailgating Challenge.
The cooler compartment doesn't appear to have a thick insulation, but we came away impressed as it kept things super cold for 6 hours and chilled up to 12 hours. This is impressive in Phoenix heat and not being a traditional cooler.
The padding on the back also made this backpack super comfortable, even when fully loaded up.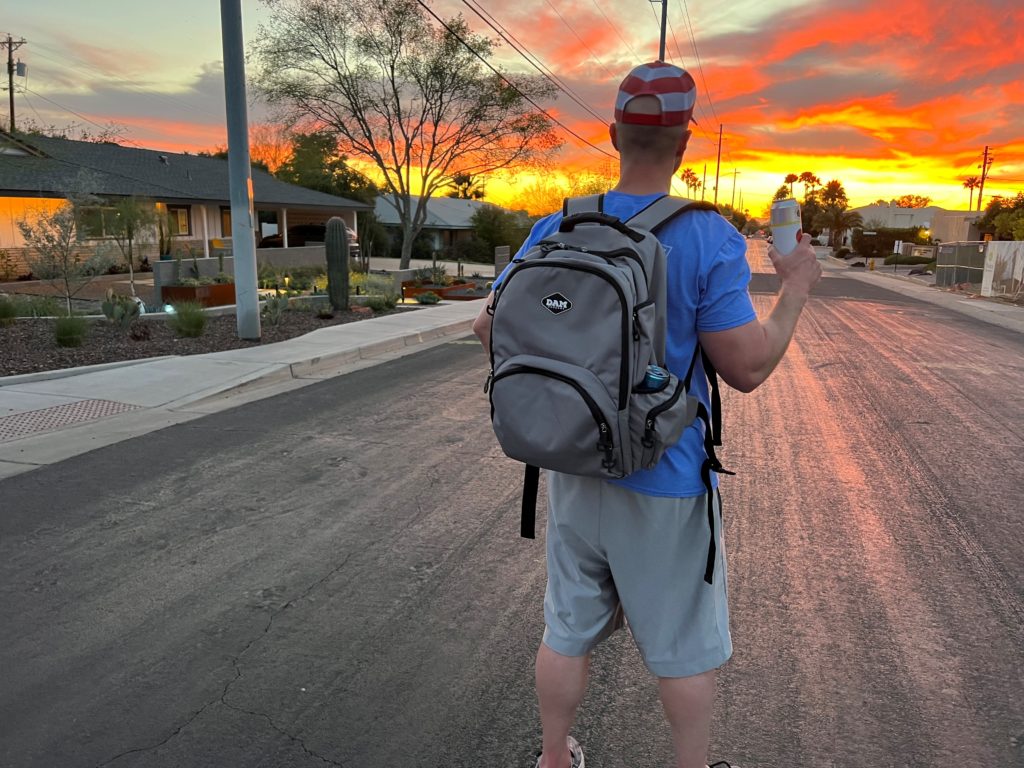 Conclusion
PROS: tons of space and unique pockets, bottle opener, ability to keep things cold/chilled 12 hours, comfortable even when fully loaded.
CONS: only holds 6 beers, slightly bigger backpack than what we normally travel with
Overall, this backpack impressed with tons of storage and it kept drinks colder than we anticipated. If you're looking for a backpack cooler that will impress with dry storage it's time to get a Dam Cooler.
Learn more and get your own by visiting DAM COOLERS.
Find many amazing products that we've tested in our AMAZON STORE.
Thanks for reading our blog on the Dam Coolers Backpack Cooler Review. Let us know what you think and any questions. Check out our short video below and while you're on YouTube make sure you hit that SUBSCRIBE button!
Love learning about all the new products that we get to test? Take a minute and check out our latest PRODUCT REVIEWS.
We never get paid for our reviews, this way we can always keep it real with our fans. We were sent a sample to check out with the understanding that we'd give our honest opinions.
Written By: Luke Lorick 3/31/22