We have tested a lot of coolers over the years and today we look at another DAM cooler. No I didn't misspell that, we are really looking at the DAM soft cooler. While it may be fun to joke with the name of this cooler we have some serious business to get down to in this Dam Soft Cooler Review. Now let's see how this cooler does in our new Tailgating Challenge.
Features Dam Cooler
-1 inch Durable NBR Insulation.
-Tough Waterproof Zipper.
-Heavy Duty Side Pockets with Cup Huggers.
-Hard Case in front for your sunglasses.
-Additional front and rear storage pouches.
-Patent Pending Soft Divider Pouch.
-Up to 30lbs Maximum Carry weight.
-Up to 14 standard cans + 10lbs of ice.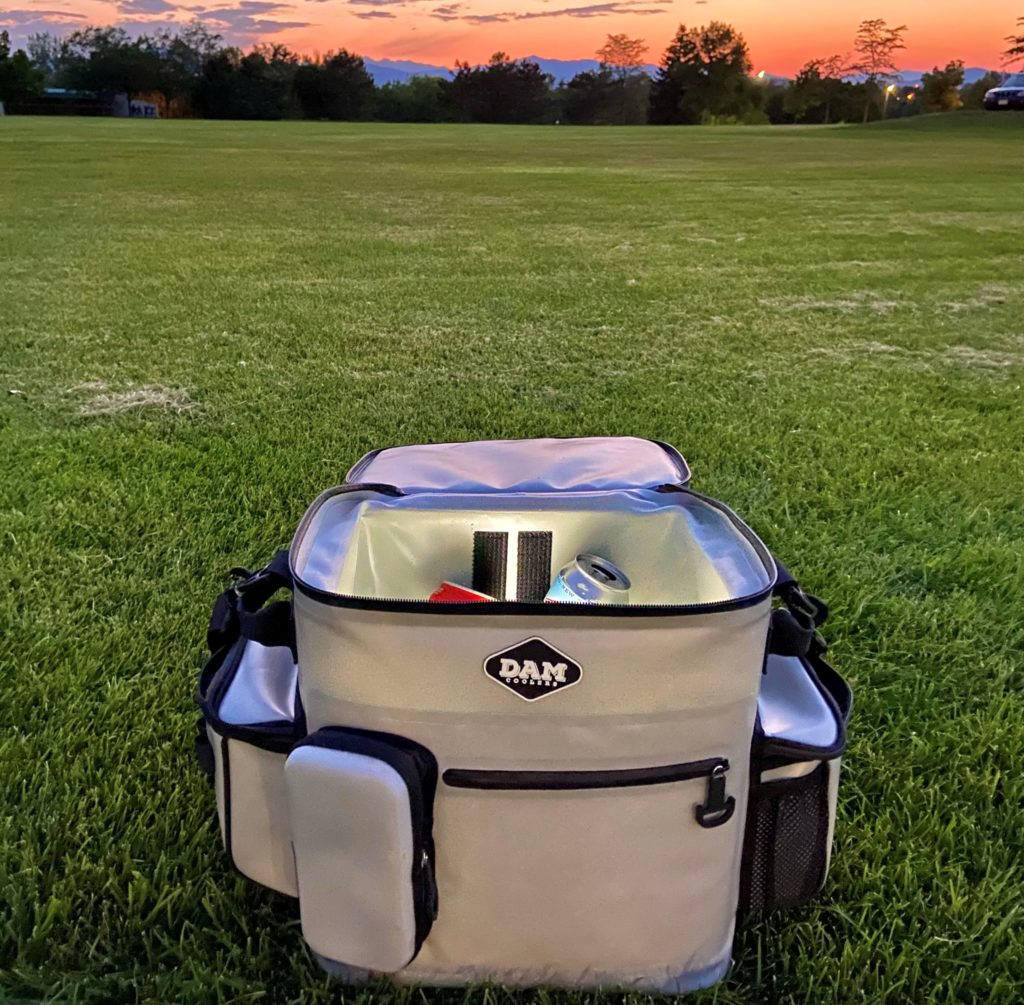 Dam Cooler Testing
I'm not sure if I'm alone, but I want a cooler with some storage! I want to load some of my tailgating gear, bottle openers, koozies, etc. in the cooler. This way I don't have to find another bag to carry all of these items. I feel this is something that hasn't been given the focus that it should, but times are changing thanks to this DAM cooler.
The DAM cooler literally has pockets and storage at every angle of the cooler. Check out some of these storage options.
Check Out The Storage
-Hard Shell Front Storage Front Pocket
-2 side zipper pockets
-2 stretch pockets on the back
-Finally, there are even two waterproof zipper pockets on the divider INSIDE of the cooler
Heck yeah! They really would have a hard time adding any more storage to this cooler and we thank DAM coolers for that.
Ok the storage is top notch, but now lets get to the main function of a cooler, the cooling ability. We loaded 10 pounds of ice in the cooler on a hot summer night in July and put in 12 beers, to see how this would do in the heat. Then we tested this at a weekend tennis tournament and were going in and out of the cooler. We also left the cooler outside the entire time to ensure it was fully put to our Tailgating Challenge.
Final verdict is that this cooler can keep things ice cold for 36+ hours even in HOT temperatures.
This cooler comes with a velcro soft divider that can attach in the center of the cooler to create two separate compartments. This works well until the ice melts and we were not able to create a fully dry compartment with this. Again, it works well with ice, but there will be some water that comes into the other side as the ice melts.
The cooler has a handle and a carry strap to go around your shoulder. It also is leakproof and we did a good test of this in our video below to show that no water will come out of your cooler even when fully upside down.
Currently these soft coolers come in Grey, Khaki and Black colors.
Conclusion
PROS: Great storage, portable, keeps ice 36+ hours in heat
CONS: I'd like to see more bright colors offered, the velcro divider can't fully keep water out as the ice melts
Overall, I was a fan of this cooler. The storage was great, the cooler was easy to get around, and it kept our beers nice and cold during our tests. This is a soft cooler that we would recommend. It passed the Tailgating Challenge.
Learn more and get your own by visiting DAM COOLERS.
Find hundreds of carefully curated products in our AMAZON STORE.
Thanks for reading our blog on the Dam Soft Cooler Review. Let us know what questions you have and then watch the short video below. While you're on YouTube, make sure you SUBSCRIBE to our channel.
Love learning about all the cool, new products that we get to test out? Take a look at our recent PRODUCT REVIEWS.
We NEVER get paid for our reviews. This ensures that you will always get our truth. We were sent one cooler to test out with the understanding that we'd give our honest thoughts.
Written By: Luke Lorick 7/20/21