Music is a huge part of my life. There isn't a party that we host that doesn't have some good tunes going. Something about a cold drink, good friends and tunes that make it a perfect day. I've tested many bluetooth speakers over the years and a few things I look for in speaker: durability, ability to withstand water, style, and sound quality. We found all of this and more in our DemerBox Review. Let's see how it does in our Tailgating Challenge.
Features of DemerBox
Incredibly Loud, Clear Sound, Powerful Bass
Waterproof
Stores Your Stuff
A Crushproof Powerhouse: Made in a Pelican Case
Globally tested: Each DemerBox is handbuilt in the USA.
Portable: DemerBox's compact size and light weight makes it easy to take anywhere. Size: 10.62" x 9.68" x 6.87" (27 x 25 x 18 cm); Weight: 5.44 lbs (3.37 kg)
Each DemerBox includes an AC charger, 3.5mm aux cable and Port Plug.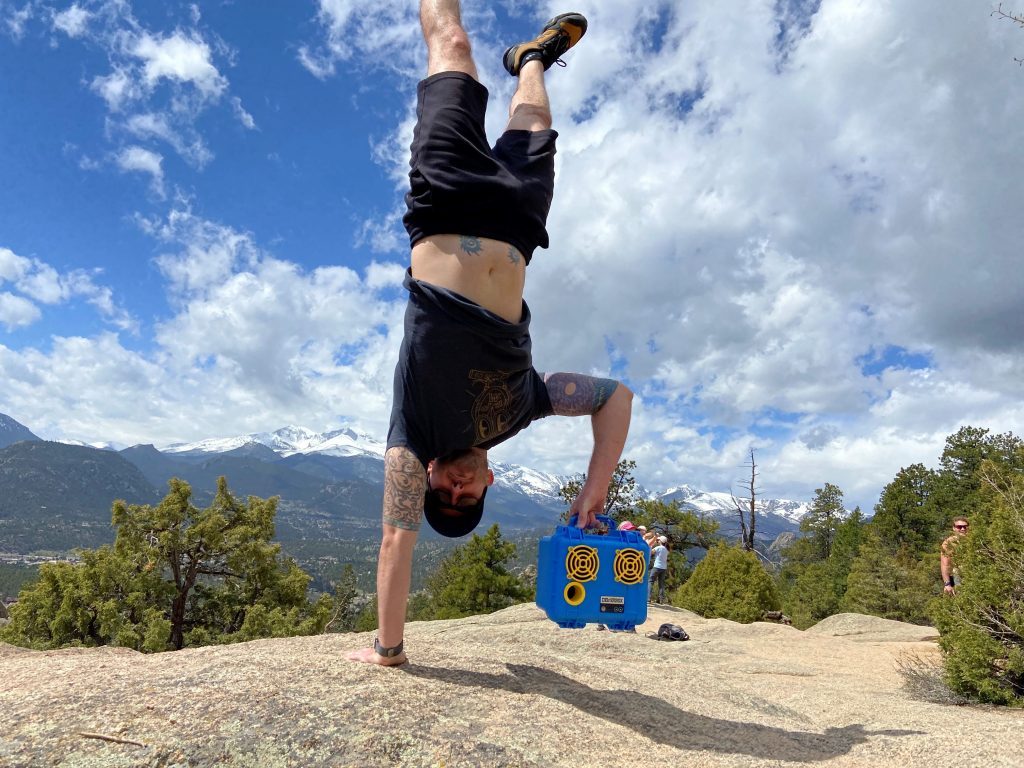 Durability
When we got our DemerBox we were encouraged to play rough with it, so we took it on a hike and got to work. From dropping it off the top of rocks, throwing it over our head, tossing it around, and it hitting the ground numerous times it still came out like a champ. You can see these tests in the video below.
The DemerBox has some scuffs on it and we did not even do the sound quality tests until AFTER beating the heck out of it, so we could see how it did. Read on to hear more about the sound.
Waterproof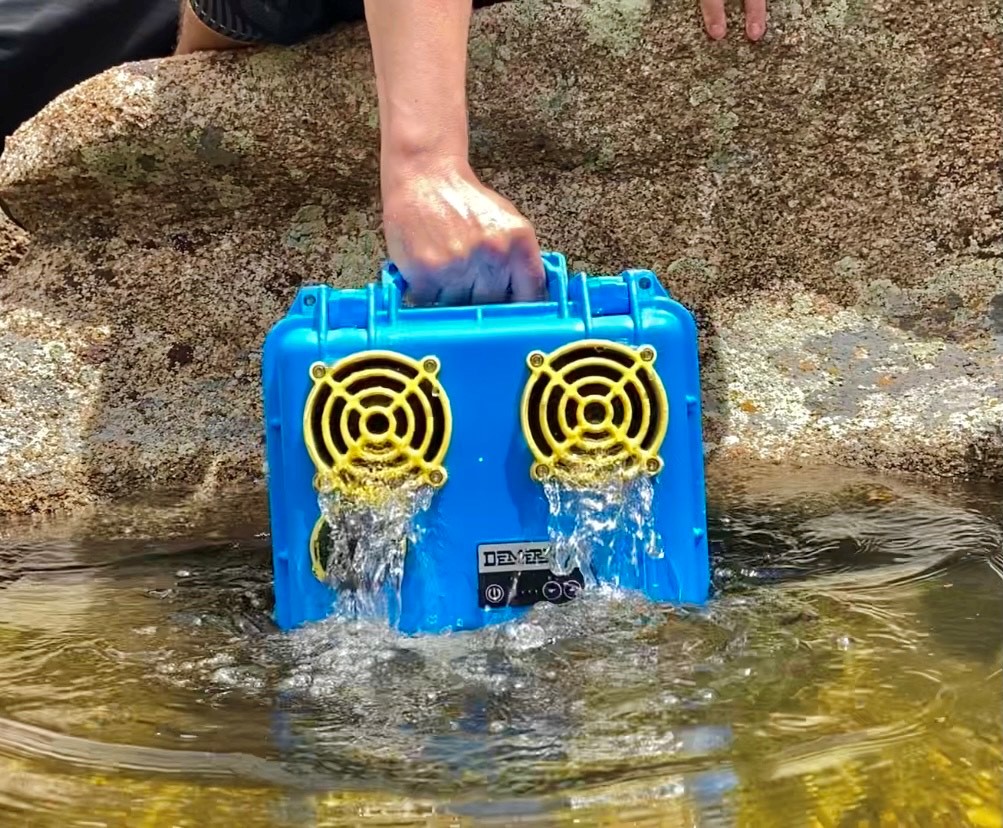 In addition to being virtually crushproof, (Pelican case) it claims it can handle being submerged under water. Inside of the DemerBox is a plug that you will insert into the outside port and twist in. This will then make it waterproof! You must put this plug in before going around water!
We fully submerged it a few times and there was no water inside of the the storage compartment. This compartment is another handy feature to keep some gear in that you don't want to get wet.
This DemerBox floats too! It does float speaker side down in the water, so you're not going to have this floating and getting any good sound out of it.
Sound Quality
We did our sound test AFTER we beat up and submerged the DemerBox in the water to see how it would sound after some abuse. It sounded AWESOME! This speaker packs some crisp highs and pretty solid bass.
When you have the waterproof plug in you will get less bass out of the DemerBox. Also if you have the storage compartment filled up it will impact the quality of the bass too. Remember the air space in the storage compartment is helping create the deeper bass sounds and when you reduce the airspace it impacts the bass.
The DemerBox boasts a 100 foot wireless radius for bluetooth connectivity. We tested this out and it more than met the specs they claimed. You can see how far we ran the phone away from the DemerBox in the video below.
Conclusion
PROS: extremely rugged, waterproof, great sound, waterproof storage compartment, 40 hour battery life
CONS: bass impacted with items in the compartment, when you open the DemerBox it is top heavy and falls over due to the weight in the lid with the speakers
Overall, the DemerBox impressed in our Tailgating Challenge. We beat this up pretty good and while it has some scars it is still rocking the party with tunes. If you want a bluetooth speaker that can handle your life DemerBox could be your next speaker.
Learn more and get your own by visiting DEMERBOX.
Find hundreds of carefully curated products that we've found in our AMAZON STORE.
Thanks for reading our blog on the DemerBox Review. Let us know what questions you have and then watch our short video below. Remember to SUBSCRIBE to our YouTube channel to enjoy fun videos of products we test out.
Love learning about all the cool, new products that we get to test out? Take a look at some of our recent PRODUCT REVIEWS.
We NEVER get paid for our reviews. This way we can always keep it real with you. You deserve that. We were sent one unit to test out with the understanding that we'd give our honest thoughts.
Written By: Luke Lorick 5/24/21