We love a cold beer and know that smelling and seeing the color of a beer contributes to the overall beersperience, thats a new word right? We have been checking out Draft Tops since they came out and the new Draft Top Lift is version 4.0. This version boasts a big improvement, it can remove the lid, as you take it off. Let's see if we can have lift off as we test the new Draft Top Lift Review.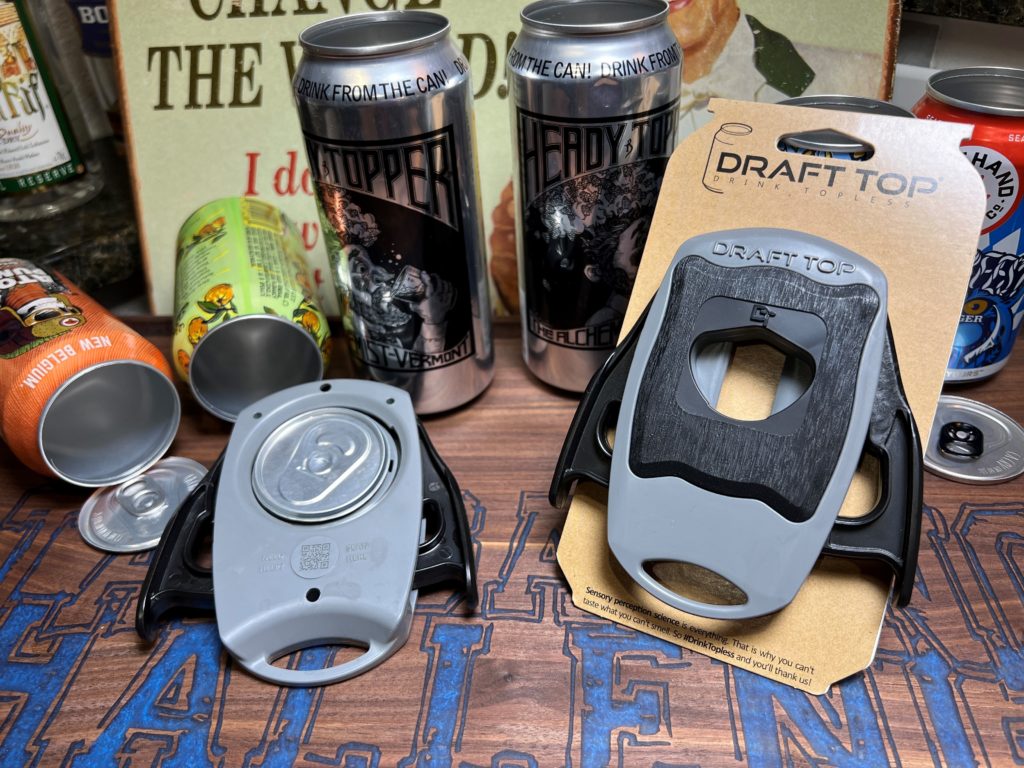 What's New with Draft Top Lift?
-Easier to use than prior versions
-Removes the top, so you don't have to fish it out of the beer
-Still made in the USA
-No longer has magnet to stick on fridge
What Did we Think of the New Version?
We have tested every version of Draft Top and each version has gotten better. Draft top 1.0 was too hard to open. Version 2.0 made opening a little easier, but still room for improvement. Draft Top 3.0 was the easiest to use and had a magnet to allow it to stick to your beer fridge. Here we are with Draft Top 4.0 Lift and it brings the biggest improvement of all, lid lift off.
First, let's talk about the ease of use. The Draft Top Lift has come a long ways from the original Draft Top 1.0. I was able to quickly remove lids with ease. This is by far the easiest Draft Top for drinking topless. You will normally have to do multiple rotations and can hear/feel the lid cutting off.
Does the new lift off feature work? In one word YES! The Draft Top Lift can lift the lid off your beer, so it doesn't fall into the beer, like past models. Pro Tip: pull up slightly on the tab, so there is a little space before putting the Draft Top lid on. This will ensure the tab catches and lifts the top off. If the pull tab does not catch it will not lift the lid off. See our video for this beer hack in action.
Finally, is the lip of the beer can smooth. Many people worry about this and 98% of the lid on the beer cans we removed were totally smooth, but there is one spot on each can that has a minor imperfection. I've tested 10+ cans and it replicates each time no matter how I take it off. This is the area for opportunity (along with adding the magnet back) in dare I say Draft Top 5.0.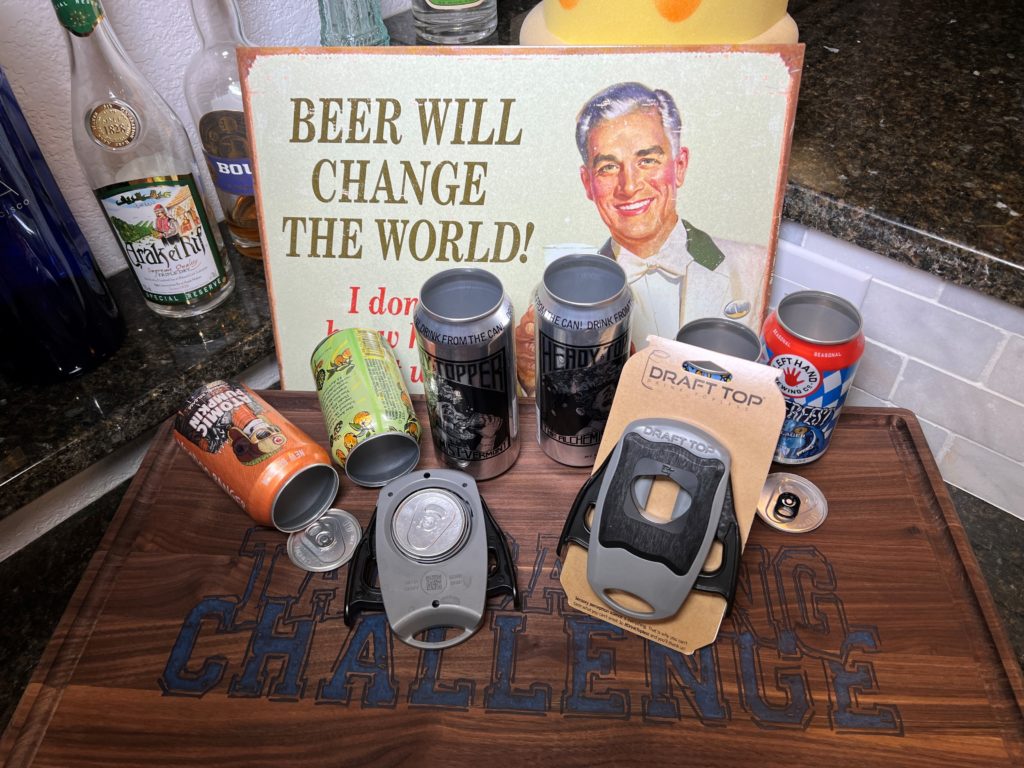 Conclusion
PROS: easier to use than prior editions, removes the lid as you take the Draft Top off
CONS: small imperfection on the inside lip of each can we have tested to date, no longer magnetized to put on the fridge
Overall, the new Draft Top lift is the best version we have tested to date and is almost perfect.
Learn more and get your own by visiting DRAFT TOP.
Find many amazing products that we've tested in our AMAZON STORE. A little bit of every purchase goes back to help support our honest reviews of the products you love.
Thanks for reading our blog on the Draft Top Lift Review. Let us know what you think and any questions. Check out our short video below and while you're on YouTube make sure you hit that SUBSCRIBE button!
Love learning about all the new products that we get to test? Take a minute and check out our latest PRODUCT REVIEWS.
We never get paid for our reviews, this way we can always keep it real with our fans. We were sent a sample to check out with the understanding that we'd give our honest opinions.
Written By: Luke Lorick 11/8/22