I have a cooler arsenal! I've tested coolers of all sizes of the years, as I know how critical these are for tailgaters! How many people show up to the tailgate with no cooler, not many. Rotomolded coolers are all the rage and for good reason, they can keep ice an insane amount of time. The problem with rotomolded coolers is that they can weigh quite a bit when loaded up and this doesn't lend to easily transporting your cooler around when you need to pick up and hit the next tailgate. I've tested some soft coolers in the past with varying results, but I always seemed to come back to the fact that they perform well for 24 hours and then it goes downhill quickly. I came across the Engel HD30 Cooler and gave it the full Tailgating Challenge test and came away impressed with the findings.
Let's first look at some of the features of the of Engel HD30 Coolers:
-Weight 5 pounds
-Holds 48 cans
-35 pounds of ice
-32 quarts of capacity 
-Adjustable Ergonomic Shoulder Strap
-Built in Bottle Opener
-Water Resistant Front Pocket
-Vaccum Valve Technology
We got our HD30 cooler in and I got to work on putting it through some tests. I look for a few things when I get a new cooler in to test:
-How well does it insulate and hold ice?
-Is it easy to get items in and out of the cooler?
-Ergonomically how does this cooler do when I fill it up and tote it around?
-Any flaws, durability issues, or other things that stand out that our fans should know?
Let's get right into it and talk about what impressed me the most with this cooler, ice retention! I put this HD30 cooler through a variety of test (from using ice packs, to real ice, to leaving it inside, to leaving it outside) to determine what users can expect, no matter the situation. I learned that packed with ice and left in TEXAS heat that you can get about 1.5 days of ice retention (your results will vary based on exact temps and how often you open the cooler). In more moderate conditions you can get almost 4 days worth of ice retention from this cooler! This has been the most impressive soft cooler that I've test, so far (Remember I've tested a lot, but not all of them, so comment below if there is one that you think should be on our list for future reviews) with the way it can keep the contents cold! This received a 10 out of 10 in our test for ice retention for a soft cooler.
We learned that there are two things that Engel Coolers did to help with this cooler being so awesome at keeping ice:
The HD30 cooler is welded together while many other soft coolers are sewn. I learned that when you weld the seams, you are able to keep warm air out and better maintain the cool temperatures in the compartment of cooler.

The HD30 cooler has closed cell foam insulation, this helps prevent air from passing through it and improves the ice retention properties of the cooler.
Next up, is it easy to get things in and out of the cooler. I've tested some soft coolers that have such a tight zipper top that it can be frustrating getting items in and out of the cooler. The Engel Cooler is almost perfect in ease of use and I'd give it a 9 out of 10. You can open the zipper all the way up and its pretty easy to get things in and out of the cooler.
The HD30 comes with a should strap, but that has never been my style (not knocking it if that's how you roll). I go old school and tote the cooler and the Engel HD30 has rugged handles and the overall build of the cooler that looks and feels like quality. The cooler itself weighs about 5 pounds and you can load it up and it's still pretty easy to get around with this cooler. With the 'dry' weight of the cooler and the shoulder strap I will again give this a 9 out of 10 for ease of portability.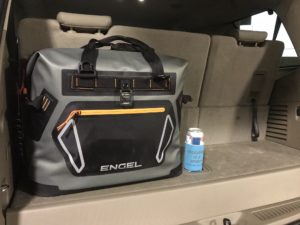 Other notes about this cooler:
-I like the included bottle opener. One less thing to remember to pack.
-I like that it has an outside storage compartment, but it is tight and you can't fit much in there (a couple of koozies for me). I would like to see a slightly larger capacity pocket and potentially add another pocket on the cooler for more storage.
– It comes in three different color combinations to pick from.
Overall, I came away impressed with this cooler. Of all the coolers I have, this is the one I use the most. I don't always need a big, heavy cooler for what I'm doing and this cooler fits for most of my tailgates and just overall lifestyle, in an excellent fashion.
If you're ready to get your own award winning cooler then visit: https://www.engelcoolers.com/