Tired of hauling your favorite bottle of spirits around at the party? Tired of people judging you for continuing to refill your drink? Tried of being in places that don't allow glass bottles? In this blog article we can solve ALL of these problems with the FlasKap Madic 9 Review.
Features of Madic 9
STORES 9 SHOTS: The Reserve Tank holds an additional 9 oz of your favorite liquor. That's enough for six additional standard mixed drinks. (7 total if you start with one in your tumbler).
THE FUN BUTTON – Every press dispenses (½) shot of liquor into your tumbler for a perfectly mixed cocktail.
FITS MOST 30 OZ STAINLESS STEEL TUMBLERS: The MADIC™9 is designed to securely press-fit on over 20 tumbler brands on the market.
LEAKPROOF + SPILL POOF: The SHOT LOCK switch creates a leakproof seal between your liquor and your tumbler, and the Sip Hole Closure helps prevent your mixed drink from spilling.
LANYARD ANCHOR – Having a cocktail later? No problem, attach the MADIC to your backpack or cooler while you're on the move.
MADE IN THE USA: In the great state of Montana. Quality parts and craftsmanship.
BPA FREE: The MADIC is BPA-free and built with the highest quality of food-grade components.
Testing of FlasKap
This isn't our first rodeo with a FlasKap, we tested the original FlasKap a few years back (check out the full video HERE). We were already fans and when they released their new and improved version I knew we had to get our hands on it to compare.
The Madic 9 is for a 30 ounce tumbler (Here is a link to check with tumblers will work with the Madic 9) they also have a Madic 6 for your 20 ounce tumblers. They sell a tumbler that will allow the FlasKap to screw in. We got the FlasKap Volst 30 tumbler to use in this review. With out the FlasKap Volst tumblers you push the FlasKap Madic 9 into the tumbler opening vs. screwing it in. Screwing it in or pushing it both work well with keeping a strong seal between the tumbler lid and your tumbler.
The Madic 9 can hold up to 9 ounces of your favorite spirit, all in the tumbler lid! You unscrew the top on the Madic 9 and you can then pour your spirits into the top. The clear tumbler top will allow you to see exactly how much, of you favorite spirit, you have left.
Then it is as easy as pushing the large button with a "F" on it, in the center of your FlasKap tumbler lid. The F may just stand for FUN! Each time you give the button a full push it will allow 1/2 an ounce of your spirit into the tumbler.
In comparing the new Madic 9 to the original FlasKap a few things that I noticed were different/upgraded:
The original FlasKap has a pop top to pour your drink into, whereas the Madic 9 has a screw off top. The screw off top is not connected to the FlasKap, like the original was.
Carabiner/lanyard loop is included on the Madic 9, that the original did not have. This allows you to hook it to a pack or other item if needed.
The Madic 9 has a sealable drink mouth, the original did not have a way to seal mouth. This helps with spills and keeping the contents of your tumbler even colder.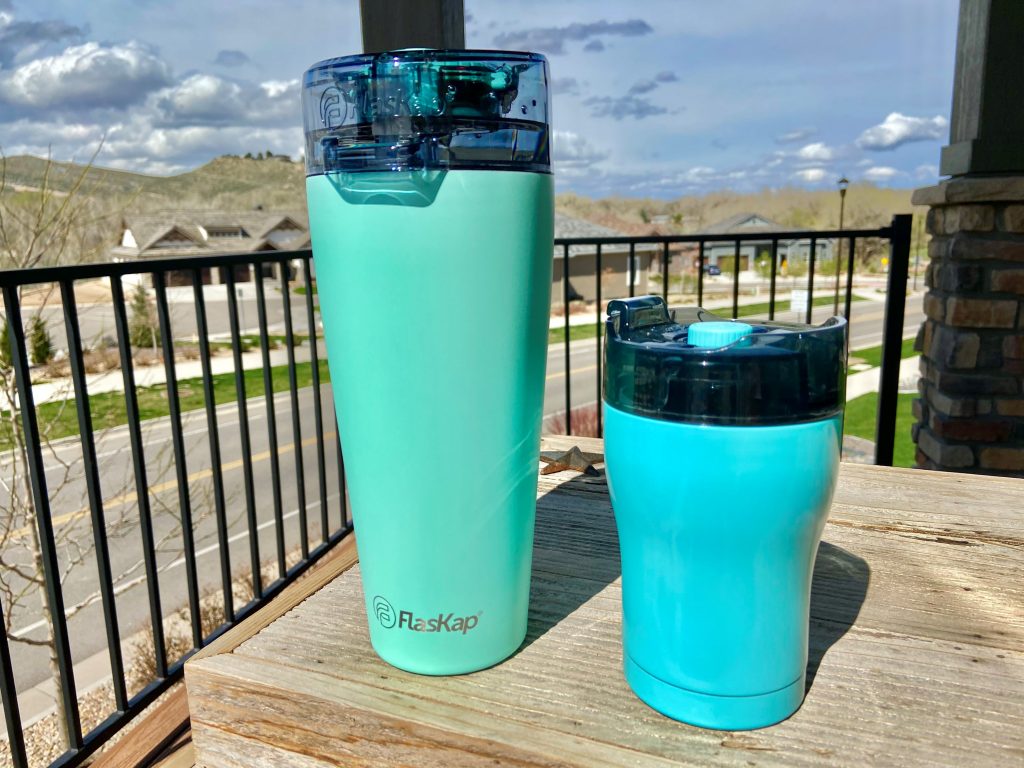 Conclusion
PROS: easy to use, holds 9 ounces of your favorite spirit, has a FUN button!
CONS: wish the fill cap was connected like the original version
Overall, this is still one of the coolest tumbler lids I have ever tested. They have made upgrades from the original that help take it to the next level. If you love having your drinks out of tumbler this is the one thing you need to be a tailgating champion.
Learn more and get your own by visiting FLASKAP.
Check out our AMAZON STORE to see hundreds of cool products that will increase your fun at your next tailgating or homegating event.
Thanks for reading our blog on the FlasKap Madic 9 Review. Let us know what questions you have and now check out our video review of the FlasKap.
Love learning about all the cool, new products that we get to test out? Take a minute and check out our recent PRODUCT REVIEWS.
We NEVER get paid for our reviews. This way we can always be HONEST. We were sent a sample to test out with the understanding that we'd give our true thoughts.
Written By: Luke Lorick 5/3/21