We love coolers that do more than just keep your beer cold. Over the years, we have found some of the coolest coolers ever. From stereo coolers, remote controlled coolers, motorized riding coolers and much more. We just found the latest and greatest cooler that has a FoosBall Table on top of the cooler! Ready for a cold drink and a game of FoosBall? Let's get into the FoosBall Table Cooler Review.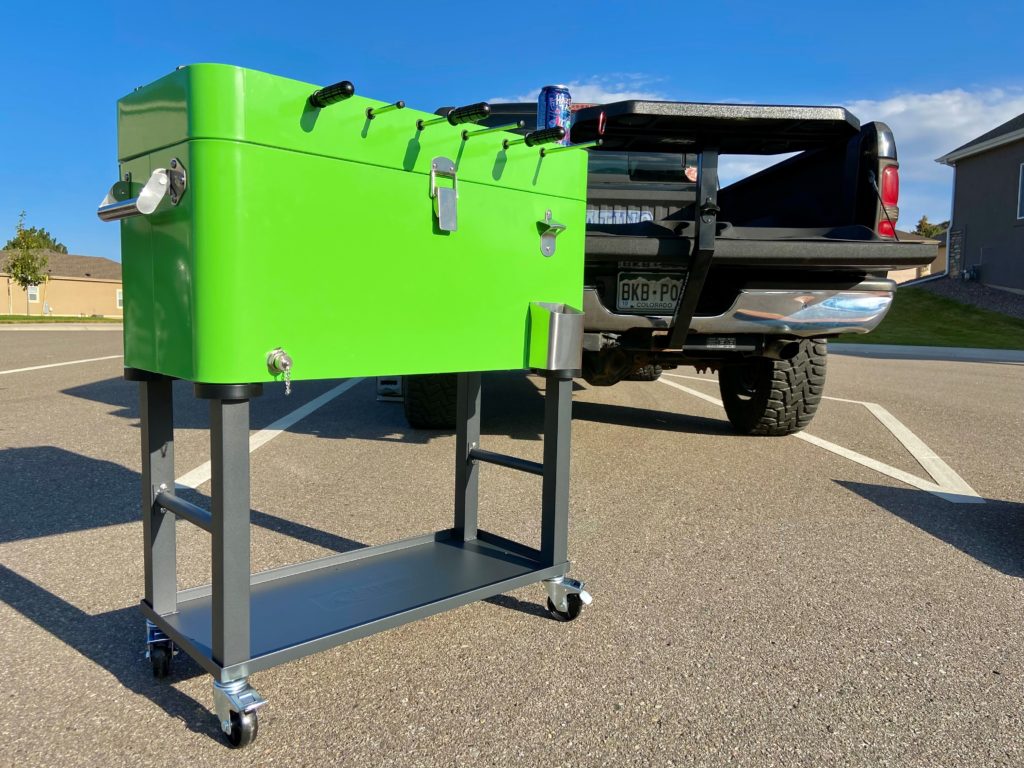 FoosBall Cooler Features
-80 quart cooler
-Dry Weight 43 pounds
-holds up to 90+ cans
-cooler dimensions: 29.25″ x 13.75″ x 12″
-Full FoosBall game parts included
-Current colors Charcoal or Electric Green
-Detachable Tub
-Includes Cooler Cover
-Bottle Opener and Cap Catcher
-3 inch wheels for easy portability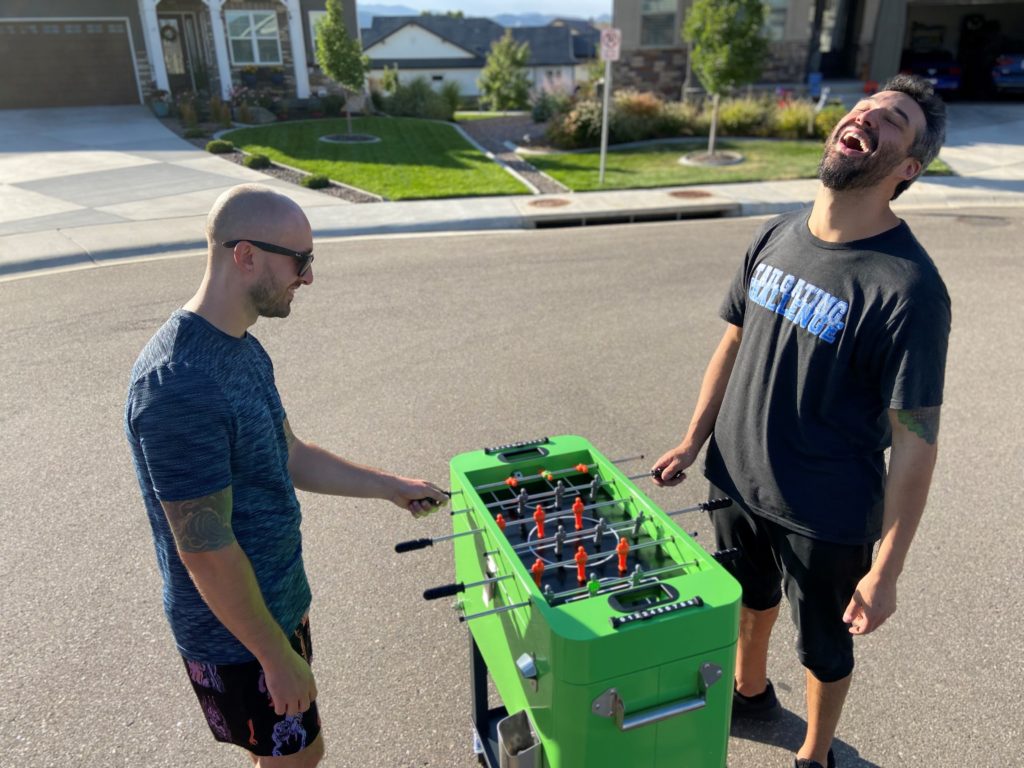 What Did We Think?
First things first we had to put this together and the time consuming part was getting each foosball player attached to the rod. There is a hole that you have to line up and put a screw in the players back to attach. This takes a moment on each one to properly line up and install. Total install time was around 40 minutes with one person.
Once put together it was easy to see portability of this unit, as you can take the cooler tub off the wheel rack, or roll the entire cooler to the proper location.
We loaded ice and some drinks into the cooler and it was time to get our FoosBall game on! We had a blast playing the classic game of FoosBall ON TOP OF A COOLER! The height was perfect for gameplay and at times we forgot that this game was built on top of a cooler.
After I had a few points scored against me I had to call a timeout and open up the cooler to grab a cold one. Cold drinks are literally right there, so you never have to go far to quench your thirst. After getting my mind right it was time for the comeback! We had some epic battles and a ton of laughs that you can see in the content we were shooting!
The bottle cap catcher is a great place to put the foosballs when you open the cooler top, so they don't fall on the ground.
We let the ice sit overnight and 24 hours later there was still quite a bit of ice in the cooler. 48 hours later the ice was gone, but the water was cold. We'd rate this with ice retention of 24-36 hours. Ambient temperature and how much ice you put in the cooler will play a big factor.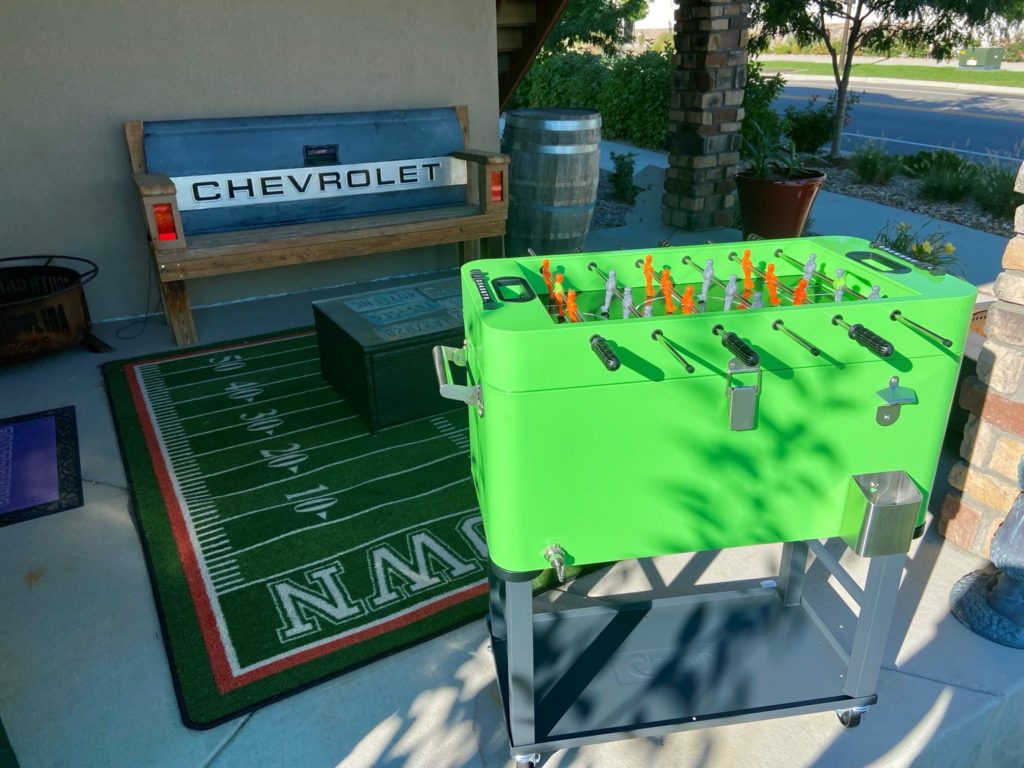 Conclusion
PROS: portable, fun game play on top, bottle opener, cap catcher
CONS: would like more color options (currently 2), would like to see slightly longer ice retention
Overall, this cooler stands out and brings the FUN to any tailgating or homegating party. A cooler that keeps your beer cold and allows you and your friends to get some smiles while playing foosball…that's a WIN in my book.
Learn more by visiting Trinity.
Find this and hundreds of other fun tailgating products in our AMAZON STORE.
Thanks for reading our blog on the FoosBall Table Cooler Review. Now let us know what questions you have and then watch our short video below. While you're on YouTube make sure you hit that SUBSCRIBE button!
Love learning about all the cool products that we get to test out? Take a minute and check out our latest PRODUCT REVIEWS.
We NEVER get paid for our reviews. This way we can always keep it real with our fans! We were sent one sample to test out with the understanding that we'd give our honest thought.
Written By: Luke Lorick 9/22/21