Football, Arcade and Shuffleboard are all rolled into one game with Fozzy Football. We got our hands on this all new tabletop game to put it to our Tailgating Challenge.
Fozzy Football was designed to be played in the parking lot, or in the comfort of your home. The contents of the game include one board, six defenders, one level, one phone holder, and of course the 'football'. You also have to download a free app that is part of the game play and adds the arcade aspect to Fozzy Football.
After you download the app you will select if you want to play a Competitive or Casual game. Competitive has an active play clock where Casual is play at your own pace. The Competitive will keep you on your toes, as you have a 15 second play clock to make your play and record the action of your play.  When you first start playing I'd recommend that you select Casual as you get used to playing.
There are also three defenders that each team has that you can set up to make it more challenging for your opponent score. Again, when you're first starting out I'd leave the defenders on the sidelines. The game will be challenging enough as you learn and leaving the defenders off the field will have more enjoyable play time.
When I first got the game in I was a little confused about how to play, as it feels like there is a lot going on with the game. In each of the end zones is where all of the action takes place and there are different actions that can take place, depending on where the 'football' stops. From pass plays, to runs, to sacks, interceptions the end zones are filled with actions. If the 'football' is on multiple actions you will use the cross hairs to see which action you get credit for.
How do you score? You can score a touchdown one of two ways. First you can march down the field, with positive runs and passes, to score a TD. The other way is sliding the 'football' to the back of the end zone so it is hanging over the edge, without touching the ground. See below: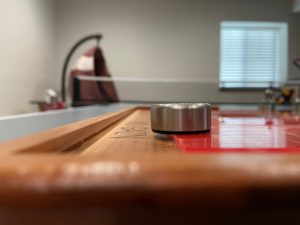 For each play that you have on the field you will record this on the app. This keeps track of down and distance. When you get to fourth down you can go for it, punt it, or kick a field goal (if in range).  In the center of each end zone there are field goal and punting action items on where you are going to need to slide the 'football' when taking that action.
Each game is 15 minutes long and the clock runs, so if you're down you better make some fast plays to preserve your time for a comeback.
After playing a few rounds we started to get into a little flow. It will likely take you a few rounds to feel more comfortable with the gameplay. The Fozzy Football game is also challenging, as there are many negative actions that can take place in the end zone. One thing that I think could make for more fun game play is having more positive actions in the end zones, or slightly larger end zones for more action to take place.
Fozzy Football is a different type of tabletop game and once you get into a flow you want to keep playing to try and get better. We always enjoy a good challenge and Fozzy Football will challenge you.
Learn more and get your own by visiting FOZZY FOOTBALL
Love checking out all the newest products? Visit our PRODUCT REVIEW section to see hundreds of reviews that we've completed.
We NEVER get paid to do a review. This way we can keep it real. You deserve that. We were sent one game sample to test out with the understanding of giving our honest review.
Written By: Luke Lorick 10/3/20