Tired of sleeping on the cold, hard ground in your tent? Have no fears the Kamp Rite off the ground tent cot is here to elevate your camping experience. This tent brings your camping experience off the ground in comfort you wouldn't expect to find in a tent. Dare we say this Anniversary Tent Cot edition could be entry level glamping? Let's find out more in the Kamp Rite off the ground tent review.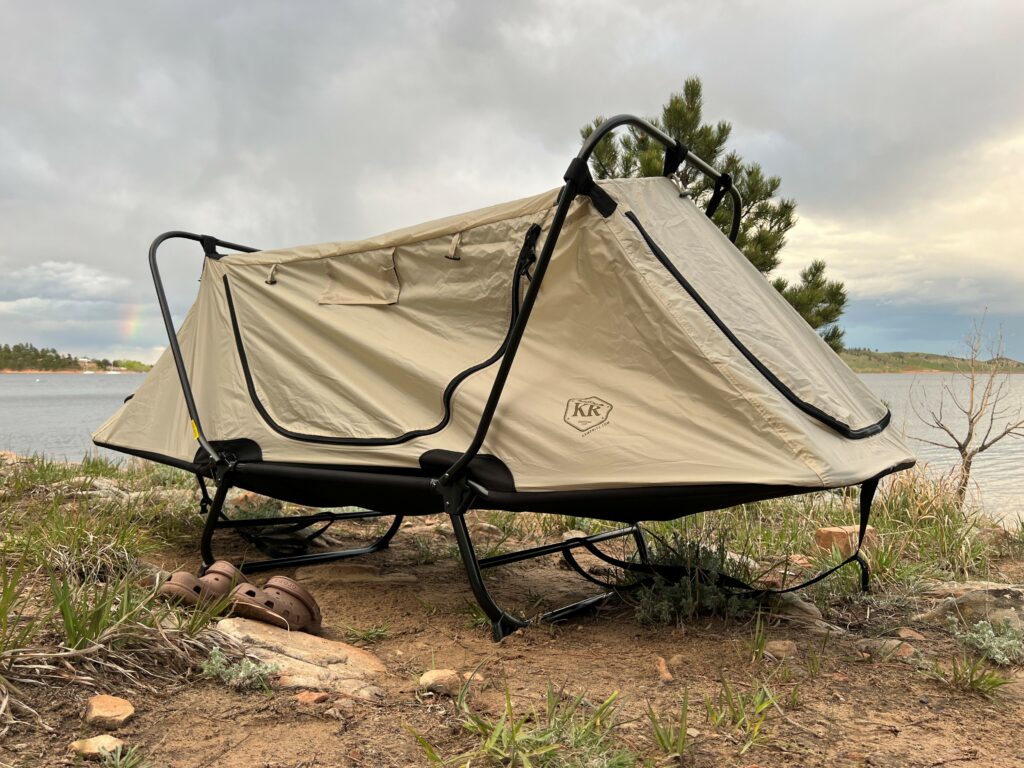 Kamp Rite Tent Features
-24 pounds
-Holds up to 300 pounds
-Storage bag
-1 person quick set up
-Internal storage pockets
-Mesh Windows to keep bugs out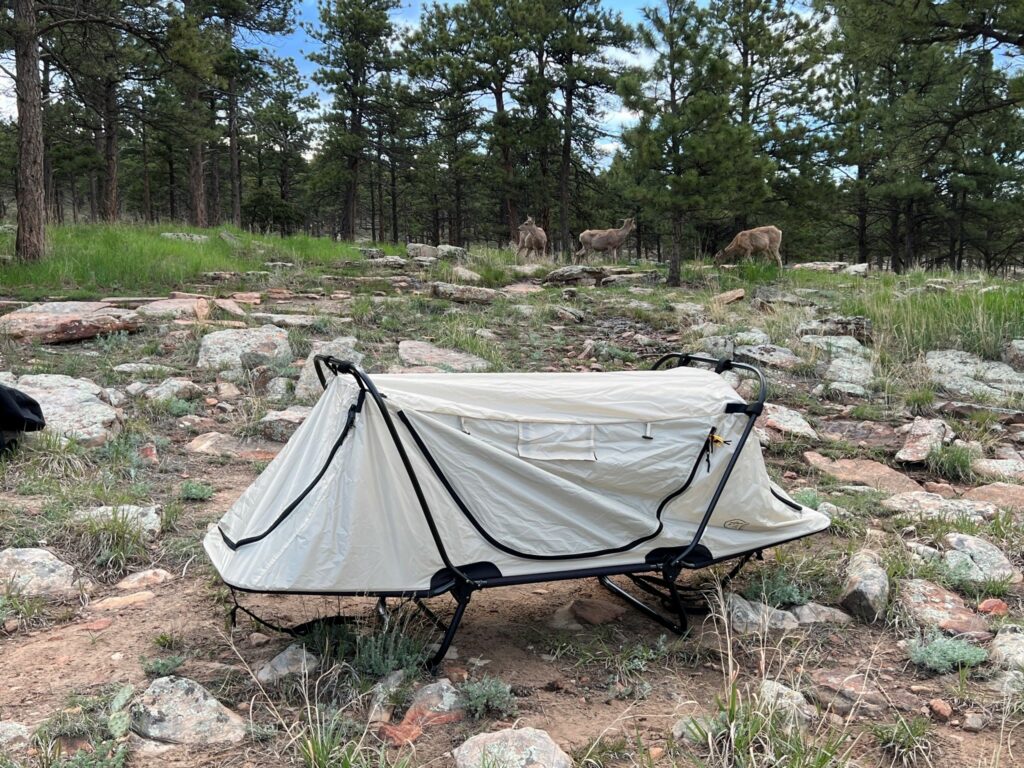 What Did We Think?
I had my eyes on the Kamp Rite tent for a few years and finally got one when they introduced their Anniversary edition. Having a tent that is off the ground to avoid rocks, cactus and mud seemed like a no brainer vs. the 'standard' tents that many use.
Our tent cot came in and it was loaded in a carrying case to make transportation easier. I will say this tent cot weighs in at 24 pounds, so it will not be a tent that you take for long backpacking trips. The set up of this tent is pretty quick, even for a first-time user. The legs flip out, the sides fold out and then you adjust the strap on each end to secure it. Pro Tip: make sure both legs are fully extended before getting into the tent.
The tent cot has 4 dual sided zipper windows that you can put down for privacy, or roll up to use the mesh style windows. These windows will help keep the bugs out, the breeze coming through and a 360 view of your surroundings. The zippers are extremely smooth and easy to use both inside of the tent and outside.
Finally, let's talk comfort. My initial reaction when I first got into the tent cot was: "Wow this is dang comfortable"! Even with no extra pads or sleeping bags I was pleasantly surprised with how comfortable it was. There was plenty of space for taller individuals. At 6 feet tall I still had plenty of room from head to toe that would accommodate larger campers too. There is also a storage pouch in the ceiling for you to keep your phone, light, etc.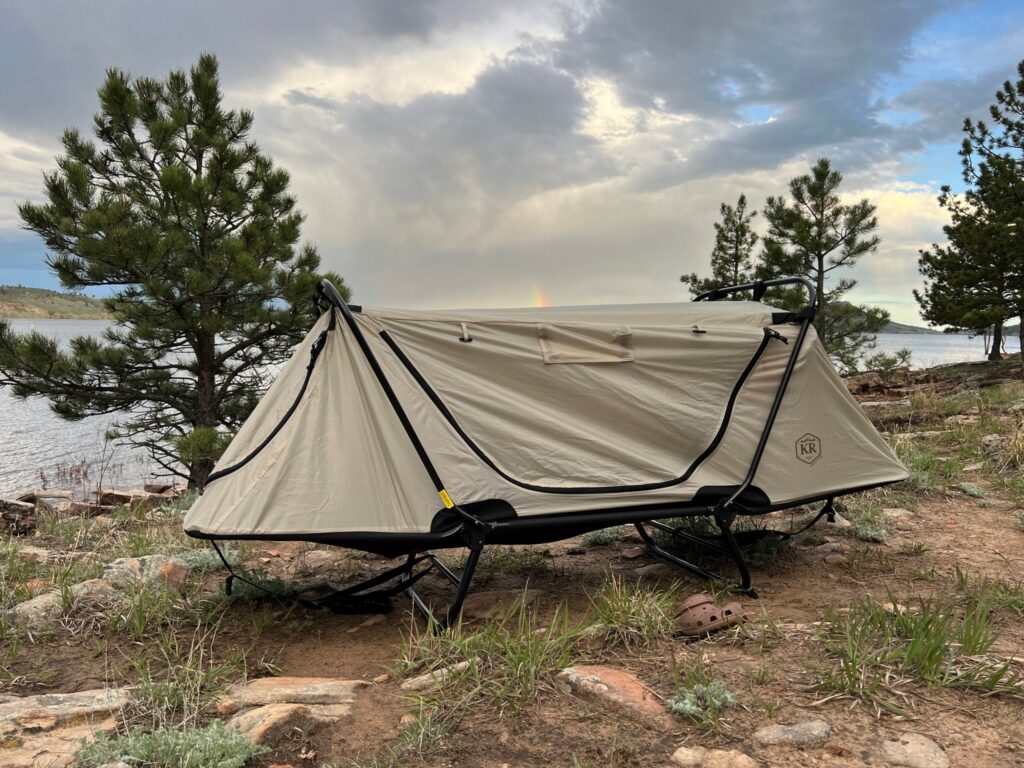 Conclusion
PROS: comfortable, easy setup, mesh windows, (they also make a 2-person tent)
CONS: size/weight make it prohibitive to use if backpacking
Overall, this is a tent that can provide a glamping style experience at the fraction of the cost that you'd imagine. Whether you're camping or want a place for friends to rest at a tailgate, check out Kamp Rite for elevated tent experiences.
Learn more and get your own by visiting KAMP RITE.
Find many amazing products that we've tested in our AMAZON STORE. A little bit of every purchase goes back to help support our honest reviews of the products you love.
Thanks for reading our blog on the Kamp Rite Off the Ground Tent Review. Let us know what you think and any questions. Check out our short video below and while you're on YouTube make sure you hit that SUBSCRIBE button!
Love learning about all the new products that we get to test? Take a minute and check out our latest PRODUCT REVIEWS.
We never get paid for our reviews, this way we can always keep it real with our fans. We were sent a sample to check out with the understanding that we'd give our honest opinions.
Written By: Luke Lorick 5/31/23