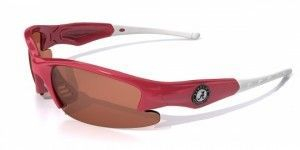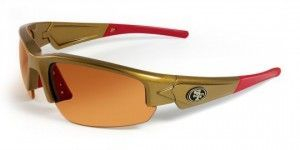 For most of us we only tailgate when the weather is nice and the sun is shining.  What do you see the majority of tailgaters wearing on any given weekend: sunglasses! This is often overlooked as another chance to cheer on your favorite team, but the fine folks at Katawba Valley Sunglasses have fixed that.
You can get your favorite college or NFL team sunglasses now and further represent for the good guys.
We were given a pair of the NFL inspired sunglasses to test out. These glasses have a shatterproof high definition lens and come in your favorite teams colors.
These are a sport inspired glasses so you can tailgate your heart out and these glasses will stay firmly attached to your face.  The lens in these glasses are amazing and I had to ask other people to try them on to make sure I was not going crazy as everything was crystal clear with no distortion. When you put the glasses on it actually brightens up everything you see and doesn't dim it out like most sunglasses.  I could go on an on about the HD lens in these glasses, but you get the picture.
These glasses provide 100% UVA and UVB protection.
Pros
Cons
You will never see a tailgate the same way after you purchase these glasses. We highly recommend these glasses and at less than $40.00 a pair its a no brainer!
Check them out:
www.katawbavalley.com