When I think of kettlebells I think of hitting the gym and toning up. The team at Jem Glass took this a step towards the tailgate by creating a 1 pound kettlebell bottle opener to help you crack your cold ones while getting a work out:) Let's see how this kettlebell bottle opener does in our next Tailgating Challenge.
Kettlebell Bottle Opener Features
-Weight = 1 pound
-Made from the same materials as the kettlebells you see in the gym
-Conversation starter
-Great gift idea for those that enjoy a cold one after a work out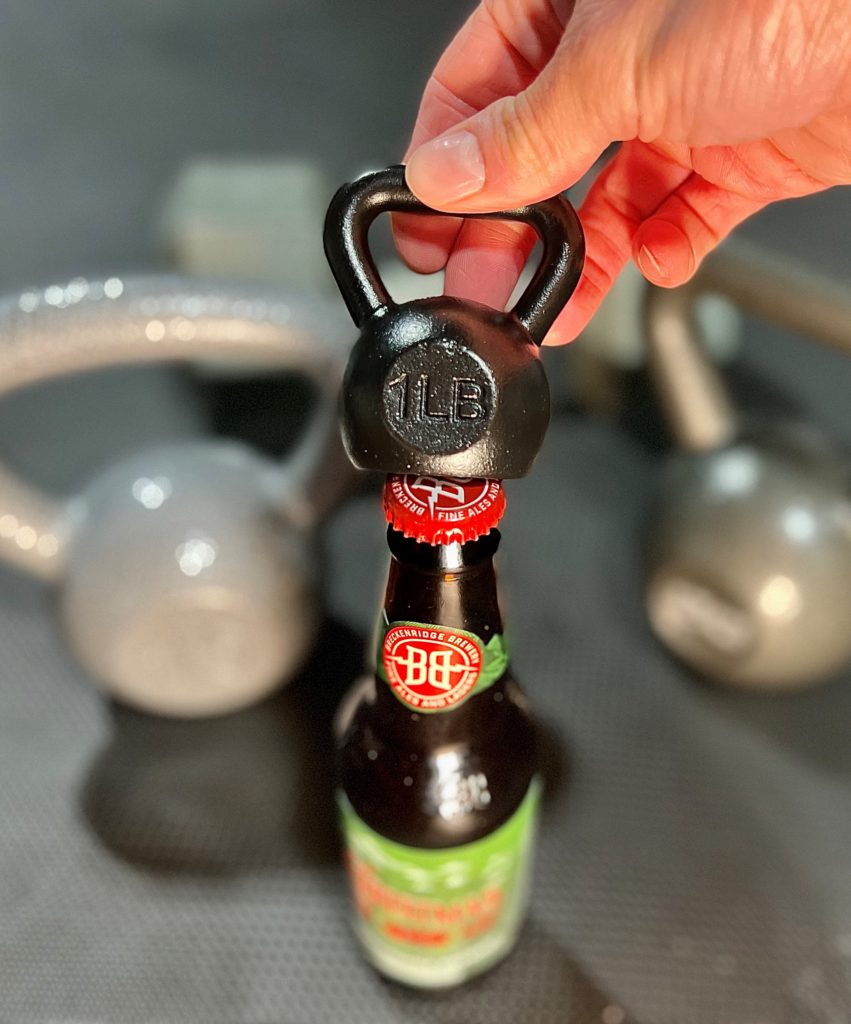 What Did We Think?
We have tested many bottle openers over the years at Tailgating Challenge. I have found that ones that have more weight can more easily pop the tops of our favorite beers. Before testing this Jem Glass Kettlebell Bottle Opener, our favorite bottle opener was the Yeti Brick (see review HERE) and this weighed 3/4 of a pound and WAS the heaviest bottle opener we had in our arsenal.
The Jem Glass bottle opener is a mini kettle bell that would look right at home on a rack in a gym. It is made from the same materials as the kettlebells that keep people fit. The difference is that on the bottom you can see its been designed to help crack open the tops on beer bottles.
Now let's see how well this pops the bottle top. I grabbed a cold one and prepared to use the kettlebell bottle opener for the first time. As I approached it I went back and forth with sticking a finger through the kettlebell hole, or gripping over the top of the kettlebell. I ultimately went with the over the top grip and then pulled. WOW it quickly and effectively popped the top right off.

One thing I look at to see how cleanly a bottle opener works is how much the bottle cap is damaged. With some bottle openers it bends the bottle cap and that is a sign that the bottle opener is not working as efficiently as needed. With this kettlebell opener it opened the top with no damage at all to the bottle cap.
Conclusion
PROS: conversation starter, easily pulls the tops off, great gift idea
CONS: finding the right grip on this to pull to open is different compared to standard bottle openers.
Overall, this is one of the most fun bottle openers that any gym rat could have. It is one of the heaviest and most effective openers we have tested.
Learn more and get your own by visiting Jem Glass.
Find this and many more amazing products that we've tested in our AMAZON STORE.
Thanks for reading our blog on the Kettlebell Bottle Opener Review. Let us know what you think of earning your next cold beer. Check out our short video below and while you're on YouTube make sure you hit that SUBSCRIBE button!
Love learning about all the new products that we get to test? Take a minute and check out our latest PRODUCT REVIEWS.
We never get paid for our reviews, this way we can always keep it real with our fans. We were sent a sample to check out with the understanding that we'd give our honest opinions.
Written By: Luke Lorick 12/19/21