The smell of KFC fried chicken can be intoxicating. It can call drivers that pass by to pull over to get a bucket of their world famous fried chicken. The 11 herbs and spices will forever to be a secret kept by the colonel, but what's not a secret is that KFC has been delivering mouth watering chicken since 1930. The 11 herbs and spices is what sets KFC apart from the competition, but could they put this special formula into something aside from chicken? Well they DID! These 11 herbs and spices are now in a fire log!
KFC partnered with Envirolog in 2018 to bring out the first KFC fire log and the limited edition log sold out in hours in 2018. Customers were calling into Envirolog after the KFC fire logs sold out in 2018 asking how they could get their hands on one. These calls happened well into 2019 and luckily KFC and Envirolog decided to bring the popular fire log back in 2019. In 2019 we understand they made a few extra logs (still limited quantities), due to the high demand in 2018. Even with the extra units they still sold out in less than 36 hours!
The KFC Fire Log is made from 100% recycled materials, has KFC's 11 herbs and spices and can burn for up to 3 hours.
We were lucky enough to get our hands on one of the KFC fire logs and while many are saving these to be collectors items, we decided to put the KFC fire log to the Tailgating Challenge test!
We headed on down to our local KFC to get a bucket of their chicken and do a blind SMELL test. We ordered our chicken and spoke to the manager at the KFC. We were shocked that no one who was working there had heard about the KFC fire log! We educated them while we were waiting for our chicken to cook. We got our bucket of fried chicken, put on the blindfold and did the smell test of real KFC fried chicken vs. the KFC fire log. I was surprised at close the smell comparison was. They got it right with the fire log as it is pretty dang close.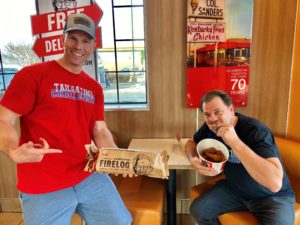 After we finished up the blind smell test we headed home to light up the KFC fire log. We were told starting an open fire in the KFC parking lot would be frowned upon. We tore the edges of the wrapping on both ends and then used our BISON AIRLIGHTER to really get the KFC fire log LIT. We let it burn a few minutes and while there were hints of the 11 herbs and spices, the smell was not nearly as strong as it was on the unused log.
Here is what we concluded about the KFC fire log:
-It will be a collectors item
-It is an awesome gift
-It smells just like KFC fried chicken before you burn it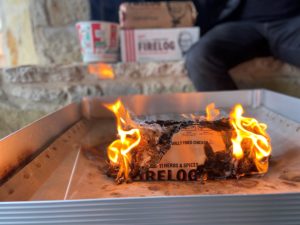 Overall, we love partnerships like these where companies come together to have some fun. Envirolog and KFC nailed it and we just hope these fire logs make a comeback in 2020!
Visit Envirolog to learn more about their 100% recycled fire logs: https://enviro-log.net/
Visit KFC for all your fried chicken needs: https://www.kfc.com/
Walmart Online was the only location to purchase these collectible logs.
This was a NON PAID review. We did recieve a KFC fire log from Envirolog to get our honest feedback on.
If you love honest product reviews you can check them all out in our PRODUCT REVIEW section.
Written by: Luke Lorick 12/8/19.