We love koozies and have many unique koozies in our collection. I'm to a point in my life now where a normal koozie doesn't get me excited, no matter how cool it looks. I want my koozies to do more than just keep my drink cold. We found the newest koozie that can keep your drinks cold and then transform your party by becoming a beer bong. Let's check out the Kong Beer Bong Koozie Review.
How to Use Kong Beer Bong
It can function as a normal koozie to keep your beer ice cold. Simply insert and drink.
You can transform the koozie into a beer bong to get the party started
It can transform from normal koozie to beer bong in seconds (see below)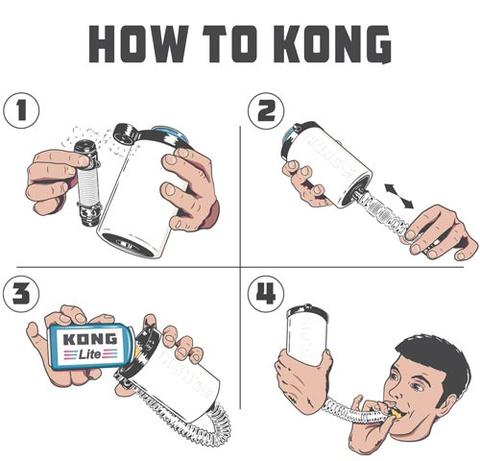 Kong Beer Bong Testing
These Kong Beer Bong Koozies have been all the rage on social media. I've had multiple fans tell us that we had to check these out. When our fans talk, we listen. We snagged a few Kong Beer Bongs and quickly grabbed some cold beers to see how these worked.
These currently come in colors of black, white, red, blue, green or pink. We got a pink and white koozie to test out in our Tailgating Challenge.
Let's first focus on the koozie. The koozie is made of durable eva foam that has just a touch of give, but feels very sturdy. The Kong logo complete with a silverback gorilla (one of our favorite animals) is imprinted on each koozie. The koozie will keep your drinks nice and chilled for far longer than you'll need to finish them off.
Moving on, let's talk about how this koozie can transform. On the side you'll see the expandable and detachable hose that you will detach and insert into the bottom when you're ready to get your beer bong on.
You will then pour your beer into the koozie compartment, hold the kong koozie up, insert hose into mouth and let the beer flow!
Conclusion
PROS: keeps beer ice cold, transforms in seconds from koozie to beer bong, sleek look
CONS: can't get our logo on here yet:)
Overall, if you enjoy drinking a cold beer and easily having the option to have a beer bong whenever you need itn
Learn more and get your own by visiting KONG BEER BONG.
Find hundreds of carefully curated items in our AMAZON STORE.
Thanks for reading our blog on the Kong Beer Bong Koozie Review. Let us know what questions you have and then watch our short video on this fun koozie below. While you're on YouTube made sure you hit that SUBSCRIBE button.
Love learning about all the cool, new products that we get to test out? Take a moment and check out some of our recent PRODUCT REVIEWS.
We NEVER get paid for our reviews. This way we can always keep it real with you. We were sent a sample to test out with the understanding that we'd give our honest thoughts.
Written By: Luke Lorick 7/8/21