There is something about a fire at night that creates ultimate ambiance. When you pair some music with the fire it makes it even better. But wait there is something else you may not have heard about that will make your fire pit nights even better: fire that DANCES to the music! In the Loom 2 Table Top Fire Pit Review we show you the all new beats to music technology that will blow your mind.
Loom 2 Features
• Beat to Music (BTM) Mode
• Patented 12V 100 watt sound system
• 3" marine grade speakers
• Custom rechargeable Lithium-ion battery
• 4 Modes: Music | Fire | Music & Fire | BTM
• Wireless connectivity with 60Ft range
• Electric starter
• Rugged construction
• Powder-coated steel body
• Weather-resistant
• Quick-connect adapter for 20lb LP tank
• Protective cover included

28 x 9 x 9 Inches // 26 LBS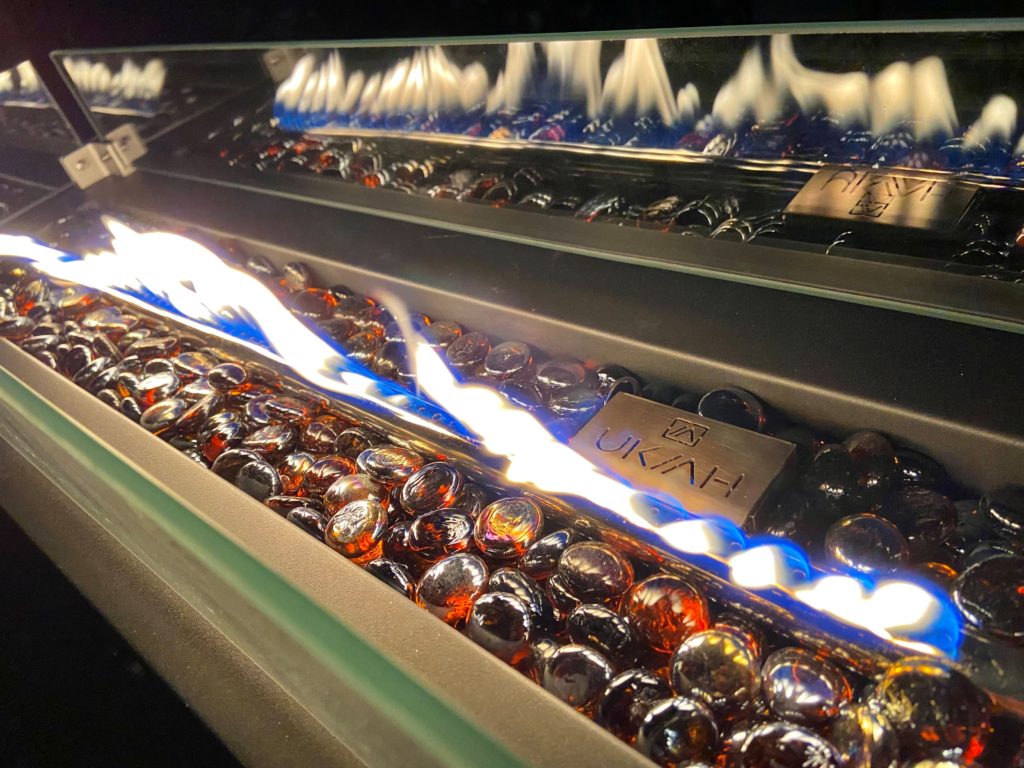 Fire Pit Testing
Our Loom 2 arrived and we quickly got it set up by sliding the glass wind breaks into the slots, adding the ignition battery and putting the stones around the fire pit.
We then hooked up our 20lb propane tank with the, included, quick connect gas line. The Loom 2 was then ready to showcase all of its skills to our guests. We ignited this table top fire pit and found you can have the fire static like a normal fire pit. It will allow you to adjust the flame height from low to high. Good to note that you don't always have to use the BTM (Beats to Music) feature if the fire is going.
There are 2 marine grade speakers on this fire pit that we paired to our phone and let the tunes start pumping. The speakers had clean and crisp music that met our expectations. There is a volume knob in the center to control the volume of these 3 inch speakers.
Now on to the magic part of the show: Beats To Music! There is a Beats to Music button that when you press it (and music is playing) the flames will start to dance to the song you are playing. There is a BTM setting on the gas dial that is the ideal setting when you're having the fire dance to music. The dancing flames really were a spectacular feature that I continued to stare at all night long.
Conclusion
PROS: quality sound, clean looks, beats to music technology
CONS: with the glass we will likely won't take this to tailgates for fear of breakage
Overall, this Loom 2 fire pit was a hit at our homegating party. When you hit the Beats To Music button the party will get started! Looking to impress your guests, this is what you need.
Learn more and get your own by visiting UKIAH CO.
Find more fun items in the one stop tailgating shop our AMAZON STORE.
Thanks for reading our blog on the Loom 2 table top fire pit review. Let us know what questions you have and then watch our video review below. While you're on YouTube make sure you hit that SUBSCRIBE button.
Love learning about all the cool, new products that we get to test out? Take a look at some of our recent PRODUCT REVIEWS.
We NEVER get paid to give our professional opinion on products. This way we can always keep it real for our fans. We were sent a sample unit to test out with the understanding that we'd give our honest feedback.
Written By: Luke Lorick 8/14/21