We live in a wireless society, so why do all my grilling thermometers have wires? I never thought about it until I learned there was an option for wireless grilling! The Meater Plus is a true wireless thermometer that will allow you to cut the cord from your current meat thermometers. Now let's fire up the grill and get into the Meater Plus Wireless Meat Thermometer Review.
Features of the Meater Plus
Built-in Bluetooth repeater in the charger extends the wireless range up to 165ft.
100% Wire-Free: No wires. No fuss. The first truly wireless smart meat thermometer.
2 Sensors, 1 Probe: Dual temperature sensors can monitor internal meat temperature and ambient.
Guided Cook System: Walks you through every step of the cooking process to guarantee perfect and consistent results.
Advanced Estimator Algorithm: Estimates how long to cook and rest your food to help plan your meal and manage your time.
Connectivity Suite: Monitor your cook from a phone or tablet over Bluetooth. Extend your wireless range using MEATER Link WiFi and the MEATER Cloud.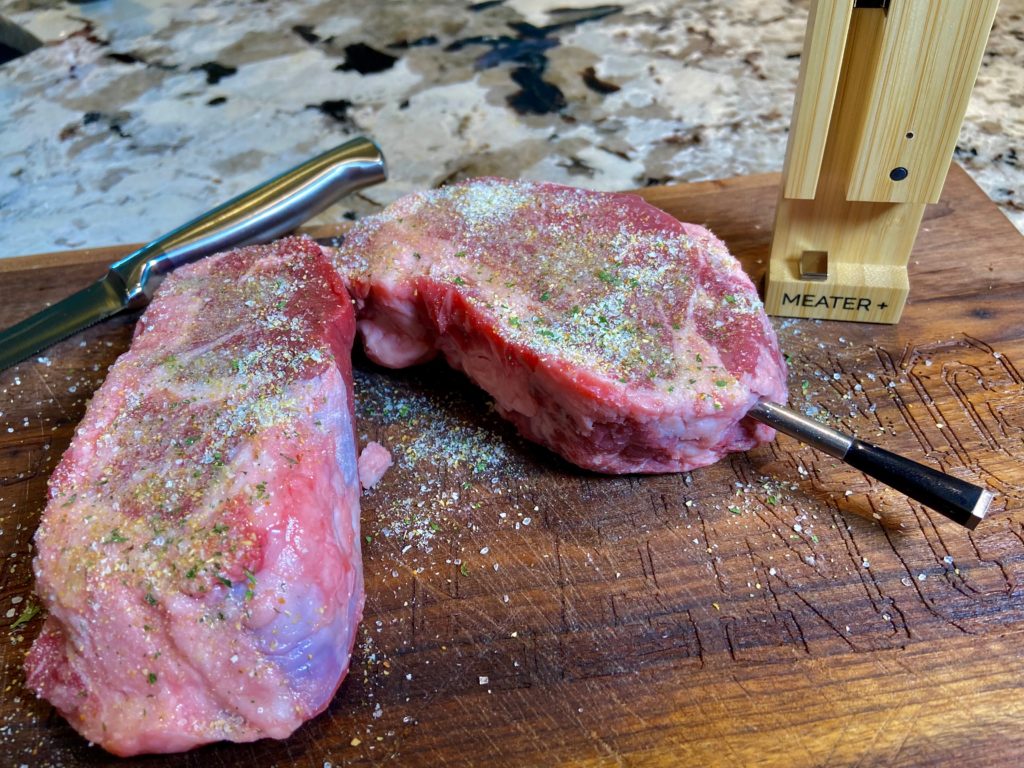 Fire Up The Grill
Let's fire up the grill, but first let's set up our Meater Plus. Start out by charging the battery for at least 4 hours. It charges in the bamboo style box that is powered with one triple a battery.
While you're charging your battery download the Meater App that is freaking amazing! The app makes using the Meater Plus simple. You can select what you're grilling and it will tell you things like:
-Internal Temperature
-Ambient Temperature of Grill
-Target Temperature
-How Long Until the Food is Ready
-When to Take the Food Off
-How Long to Let Food Rest
-Report of How the Cook Went
-Ability to Look at Past Cooks to see how you can make it Better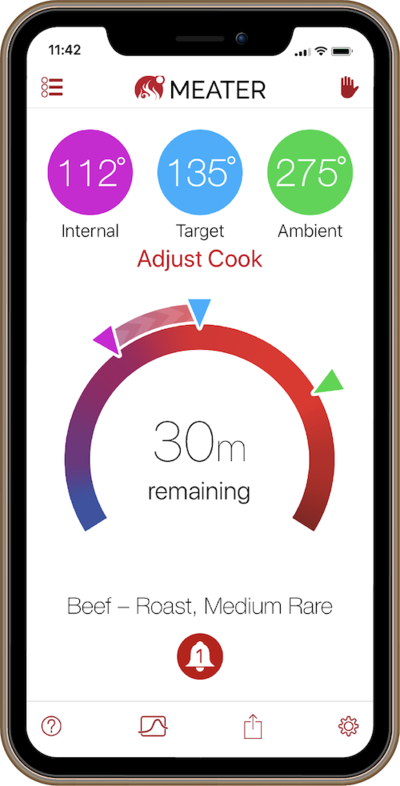 Next, pull the Meater Plus probe out and put it beside the bamboo box and press the black button. You will then see the box light start to flash green and you know they are paired and ready to grill.
Now get your favorite piece of meat and slide the Meater Plus in, up to the line. This is important so you don't damage the sensor. See our video below to learn more about set up and where the line is.
Now put your meat on the grill and let the app do the work for you.
I walked away from the grill and it said I lost connection after walking 15 feet away. Hold up! I thought this could go 165 feet. I brought the bamboo charging box out and placed it near the grill and viola I was able to move around the house with ease.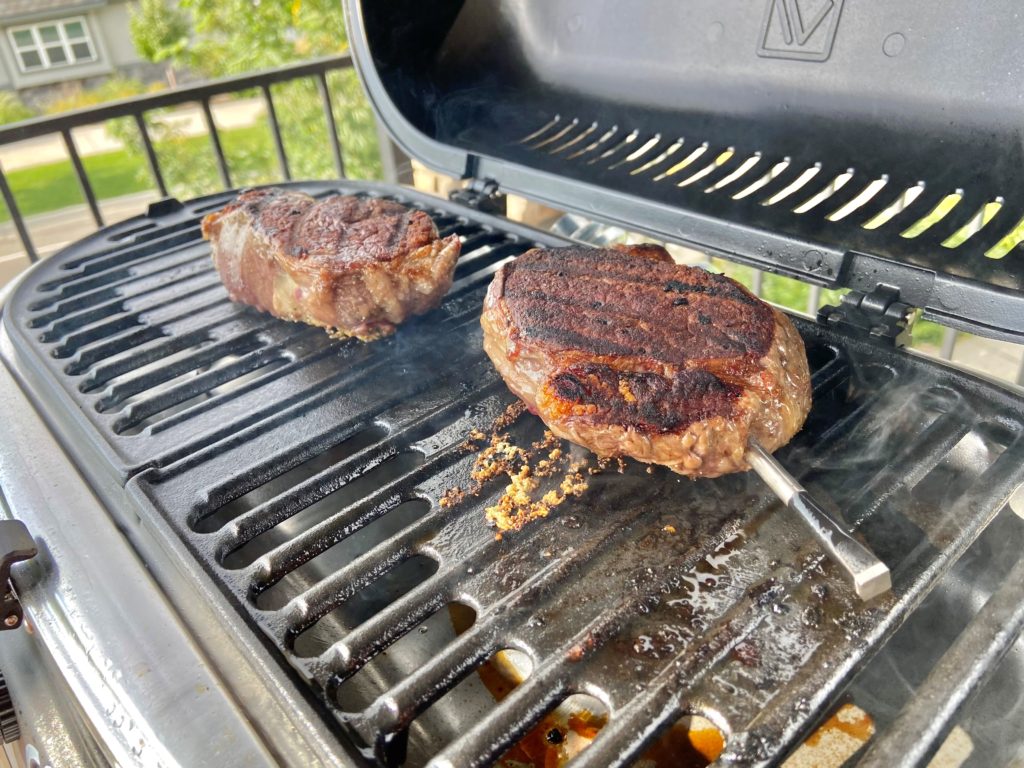 The app alerts you when your cook is almost done and then again when its time to remove from the heat. Then it tells you how long to let your particular cut of meat rest, before chowing down!
This was super simple and worked well! Oh and we put it in the dishwasher afterwards and it still works!
Conclusion
PROS: awesome app, wireless, easy to use, dishwasher safe
CONS: only area of opportunity in my opinion would be if it didn't require you to insert it so far to get to the 'line' for smaller/different cuts of meat to give it more versatility.
Overall, I am a fan! I love the wireless life and the app was pretty amazing. Given the ease of use and tips for when to take the meat off the grill and how long to let the meat to rest, it could turn and average 'Joe' into a grilling champion!
Learn more by visiting MEATER.
Find this and hundreds of other awesome tailgating products in our AMAZON STORE.
Thanks for reading our blog on the Meater Plus Wireless Meat Thermometer Review. Let us know what you think and if any questions. Now watch our video review below to see this wireless thermometer up close and personal. While you're on YouTube make sure you hit that SUBSCRIBE button!
Love learning about the new products that we get to test? Take a minute and check out our latest PRODUCT REVIEWS.
We NEVER get paid to give our thoughts on new tailgating gear. That isn't a review it's an ad:) We were sent 1 sample to test out with the understanding that we'd give our honest thoughts.
Written By: Luke Lorick 9/13/21