Normally, we pour our drinks and mixers into a cup and stir. This creates the perfect cocktail, right? Maybe not! The team at Mix It Fresh has created a totally different way to make your favorite mixed drinks with no stirring, or cup needed. Let's see exactly what they are up to in our Mix It Fresh Drink Topper Review.
Why do you Need a Mix It Fresh?
-More portable
-Protect your drink from germs or drink spiking
-No water downed drinks
-Use in areas where glass is prohibited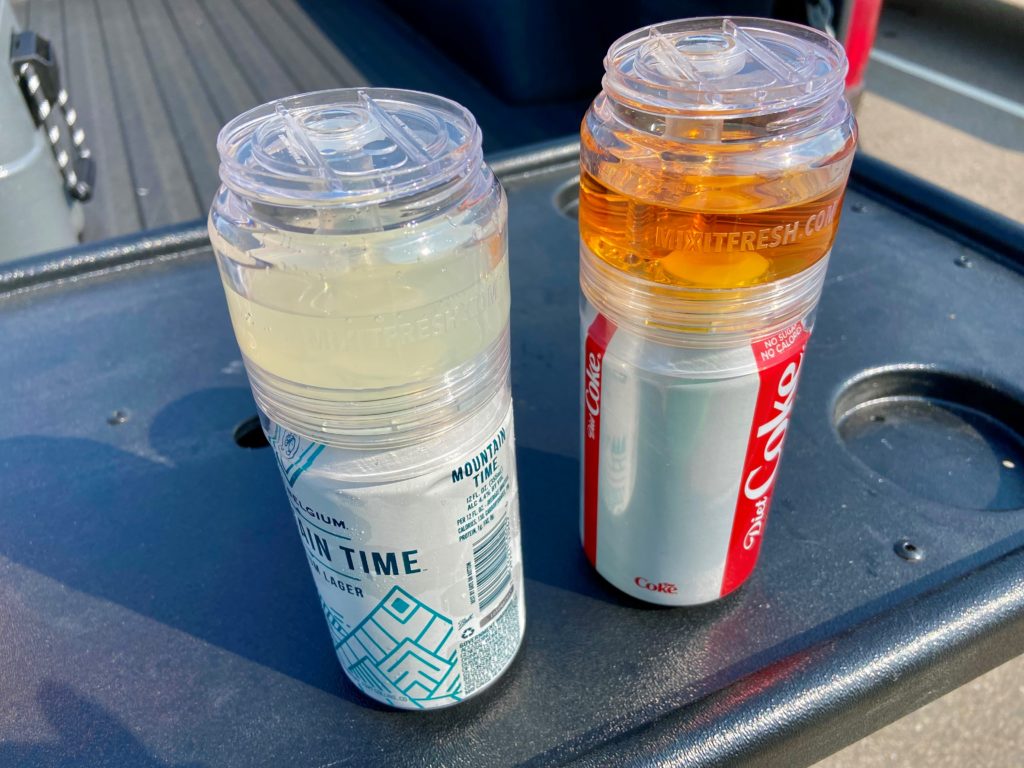 Features
-Dishwasher safe
-Holds up to 3 ounces
-Prevents drink tampering
-Reusable Plastic
-Unique mixing technology
Mix It Fresh Testing
In our first use of Mix It Fresh I had to read the directions and follow step by step to ensure I did it correctly. After doing it the first time it wasn't hard, but my first go around I felt slow getting my drink ready.
First, pop the the largest plug off and pour up to 3 ounces of your favorite spirit into the Mix It Fresh. Then place the plug back on. Pop the top of your favorite standard size can and line the peg up with the opening to your can. Press down until it snaps on the top of the can. Finally, open the plug on top of the Mix It Fresh and you're ready to drink.
Now that we had the Mix It Fresh ready to go there was only one thing to do, turn up the drink! As you turn the drink up there are two tiny holes that release your spirit into the mixer. One tip is the higher you turn the drink up the better the mix ratio is. If you barely turn it up you'll get more of the spirit that is in the Mix It Fresh Topper.
We mixed whiskey and cola along with beer and lime juice. This was a different experience to our drink making that we appreciated and this device has it place, but it won't totally replace mixing your drinks up in a cup.
Conclusion
PROS: portable, unique mix technology, great for pools/beach where glass is prohibited, looks unique
CONS: Not sure if this is easier than simply mixing in a cup. The drink opening for where you drink out of could be more ergonomic as we noticed that most new users dribbled some after taking their first sips.
Overall, if you're looking for a different way to mix your drinks, without worrying about the glass the Mix It Fresh Drink Topper could be for you.
Learn more by checking out MIX IT FRESH.
Find this and other awesome tailgating gear in our AMAZON store! We have been testing products for years and putting some of the coolest products in a one stop shop.
Thanks for reading this blog on Mix It Fresh Drink Topper. Let us know what questions you have. Then watch our short video below to learn more. While you're on YouTube make sure you hit that SUBSCRIBE button!
Love learning about all the cool, new products that we get to test? Take a look at some of our recent PRODUCT REVIEWS.
We Never get paid for our reviews. This way we can always keep it real with you. We were sent a sample to test out with the understanding that we'd give our honest thoughts.
Written By: Luke Lorick 7/27/21