Let's face it, we've all been there, a little too much fun at the tailgate and we wake up feeling less than amazing. This problem has been around for years and everyone is on the quest for the holy grail of feeling like a champion after having a few too many adult beverages. In our quest to find a solution to this age old problem we found the Morning Recovery Drink that claims to help cure a case of grogginess. Now grab a drink and let's get into the Morning Recovery Drink Review.
Morning Recovery Ingredients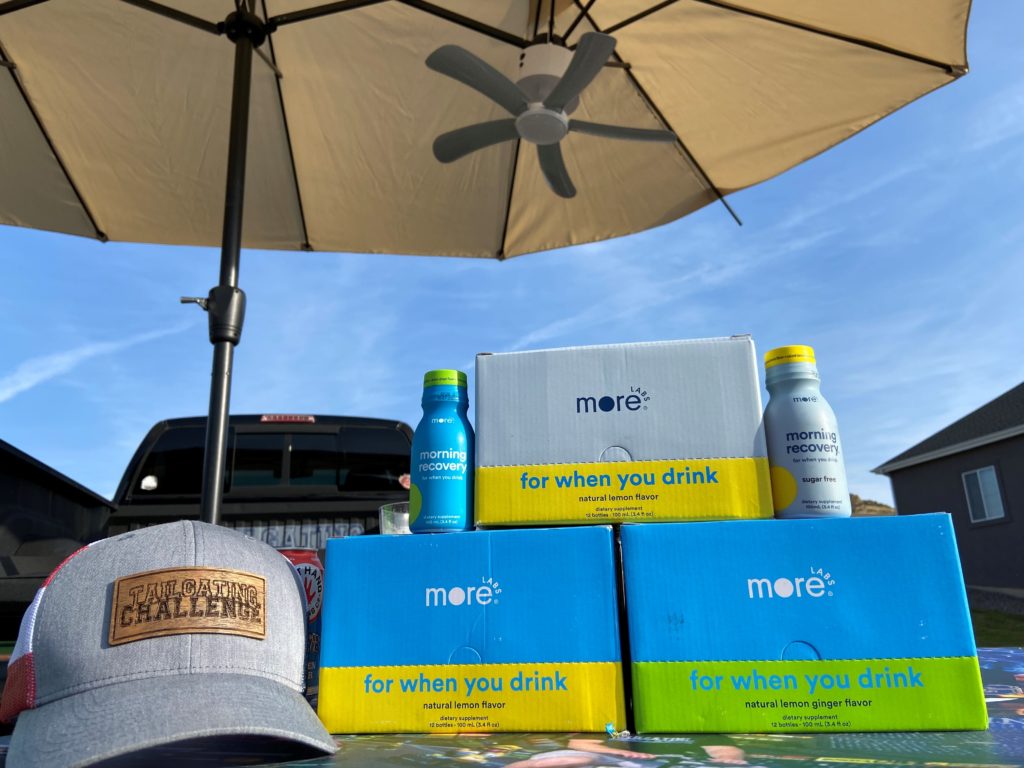 What Did We Think?
We are pretty skeptical of anything that claims that it can help you feel better the day after having a few too many drinks. We have found a few things over the years that do help, but most aren't getting our seal of approval.
We got our Morning Recovery samples of lemon, lemon sugar free and lemon ginger in and knew we had to continue looking for something that could potentially help us and others. The Morning Recovery Shots are suggested that you take them before, during or right after you drink. These are NOT for use the following day, as they won't be effective.
We let the camera roll as we tried these for the first time and the taste was pretty dang good. It is something I'd drink again and did not have any medicine or strange taste to it.
POP! We started popping tops of our favorite beers to put this Morning Recovery to the Tailgating Challenge. Midway through the evening we took a second shot and then finished a few more beers. Disclaimer, please drink responsibly and NEVER drink and drive.
Then off to bed to see what the morning would bring us. After waking up I felt good, not great. After a few hours I rated that I felt about 50% better than I did on those other days having a similar amount of alcohol.
Our other tester experienced ever better results and said they didn't even know they drank the night before and believe this Morning Recovery helped them.
So with all things in this space your individual results may vary, but we believe that it will help you feel some level of better the next day, following a fun night out.
Conclusion
PROS: good taste, convenient shot, it does help when you have a few too many adult beverages
CONS: still won't totally fix having a few too many, would like an option for one that you can drink in the following morning and has caffeine.
Overall, we believe this Morning Recovery shot will help mitigate the effects of having a little too much fun at the tailgate. We will be keeping a few of these on hand for future tailgating parties;)
Learn more by visiting MORE LABS.
Find hundreds of awesome products in the one stop tailgating shop…our AMAZON STORE!
Thanks for reading our blog on the Morning Recovery Drink Review. Let us know what you think if you've tried this! Now watch our short video review of our testing process. While you're on YouTube make sure you hit that SUBSCRIBE button!
Love learning about all the cool products that we get to test? Take a minute and check out our latest PRODUCT REVIEWS.
We never get paid for our reviews. This way we can always keep it real for our fans. We were sent samples to test out with the understanding that we'd give our honest opinion.
Written By: Luke Lorick 9/30/21