Naked is better! Hold on, get your mind out of the gutter, we are talking about Naked Protein. Sure we love to tailgate, but we hit the gym hard during the week to earn all of our tailgating food and drinks. After workouts I enjoy a cold protein shake and the Naked Almond protein shake is the newest kid on the block that we wanted to put to our Tailgating Challenge. Thanks for checking out the Naked Almond Protein Powder review.
What's In It?
Certified vegan whole almonds exclusively from California farms. That's it, nothing more, nothing less. Just the power of almonds.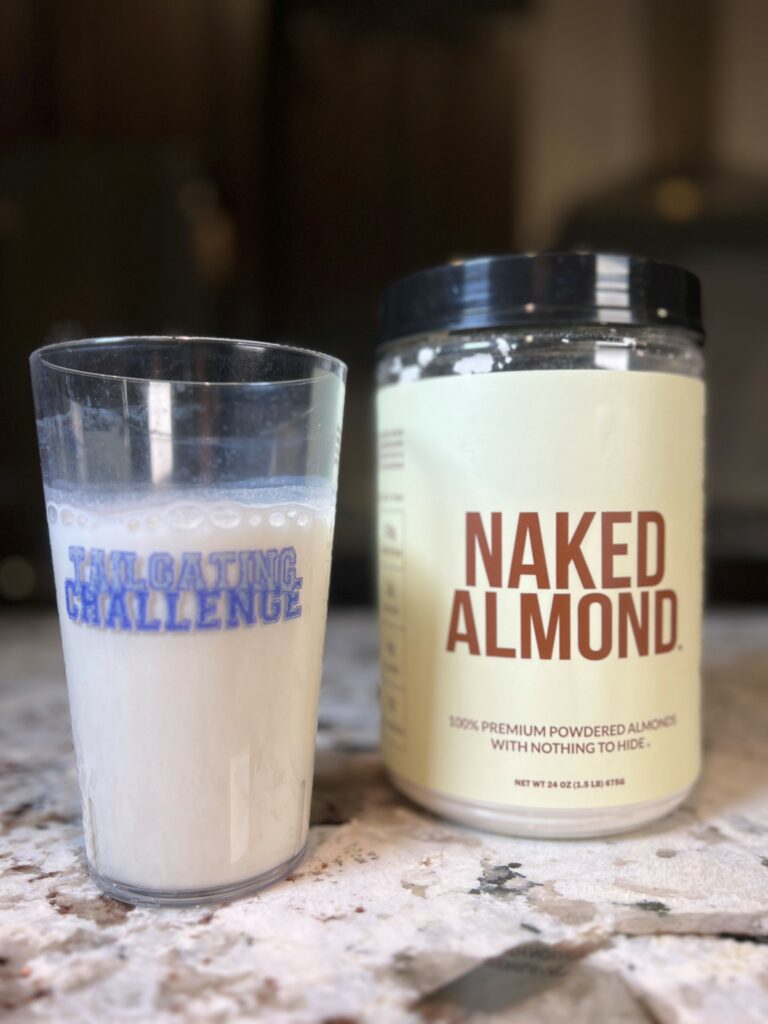 What Did We Think?
I've been making protein shakes for 25 years, so I know not all protein shakes are created equal. Some of the things I evaluate when testing out a new protein product are: taste, blending, and how do you feel afterwards.
First, let's talk taste. When I opened the container for Naked Almond there is a very pleasant almond smell. I tasted some of the powder out of the container and it tasted just like powdered almonds, I know shocking! After blending, I took a big sip and it tasted like strong, smooth almond milk. Think a slightly thicker, richer, more bold taste of that of normal almond milk. It did not have the extra sweetness that many protein powders have.
The blending process of protein powders is important. I've had many powders over the years that don't blend well. Some do ok in a blender, but fall short in a shaker bottle. Heck I've had some that struggle and get clumpy even in a high-power blender. Naked Almond protein powder did excellent in both a shaker and in a blender. There was no clumping and even after letting the blended shake sit, it kept a smooth consistency.
Finally, how do you feel afterwards. For those that have tried a variety of protein shakes you know where I'm going with this, GAS! Some inferior protein powders can cause some gastrointestinal issues that doesn't feel good and others may not want to be around you! I had a great feeling in knowing how pure this protein was that this would not be an issue and I can confirm I felt great after drinking a large protein shake.
Conclusion
PROS: good almond flavor, blends cleanly, no fillers
CONS: if you're looking for something with more sweetness not for you
Overall, if you're looking for an easy to blend, mild tasting protein shake that will keep you feeling great after long after you finish your last sip then it's time for Naked Almond.
Learn more and get your own by visiting NAKED NUTRITION.
Written by: Luke Lorick 11/5/23