Do you have a tumbler? Do you enjoy music? If so LISTEN up, as the Narwhal Life Tumbler lid is about to change your life! A tumbler lid that has built in bluetooth speaker, sign us up! Now let's get into the Narwhal Tumbler Speaker Lid Review.
Features of the Tumbler Speaker Lid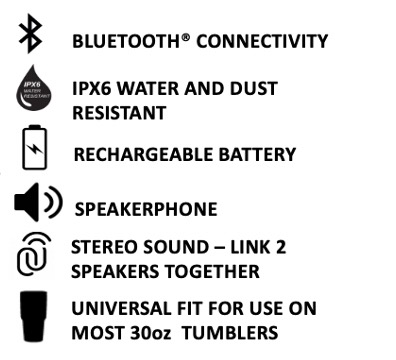 Product Testing
Our bluetooth tumbler lids arrived quickly and the first thing that we started looking for was a tumbler that the lids could work in. At the time of this article they had only made tumbler lids for 30 ounce tumblers (20 ounce tumbler lids are still in the works) we had a few 30 ounce tumblers from a company that would not fit with the Narwhal tumbler lid. We learned that while most 30 ounce tumblers will accommodate this lid, not all will. We hope there will be a guide for this in the future.
Prior to putting our stereo tumbler lid on the tumbler we ensured that the lid was properly charged up. It takes about 2 hours to fully charge the lid and this will yield up to 6 hours of music playback.
We put the lid into the tumbler and it secures tightly, so there are no worries of spilling or it coming out. Then it was time to see what this lid could do, musically speaking. We quickly paired our phone with the Narwhal Tumbler Lid and let the music play. I was impressed as music was clear, crisp and pretty loud. There are controls for the volume on the lid (you can also control from your phone). There is also a mic built in, so you can take phone calls from your tumbler lid.
Finally, and what is another really cool feature is the ability to pair two of these speaker lids together for surround sound that you can share with a friend. I had both near my ears during the video shoot and can say this brings some really good sound for the size of the this speaker package.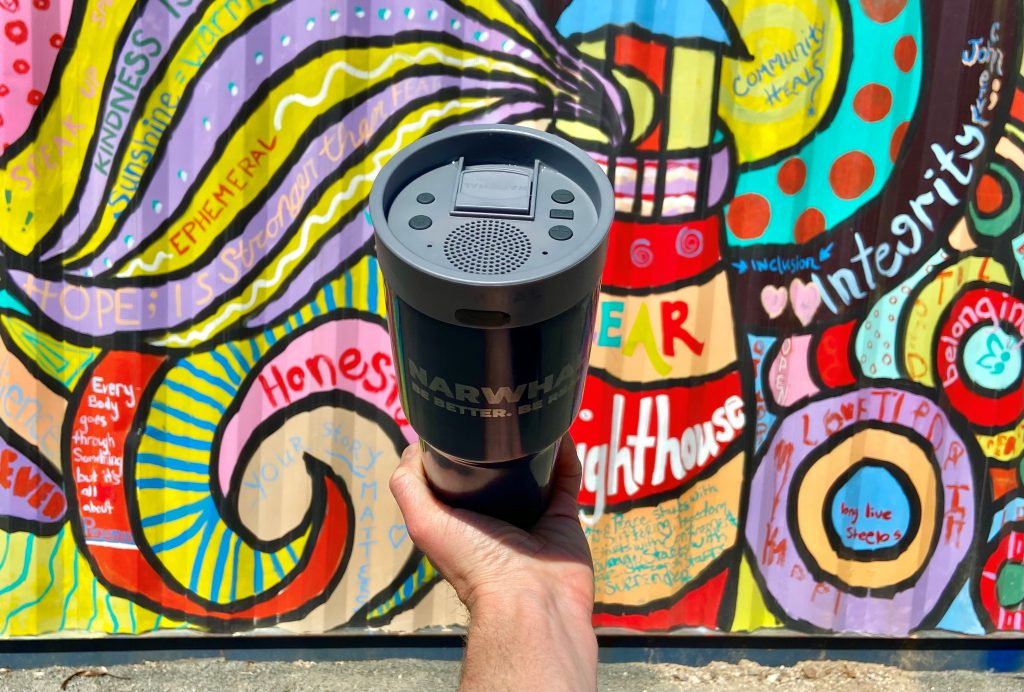 Conclusion
PROS: great sound, ability to pair together, take phone calls
CONS: doesn't fit all tumblers yet
Overall, this product impressed me and makes so much sense for any tailgater. You normally have a tumbler and music at the tailgate. Now you can have them all in one hand with the Narwhal Life Speaker Lid.
If you want to learn more and get your own visit NARWHAL LIFE
Thanks for reading this far in our blog on Narwhal Tumbler Speaker Lid Review. Let us know what questions you have and check out the video below to see this unique tumbler lid in action.
Check out our AMAZON store for hundreds of cool products that can bring the FUN to your next tailgate.
Love learning about all the cool, new products that we get to test out? Take a minute and check out our latest PRODUCT REVIEWS.
We NEVER get paid for our reviews. This way we can keep it real. We were sent 2 samples to test out with the understanding that we would give our honest thoughts on this product.
Written By: Luke Lorick 4/4/21