Bleachers are cold, hard and uncomfortable, it's time to fix that. In this Tailgating Challenge we check out an inflatable stadium chair! You don't need a pump, or to blow it up, it can pump up with one hand. Let's get into the Natureville Inflatable Stadium Seat Review.
Inflatable Seat Features
-dimensions: 16″D x 22″W x 24″H
-Just over 2 pounds
-Adjustable straps for support
-Carrying case
-Able to inflate by hand pumping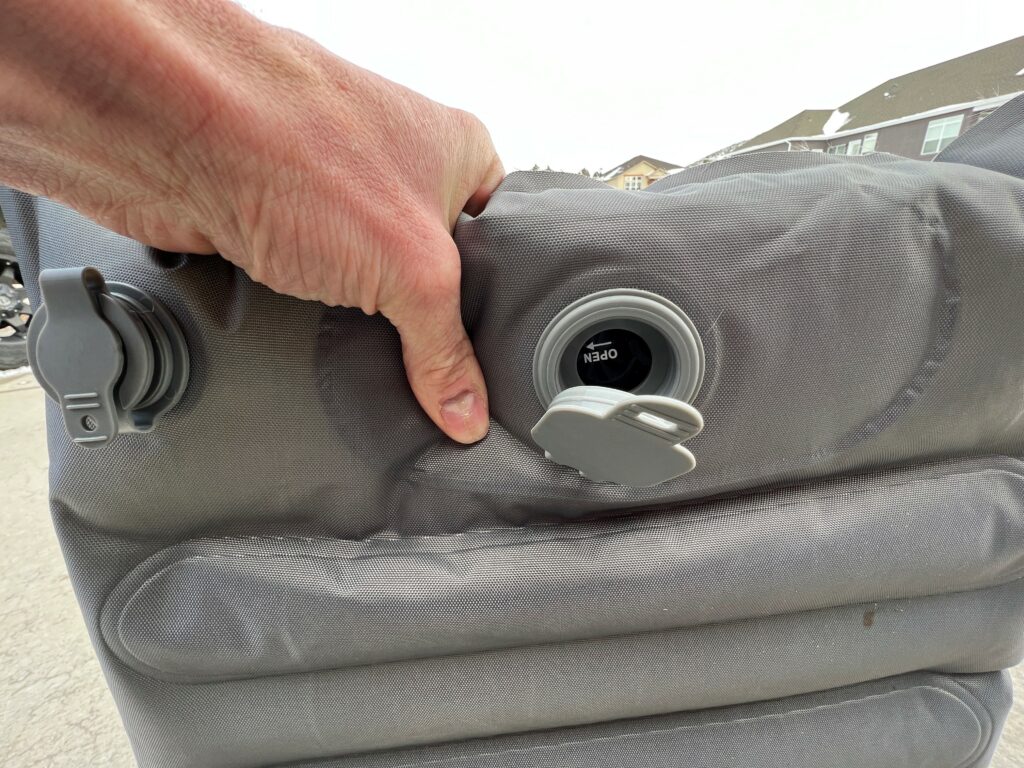 What Did We Think?
We stated earlier that bleachers aren't the best seat in the house. The goal is to make the bleachers actually comfortable! When I saw this chair I was intrigued as I had not tested an inflatable version of a stadium seat. This one also was unique in that you can pump it up by hand.
The hand pumping is a unique feature, as the pump is built into the chair. When I first saw this I actually wasn't sure how you pumped it up, but when I realized you simply squeeze near the opening and it would pump it up. To deflate it, there is a valve that lets the air out, so you can roll it out for easy transportation.
When using this as a stadium seat it made the bleacher more comfortable and less cold. This seat is actually much wider than a bleacher and does not have a way to lock the seat onto the bleacher. I say this because this is one of the areas of opportunity, as you won't be as stable on the bleacher as other stadium seats I've tested.
This inflatable seat can also be used to sit on the ground, benches the back of a tailgate and much more.
Conclusion
PROS: makes bleachers more comfortable, hand pump, can be use away from the stadium too, high level of portability
CONS: not as secure on a bleacher as I'd like, magnet for picking up grass
Overall, this unique inflatable chair allows for a more comfortable seating experience, and you can adjust the amount of air to your comfort.
Learn more and your own on AMAZON.
Find this and many amazing products that we've tested in our AMAZON STORE. A little bit of every purchase goes back to help support our honest reviews of the products you love.
Thanks for reading our blog on the Natureville Inflatable Stadium Seat Review. Let us know what you think and any questions. Check out our short video below and while you're on YouTube make sure you hit that SUBSCRIBE button!
Love learning about all the new products that we get to test? Take a minute and check out our latest PRODUCT REVIEWS.
We never get paid for our reviews, this way we can always keep it real with our fans. We were sent a sample to check out with the understanding that we'd give our honest opinions.
Written By: Luke Lorick 3/29/23