The classic battle, where to put your new craft beer collection in your fridge. What food can I take out of the fridge to fit my new beers in? Now, let's solve this problem with the Newair beer fridge. Time to dive into the NewAir Beers of the World Beer Fridge Review.
Specs of Beers of the World Fridge
Model: AB-1200BC1
Product Type: 126-Can Beverage Cooler
Product Dimensions: 18.70″D x 18.50″W x 32.50″H
Product Internal Volume: 3.5 ft3
Product Weight: 63 lbs.
Product Color: Black
Application: Compact canned beverage storage for bars, rec rooms, dorm rooms or garages.
Voltage: 110-120 volts
Watts: 85 watts
Frequency: 60 Hz
Noise Level: 39 dB
Certifications: ETL/cETL
Wine Cooler Style: Freestanding , Beverage Coolers
Type: Single zone
Cooling Technology: Compressor
Temperature Control Type: Manual
Digital Temperature Readout: No
Stainless Steel Door: No
Interior LED Light: Yes
Rack Construction: Metal
Removable Wine Racks: Yes
Locking Doors: No
Temperature Range: 37°F – 50°F
Stemware Storage: No
Beverage Capacity: 126
Number of Beverage Racks: 5
Refrigerant Type: R600A
Product Testing
In our testing we want to focus on: Space, Lighting, Temperature Control, and Styling.
SPACE: If you're a craft beer fan you normally buy more beer than you need. Just being honest, right? You want to keep this beer cold for the party and for weeks to come. The NewAir beers of the world fridge can hold 126 beers (thats 21 six packs). I'll be honest, you have to have the correct sizes of beers and put the shelves in just right to get this many beers in. To be fair this thing can still hold a ton of beers, even if you aren't a Tetris master and will easily hold over a 100 beers without much effort.
LIGHTING: There is a single LED light source located at the top of the beer fridge. I still wish there were lights on the sides to better illuminate all of your beers in your Newair fridge.
TEMPERATURE: A rotary temperature control unit in the top of the NewAir beer fridge that has 7 different settings. You can get the temperature down to around 32 degrees. This is a perfect temperature to keep your beers at my favorite drinking temperature (a cooling setting of 6 or 7 is what we use the most). It would be nice to have a digital temperature display on the outside of the fridge.
STYLING: I loved the styling on this beers of the world fridge, as it has every type of beer made, written and displayed all over the top and sides of the beer fridge. This really stands out and the only drawback is if you are the type of beer connoisseur that likes to pick up brewery stickers, you won't want to put them on the fridge, as it is already too beautiful.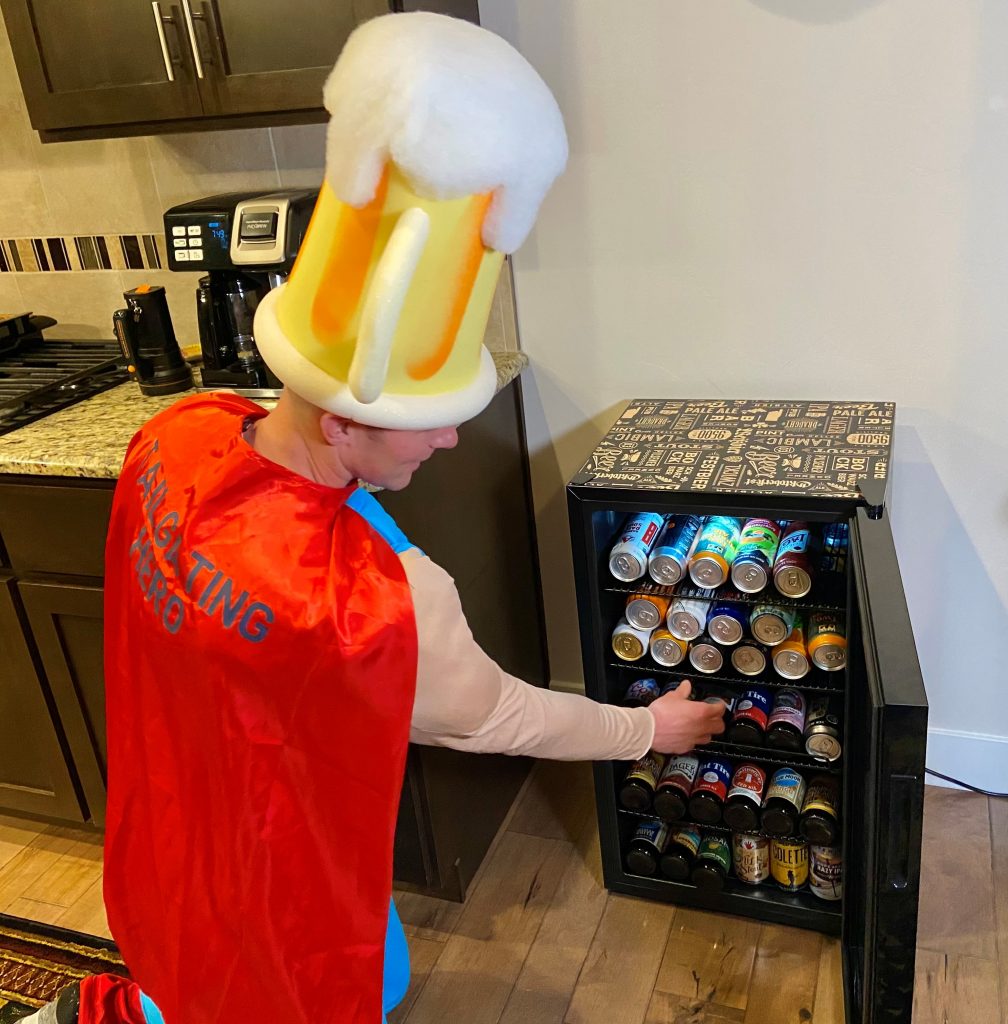 Conclusion
PROS: great styling, cools down to 32 degrees, hold up to 126 beers, ready to use out of the box (no assembly).
CONS: no digital temperature display, more LED light inside would help illuminate the beers better.
Overall, for the price point this is an excellent beer fridge. The styling, capacity to hold beers and ability to cool down to 32 degrees allow us to give this our Tailgating Challenge seal of approval. If you're in the market for a new beer fridge check out NewAir. We are big fans of NewAir as we have multiple units in different rooms of our house and even our friends are getting these after seeing ours.
Learn more and get your own by visiting NewAir save 10% with promo code: TAILGATINGCHALLENGE
Order yours on AMAZON
Thanks for reading our blog on NewAir Beers of the World Beer Fridge Review. Let us know what questions you have and now check out the video below to see this fridge in action with Duff Man!
Love learning about all the cool, new products that we get to test out? Take a look at our recent PRODUCT REVIEWS.
We never get paid for our reviews, so we can keep it real! We were given one sample unit to test with the understanding that we would give our true thoughts.
Written By: Luke Lorick 3/29/21